African Airports
Page Updated: May 2020
Due to effect of the COVID-19 pandemic on the global aviation industry, the information on airlines and African airport contacts & codes are suspended for the time being. There are also serious financial issues regarding the future viability of South African Airways (SAA) and SA Express. SA Airlink may redefine its partnership with South African Airways and operate under own flight code later this year.
When using African airports, patience is the name of the game. Most African airports are small, poorly maintained, uncomfortable and extremely busy.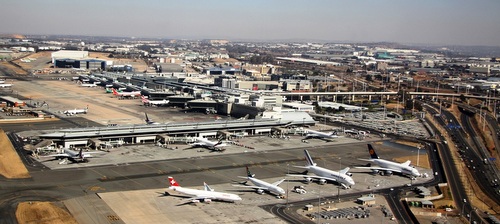 Johannesburg's O R Tambo Airport Is The Busiest Airport In Africa
With the exception of some South African regional airports, you may expect to experience all or some of the following...
Long queues at immigration inbound and outbound.
Especially officious and slow immigration.
Bribe requests in all areas of the airport.
Slow baggage handling from aircraft to conveyor belt.
Dozens of extremely keen porters desperate to take your bags, tips and get you a taxi.
No entry into the terminal building unless you are ticketed and show passport.
Long queues at check-in and long, slow check-in procedures.
Old luggagge weighing scales which oddly seem to make your underweight bags go overweight and your wallet go in reverse.
The firearms office is shut or the firearms officer has gone on walkabout or is not yet on duty.
Insistence on using the plastic wrapping machines for luggage.
Haphazard security checks on checked and hand baggage - from no checking (X ray machine is broken) to having to unpack everything.
Having to fill out entry forms on arrival but there are none provided.
Very few shops, eating places or comfortable lounges, if any at all.
Few plastic/metal seats and dodgy toilets.
Hot, sweaty and smelly with frequently absent air conditioning.
In case you need to contact one of the African airports you may use on your hunt, here are the airport codes and contact numbers. The African and international airlines that use a particular airport are also listed.
Did you know that the most common cause of lost luggage is check-in agents putting the wrong airport code on the baggage tag? You are advised to know the three-letter code of your destination airport and check it on the luggage tag before your bag disappears along the conveyor belt.
More On Travel To Africa
---
African Airports
Back to Top