Hunting Central African Republic
Page Updated: FEB 2022
TRAVEL ALERT

2022: The UK Foreign and Commonwealth Office (FCO) is advising against all travel to the Central African Republic. due to violent crime, civil unrest and kidnapping. Read more
2022: The US Travel Advisory has a Level 4 Alert advising not to travel to any part of Central African Republic due to terrorism, violent crime and kidnapping. Read more
As of March 2016, airlines to CAR are enforcing the UN arms embargo on CAR which blocks the transport of hunting firearms. Air France is the main carrier into CAR for hunters but all other airlines travelling to CAR will also enforce this UN regulation.
Central African Republic Hunting Season
1st January until 31st May
Central African Republic Climate
CAR has 2 climate zones - equatorial in the south where you do forest hunting and sub-tropical where savanna hunting happens.
The savanna dry season is between December and March/April.
In the savanna region there is a short rainy season from May to June and a long rainy season from October to November/December.
The temperatures range between 21°C and 34°C
Central African Republic Current Weather Forecast
Central African Republic Map
Central African Republic Hunting Areas Map
On this land use map of CAR, the red hatched areas are the hunting zones. The majority are savanna hunting blocks in the east, surrounding 4 National Parks. The main forest hunting blocks are in the south west. However there are hunting blocks in the south east which have both forest and savanna habitats - one minute you could be in thick rainforest, the next on an open savanna plain.
Click map to enlarge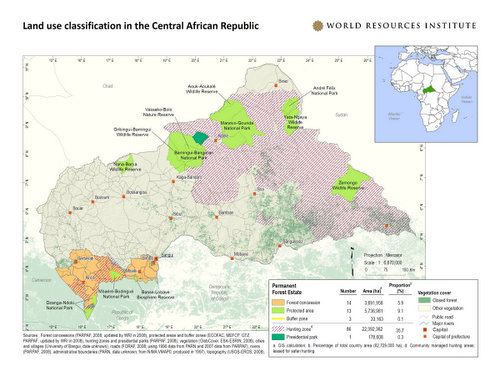 Central African Republic Hunting Areas
Getting To Your Hunt Area In CAR
As with other western and central African hunts, your European hub airport will be CDG Paris from where you get a direct Air France flight to Bangui, the capital of CAR. You will be met here by your outfitter and assisted with firearm import procedures. Depending on your arrival time, you may need to overnight in Bangui. Your onward travel into your hunt area will be a 2 to 3 hour charter flight.
Hunting Accommodation In Cameroon
Most hunting accommodation is in permanent camps with chalets with all mod-cons and French cuisine. Some even have swimming pools and air conditioning. Some outfitters do offer more basic tented fly camps.
Central African Republic Hunting Terrain
The typical savanna terrain is dry with bushes and small woodland areas that can be quite thick. Hunting is done by driving out from camp, then tracking on foot. Rainforest hunting is on foot through the steamy thick vegetation.
Central African Republic Game Laws
All trophy hunting to take place between the hours of daylight.
No hunting is allowed at night.
No hunting is allowed with artificial light.
Minimum number of days for a hunting safari based upon the species being hunted and set by the outfitter.
A maximum of one trophy per species may be taken by 1 hunting client per hunting permit. The exception is buffalo and baboon when 2 or 3 may be taken depending on length of hunt.
Hunting of female, young and/or immature animals is not permitted. If a female or young animal is shot, double the trophy fee must be paid and the permit for that species is fulfilled - ie. you can't have another go and take a male of that species.
The trophy fee is payable if an animal is wounded and lost or used as a bait. Also the permit for that species is fulfilled - ie. you can't have another go and take another of that species.
Shooting from a vehicle is not permitted, though the vehicle can be used to reach the area from where hunting on foot can begin.
Clients are only permitted to hunt animals for which a permit is issued.
All animals are subject to quota availability.
Hunt permits must be issued prior to the hunt commencing.
A separate permit must be issued for each individual hunting client.
There is a tax on fired cartridges payable on departure at the airport.
Minimum calibre requirement is .375 for dangerous game.
Camouflage clothing is illegal in Central African Republic and may not be worn.
Central African Republic Hunting Species
The length of hunt you book will determine how many 'big game' species, sometimes referred to as 'precious' game, that you can hunt. For example, a 12 day hunt will allow you to hunt 1 big game species + other smaller game. A 26 day hunt will allow you to take 3 big game species + other smaller game.
Some outfitters offer 'upgrades' where you can add another 'big game' animal (or ordinary game animal) that you want for an additional fee only if quota is available. For example, you might be booked on a 12 day hunt for a LDE as your 1 big game animal, but decide you want a giant forest hog too. So if the quota is available, you can hunt the GFH for an extra fee + trophy fee if you are successful/wound & lose.
The 'big game' or 'precious game' species list is not cast in stone. Outfitters will include/exclude species as they feel fit.
Forest Big Game/Precious Game
Savanna Big Game/Precious Game
Other Forest Game
Other Savanna Game
CAR Hunting Trophy Export/Import Restrictions
Leopard is available to hunt in CAR with a CITES export quota of 40 animals but the US Fish & Wildlife Service has never issued a permit for leopard from Northern or Central Africa.
Get A Flavour Of Hunting CAR
Hunting Central African Republic
More Hunting Central African Republic Resources
---
Hunting Central African Republic
Back to Top