African Hunting Staff
Who's Who And Who Does What On Your African Hunting Safari
African hunting staff are the often unseen and unsung people that keep the wheels turning on your African hunt. The hunting camp staff cook and serve your meals, wash your dirty laundry, build the fires and tidy up. The hunting crew spot and track your game, drive the hunting vehicle, carry your rifle and skin your trophies.
There is quite a difference in the numbers and roles of hunting and camp staff in southern African hunting camps and those in wilderness camps of, say, Tanzania.
Southern African Hunting Staff
In South Africa, as most hunting areas are privately owned, the hunting and camp staff frequently live with their families in a compound of houses, within the hunting area. So there will be quite a few people around who are not working on your particular hunt but work for the landowner, maintaining the property, working in the butchery, house cleaning and gardening.
Your southern African hunting 'crew' will generally consist of just one tracker. PHs in southern Africa generally drive their own hunt vehicles and there is rarely a designated driver.
On occasion a PH may bring his own tracker to hunt an area. In which case, often the landowner's tracker will accompany the hunt as he is the one with the local knowledge on where game is likely to be found.
In the skinning shed there will be usually one skinner and maybe an assistant skinner. The skinning shed is often a popular place for workers to hang out for a chat, so don't be surprised at (or think you will need to tip) all the people who may be there.
Southern African Camp Staff
The roles of southern African camp staff may vary widely in different hunting camps. A big, more commercial operation, with several hunt lodges within the property, will employ staff 'qualified' in their respective jobs. Smaller, family-run hunting operations will utilise the services of their house staff as and when needed for a hunt.
In the hunting camp kitchen there will usually be a head cook with maybe a couple of other staff to assist with cooking and cleaning in this area.
Sometimes the outfitter's wife may supervise cooking the hunter's meals in her own kitchen, then transfer the food to be served in the camp.
Your rondavel or chalet will be cleaned and laundry will be done daily, probably by the same ladies who assist in the kitchen.
There will probably be another member of staff who collects firewood and attends to the outside maintenance of the hunting camp.
Wilderness Hunting Camps
There will be considerably more African hunting staff running these camps. This is because the camps are so remote that they must be self-sufficient in every eventuality. Some members of staff can multi-task, stepping in for each others jobs if necessary, should one fall ill or go on leave.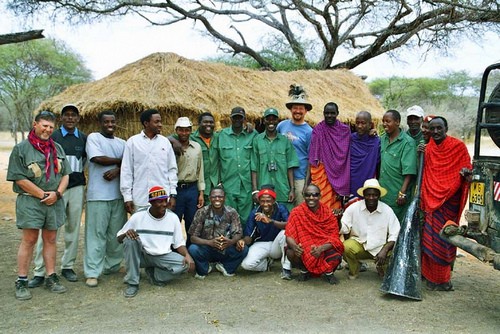 African Hunting Staff In Tanzania
Wilderness Area Hunting Staff
Your hunting staff will consist usually of 2 trackers and a driver.
A senior skinner will run the skinning shed with an assistant or two.
A Government Game Scout will be present out on the hunt. He or she is not a member of staff but a separate entity employed by the wildlife department to ensure the hunting laws are not infringed. A Game Scout generally does as he pleases and it is a bonus when he joins in and becomes a valued member of the hunt team.
Wilderness Area Camp Staff
There will be a camp manager who oversees the day-to-day running of the camp and liaises with the PH regarding supplies etc.
In the kitchen will be a head chef, an assistant chef and a staff chef. The head chef is usually a professionally trained cook.
There will be a waiter to serve meals and drinks. If the hunting party is large there may be an assistant waiter.
There will be a person to clean the tents daily and do the laundry.
There will be a person to collect water, treat it and refill the tent tanks.
There will be at least 2 security guards (one on day duty, the other on nights)
There may be a separate trained vehicle mechanic or sometimes the hunt vehicle drivers attend their own vehicles.
More on African Hunt Expectations
---
African Hunt Staff
Back to Top
Page Updated: Jan 2020