Cameroon Travel
Page Updated: Mar 2020
Cameroon Travel - Cameroon is situated in West Africa. It borders Chad in the north and northeast, Central African Republic in the east, Congo, Gabon and Equatorial Guinea in the south, the Gulf of Guinea in the south-west, and Nigeria in the west and north-west. Cameroon has everything you would expect from the African continent - tropical rainforests, beaches, deserts, lakes, savannah and volcanic mountains.
TRAVEL ALERT

March 2020: The UK Foreign and Commonwealth Office (FCO) is advising against all travel to Cameroon. Read more
March 2020: The US Travel Advisory has a Level 4 Alert advising not to travel to the north, far north, northwest and southwest regions of Cameroon due to armed conflict. Other areas are covered by a Level 2 Alert to exercise increased caution in Cameroon due to crime. Read more
Cameroon Travel Facts
Formerly: French Cameroon
Capital: Yaoundé
Area: 475,440 sq km
Population: 17,340,702
Language: French & English (official), African languages
Cameroon Money
The local currency is (West Africa Comunauté Financiere Africaine) CFA Franc.
ATMs are the cheapest way to get local currency in Cameroon but be security aware when using an ATM. Also don't wholly rely on getting your local cash at an ATM in Cameroon - they are frequently empty or broken. Read more on money in Africa.
There is both a Visa and Mastercard ATM available at Douala Airport only.
Electricity In Cameroon

Voltage: 220 V | Frequency: 50 Hz | Power sockets: Type B
Cameroon Map
Getting To Cameroon

Non-Stop from Brussels, Belgium to Douala, Cameroon
1-Stop from Brussels, Belgium via Douala to Yaoundé, Cameroon
Non-Stop from CDG, Paris to Douala, Cameroon
Cameroon Travel Health
Vaccinations/boosters are strongly recommended for:
Note, you must carry the WHO Yellow Fever certificate when travelling to and from Cameroon.
Malaria In Cameroon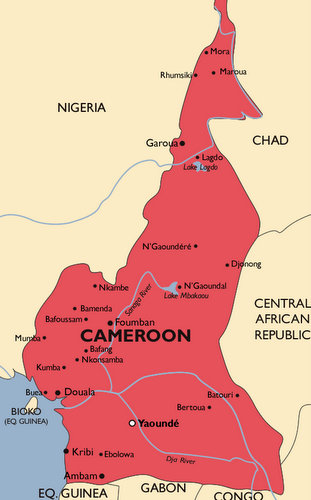 Malaria Map Of Cameroon
Malaria prophylaxis is recommended for all travellers to Cameroon at all times of year. The red area indicate substantial risk of malaria.
Other Health Hazards In Cameroon
All hepatitis strains are endemic.
Bilharzia is present in fresh water.
Outbreaks of Meningitis may occur in the dry season (December-June) in northern areas.
Food and drink contamination.
Getting A Visa For Cameroon
You will need to get your visa for Cameroon before you can apply for your a firearm import permit.
Cameroon Embassy Websites
Recommended Reading For Cameroon Travel
The Bradt Travel Guide (2011) to Cameroon explores the geographical diversities of Lake Chad in the north, Mount Cameroon in the west, and the dense rainforests of the south. Details of getting around the country by bush-taxi, rail, car or on foot, together with accommodations from camping to mud-hut 'royal palaces', are balanced by a wealth of background information on history, geography, culture and the environment.
Useful Cameroon Travel Resources
---
Cameroon Travel
Back to Top