Cameroon Travel
Cameroon Travel - Cameroon is situated in West Africa. It borders Chad in the north and northeast, Central African Republic in the east, Congo, Gabon and Equatorial Guinea in the south, the Gulf of Guinea in the south-west, and Nigeria in the west and north-west. Cameroon has everything you would expect from the African continent - tropical rainforests, beaches, deserts, lakes, savannah and volcanic mountains.
Cameroon Travel Facts
Formerly: French Cameroon
Capital: Yaoundé
Area: 475,440 sq km
Population: 17,340,702
Language: French & English (official), African languages
Cameroon Money
The local currency is (West Africa Comunauté Financiere Africaine) CFA Franc.
ATMs are the cheapest way to get local currency in Cameroon but be security aware when using an ATM. Also don't wholly rely on getting your local cash at an ATM in Cameroon - they are frequently empty or broken. Read more on money in Africa.
There is both a Visa and Mastercard ATM available at Douala Airport only.
Electricity In Cameroon

Voltage: 220 V | Frequency: 50 Hz | Power sockets: Type B
Cameroon Map
Getting To Cameroon

Non-Stop from Brussels, Belgium to Douala, Cameroon
1-Stop from Brussels, Belgium via Douala to Yaoundé, Cameroon
Non-Stop from CDG, Paris to Douala, Cameroon
Cameroon Travel Health
Vaccinations/boosters are strongly recommended for:
Note, you must carry the WHO Yellow Fever certificate when travelling to and from Cameroon.
Malaria In Cameroon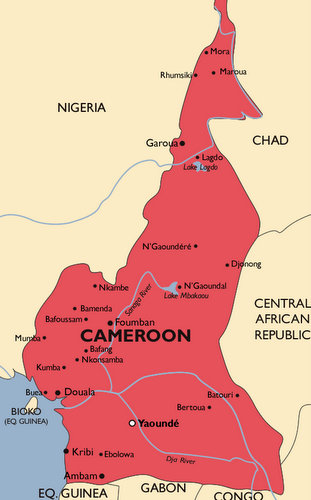 Malaria Map Of Cameroon
Malaria prophylaxis is recommended for all travellers to Cameroon at all times of year. The red area indicate substantial risk of malaria.
Other Health Hazards In Cameroon
All hepatitis strains are endemic.
Bilharzia is present in fresh water.
Outbreaks of Meningitis may occur in the dry season (December-June) in northern areas.
Food and drink contamination.
Cameroon Visa
Cameroon visa and passport information includes all application instructions and visa application form downloads.
Visa and Passport Requirements For US & UK Citizens
The Cameroon Embassy reserves the right to request further documentation on submission/collection of an application. Please be careful when booking intended travel dates as this may delay processing at the Embassy.
Submit your Passport, must be valid at least 6 months beyond intended stay
2 Visa Application Forms, fully completed and signed
2 Recent passport-type photographs
Glue passport photo on application form
Copy of round trip airline tickets, or itinerary, or letter of confirmation from travel agent
Copy/original of recent bank statement indicating a minimum credit balance of £1000 or letter from bank verifying applicant has sufficient funds.
Copy/original travel insurance document
Copy/original hotel confirmation
Consular Fee: $99.00 per visa - 60 day multi-entry tourist visa (US citizens)
Consular Fee: £59.00 per visa - 60 day multi-entry tourist visa (UK citizens)
Cameroon Visa Application Forms
Cameroon Embassy In US
2349 Massachusetts Ave., NW, Washington, DC 20008
Tel: 202-265-8790
Fax: 202-387-3826
Cameroon Embassy In USA Website
Cameroon Embassy In UK
84 Holland Park, London, W11 3SB
Tel: 0207 7270771 or 0207 7270772
Fax: 0510 25276
Cameroon Embassy In UK Website
US Embassy In Cameroon
Avenue Rosa Parks, P.O. Box 817, Yaoundé
Tel:(237) 2220-1500
Fax: (237) 2220-1500x4531
US Embassy In Cameroon Website
UK Embassy In Cameroon
Avenue Winston Churchill BP 547 Yaoundé
Tel: (237) 222 05 45
Fax: (237) 222 01 48
UK Embassy In Cameroon Email
UK Embassy In Cameroon Website
Recommended Reading For Cameroon Travel
The Bradt Travel Guide to Cameroon explores the geographical diversities of Lake Chad in the north, Mount Cameroon in the west, and the dense rainforests of the south. Details of getting around the country by bush-taxi, rail, car or on foot, together with accommodations from camping to mud-hut 'royal palaces', are balanced by a wealth of background information on history, geography, culture and the environment.
Useful Cameroon Travel Resources