Women's Safari Clothes
Up until recent years, properly designed and functional women's safari clothes simply did not exist. Victorian and Edwardian ladies who ventured into the strictly male preserve of the African bush essentially wore the same clothes they wore at home - long heavy skirts, white high-neck blouses and a bonnet. Though elegant and decorous, how they must have suffered in the heat!
Take Mrs Percy Madeira who accompanied her husband on a many months long East African safari in 1907. She showed true grit and endurance after getting lost alone in the bush with no water or food for several nights and then getting dunked in a river when her mule lost its footing...all wearing a thick skirt, heavy blouse and long leather boots.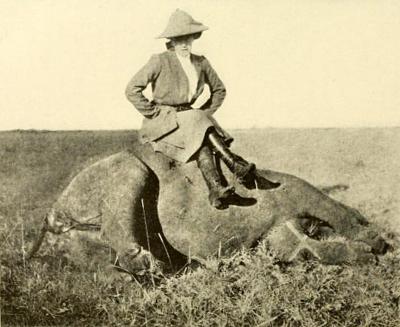 With the advent of the popular African movies of the 1950s like Mogambo and King Solomon's Mines, safari-style wear for women became popular, following the men's safari look with smart belted jackets and shirts.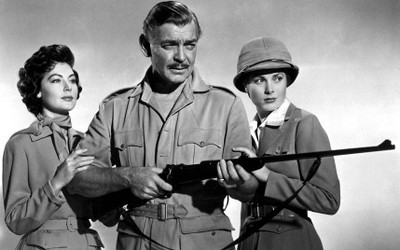 Ava Gardner & Grace Kelly in Mogambo
In 1978, the only company which put some thought into the fabric and constuction of their women's safari range of clothing was Banana Republic, which unfortunately did not exist past the early 1980s when it was taken over by Gap. See the original Banana Republic catalogues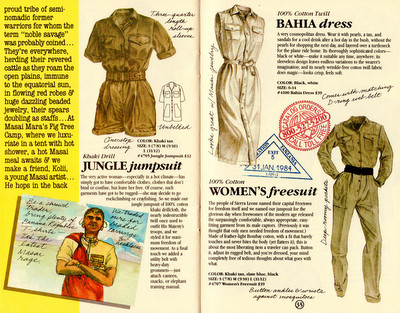 Banana Republic Catalogue
The 'safari look' popped in and out of fashion over the following decades but it was not exactly functional for real women to wear in the real African bush. Women had the choice of looking ridiculously 'safari fashionable' in clothes that would disintegrate on close contact with a thorn or had to adapt and wear ill-fitting men's bush clothing.
Fortunately today there are quite a few great outdoors shops which sell good-looking and functional safari wear for women in their ranges of clothing - so thankfully, gone are the days of shapeless shirts and ill-fitting pants.
Which Type Of African Safari?
Many safari companies give advice about what to wear on safari while scorning specific 'safari' clothing. In their opinion any clothing is OK which it most definitely is not if you are planning to do more than sit in a zebra-striped van. There is a kind of inverted snobbery about wearing 'proper' safari clothing when it is no more than completely sensible and functional. Without looking like a leopard printed Jungle Jane, there is nothing wrong with 'looking the part' on safari any more than there is when on a ski slope or mountain climbing. Much of your health and comfort while in the African bush depends on the right clothing and footwear - the misery of sunburn, insect bites, blisters, heat stroke, exhaustion, dehydration can all be minimised by wearing the right clothing.
In order for a woman to decide on her African safari wardrobe, she has to be clear on what type and the location of the safari she is going on. As this is an African hunting site, the emphasis is on clothing for women who will be active in the bush, rather than lounging around a safari lodge pool all day in a leopard print bikini.
Are you a hard core independent hunter who will spend all your time out in the field? In which case, you will need wear tough, muted coloured, no-frills safari clothes and footwear that stand up to the rigours of the African bush.
If you intend not to hunt but are accompanying your husband on a hunting safari do you intend to go out hunting with him most days? If so, do you intend to stay in the truck, go with him when he goes hunting on foot or a bit of both? In this case you will also need rugged, muted coloured clothing and footwear.
If you intend to mostly stay in camp or take sight-seeing trips while your other half is out hunting, your clothing choices are far broader - toughness and colour really don't matter but you may feel generally more comfortable with clothing that is lightweight, insect repellent and offers sun/heat protection.
Are you combining a hunting trip with a game-viewing safari while staying in an upmarket lodge? Though most of the photographic safari lodges emphasise casual and comfortable safari wear, you might feel you want to accessorize for a slightly more 'dressy' look for dinner.
Depending on which African country you are travelling in, it is worth considering at few general dress points in order not to inadvertantly cause offence to the locals, both in the big cities and rural areas. You might think this is unnecessary in this day and age but it shows respect and you won't stick out too much as an obvious tourist, being stared at or hassled by street-sellers.
Essential Women's Safari Clothing Guidelines
Modesty And Colour For Women's Safari Clothes
For any type of African safari dressing modestly and conservatively is generally to be recommended. Wear long or short sleeves but not strappy tops and keep excessive cleavage out of sight. Keep your swimsuit or beachwear for swimming in a pool rather than walking through the public area of a hotel or around town. It is also not advisable to wear mini-skirts, skin-tight jeans or shorts in some predominantly Muslim areas, for example, if you are sight-seeing in Zanzibar. If you visiting any religious monuments, scarf to cover your head and shoulders will be appropriate.
For women going hunting by themselves, with their husbands or just walking in the African bush, clothing in muted colours, such as khaki, olive green or brown, are essential.

Some non-hunting African safari websites tell us about animals not seeing colour in the way we humans do, so the colour of your clothes does not matter. True but only to a certain extent...some African animals do not see colour and if you are squashed in a zebra-striped safari van, it does not matter if you are wearing bright pink shorts. However they neglect to say that some African animals do see colour as perfectly as humans, such as monkeys and birds. It is these creatures that provide early warning alerts for most other game animals. So if you or your husband is on the final stalk up to a stunning sable bull and a vervet monkey spots your orange shirt, all hell will break loose and the sable will vanish.

It is a good idea to check with your outfitter what the bush vegetation will be like when you hunt. For example, if it is very lush and green, a light khaki may not be the best idea. The rule of thumb is no bright colours or white in the bush.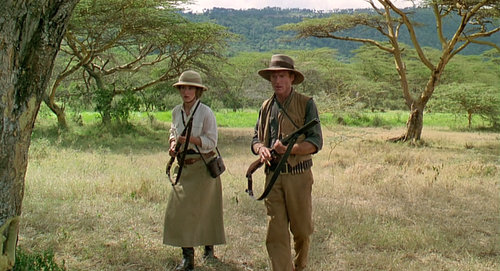 Camouflage Women's Safari Clothes
Many American outdoor clothing companies really push camouflage outfits for women hunters which are really mostly suitable for hunting in North America.
For women, hunting or bush-walking, who are unlikely to be mistaken for local army personnel, wearing a bit of camo clothing should be fine if you like the style but it is not necessary for preventing an animal from spotting you - movement is the key factor when stalking African game. You will also not need to wear any luminous warning badges or stripes.
Meryl Streep In 'Out Of Africa'
Women's Safari Clothes Comfort
Wear comfortable loose-fitting safari clothes that are made of natural fibres like cotton, linen or a hi-tech fabric that is breathable and quiet if you go walking in the bush. Wearing synthetic clothing just based on the practicality of being washed and dried in 5 minutes is unnecessary as most hunt outfitters offer a daily laundry service. Also if you do choose to wear synthetic garments warn the laundry person not to iron them or you may have them returned with a big melted hole in the middle.
Aim to dress in layers which you can peel off and on as the temperatures change during the day. Early morning starts for hunting and game-viewing will be chilly, if not downright cold, so a cosy jacket or fleece will be essential. You might find convertible safari clothes are useful. Around midday the heat will be scorching but it is still advisable to lightly cover up to prevent sunburn. Depending on where you are going and the season, it is useful to carry a foldaway waterproof jacket or poncho for sudden, heavy downpours.
Wearing a sports bra is to be recommended, particularly when travelling in a vehicle on bumpy tracks or off-road in the bush.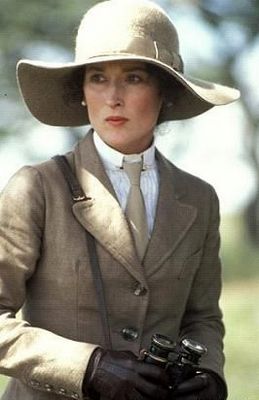 Meryl Streep In 'Out Of Africa'
Women's Safari Clothes Damage
Depending on your chosen type of safari and the activities you intend doing, you are well-advised not to bring clothes that 'too good', dry clean only or would cause you to be upset if they got damaged in any way.
Expect your clothes to suffer on a hunting or game-viewing safari - to get torn by thorns, get permanently stained with mud, blood and other natural bush 'stains' or undergoes subtle and not so subtle colour changes due to the sun, dust or the zealous utilization of bleach in the laundry. Laundry facilities in most African camps and lodges is thorough but rudimentary - don't expect the personnel to read any care labels in garments.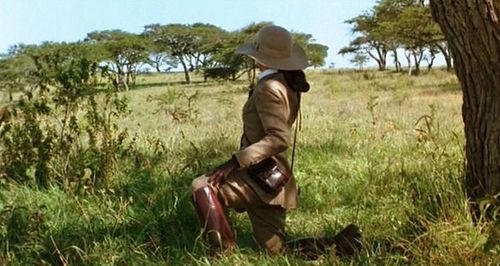 Insect Repellent Women's Safari Clothes
Consider treating your clothes with Permethrin to reduce insect bites. You can either do this yourself with the many Permethrin products available or buy ready-impregnated clothes from manufacturers like 'Insect Shield'. Read more about Insect Repellents.
More Women's Safari Clothes
---
Women's Safari Clothes
Back to Top
Page Updated: Jan 2020