Hunting Ethiopia
Page Updated: Mar 2020
Hunting Ethiopia - this hunting country has a large number of indigenous species found nowhere else. With the mountain nyala in pride of place - it is a great destination for experienced trophy hunters.
Before Booking A Hunt In Ethiopia...
TRAVEL ALERT

March 2020: The UK Foreign and Commonwealth Office (FCO) is advising against travel to Ethiopian border regions. Read more
March 2020: The US Travel Advisory has a Level 4 Alert advising no travel to the border areas with Kenya, Sudan, South Sudan and Eritrea. For other areas, a Level 3 advisory recommends reconsider travel. Read more
Ethiopia Hunting Season
There is no fixed hunting season. The optimal time to hunt, particularly in the highlands, is October until June.
Ethiopia Climate
The temperatures vary according to altitude.
The central plateau region is cool and rarely gets above 26°C
The rainy season is from early June to mid-September.
Lowland and desert regions have more variable temperatures and can very hot and humid.
Ethiopia Current Weather Forecast
Ethiopia Map
Ethiopia Hunting Areas Map
Essentially Ethiopia offers 2 very different game and hunting experiences - in the highlands, such as the Simien or Bale mountains, for the mountain nyala and other highland animals, and the lowlands such as the Omo Valley in the south or Danakil Depression to the north.
Click map to enlarge
Getting To Your Hunt Area In Ethiopia
Ethiopian Airlines fly non-stop from Dulles to Addis Ababa, the capital of Ethiopia. This is where your outfitter or company representative will meet you and help with your firearm import. Depending on your time of arrival, you usually need to overnight in Addis Ababa. You will then travel to your hunting area by road which will take about 4 to 6 hours, as Addis Ababa is quite centrally located.
Hunt Videoing In Ethiopia
If you are planning to use a non-Ethiopian professional videographer to film your hunt, they must apply for a permit in advance. Read more in the Ethiopia Travel section about the application procedure.
Hunting Accommodation In Ethiopia
Most hunting accommodation is safari tents with en suite facilities but some areas have permanent base camps with fly camping facilities.
Ethiopia Hunting Terrain
The highland hunt areas are at an altitude above 2000m with the highest peaks at more than 4000m above sea level. The terrain is steep, rugged and covered with dense vegetation. Hunting is on foot or on horseback.
Lowland hunting is less strenuous, mostly on flat terrain in typical savanna bush.
Ethiopia Hunting Laws
All trophy hunting to take place between 6 am and 6 pm
No hunting is allowed at night
No hunting is allowed with artificial light.
Minimum number of days for a hunting safari based upon the species being hunted and is determined by the Ethiopian government. For example there is a 21 day minimum for mountain nyala.
Hunting of female, young and/or immature animals is not permitted.
Shooting from a vehicle is not permitted, though the vehicle can be used to reach the area from where hunting on foot can begin.
Clients are only permitted to hunt animals for which a permit is issued.
All animals are subject to quota availability.
Hunt permits must be issued prior to the hunt commencing.
A separate permit must be issued for each individual hunting client.
The licences for all species that the client wishes to hunt must be paid for and purchased in advance. These fees are non-refundable
There in no mimimum calibre requirement for any game.
Ethiopia Hunting Species
You can organise a safari to hunt both a lowland and highland area, should you wish.
Nile crocodile hunting in Ethiopia is permitted only between May 1st to November 30th. This is because they lay their eggs during the rest of the year.
This list of game animals includes all that may be hunted in Ethiopia but will not be available in all areas.
When you book your hunt in Ethiopia you will need to select which animals you want to hunt and, provided there is quota available, you will have to pay a non-refundable licence fee.
Early booking is required for mountain nyala hunting as these hunts are frequently booked up years in advance.
Huntable Highland Animals
Huntable Lowland Animals
Ethiopia Hunting Trophy Export/Import Restrictions
Leopard is available to hunt in Ethiopia with a 500 animal 2010 CITES quota but for American clients, the US Fish & Wildlife Service 'has never issued a permit for leopard from Northern or Central Africa.'
There is a restricted CITES export quota of 6 hippo hunting trophies from Ethiopia. While the EU has 'no opinion' on Annex B hippo trophies from Ethiopia, you will need an import permit for hippo trophies as part of the overall EU 'stricter domestic measures' regarding all hippo imports to member states.
Get A Flavour Of The Highlands Of Ethiopia
Hunting Ethiopia Recommended Reading
Hunting In Ethiopia by Tony Sanchez-Arino (1995). Writings on big game hunting adventures in Ethiopia (formerly Abyssinia) by Harris, Baker, Neumann, Wellby, Powell-Cotton, Pease, Maydon, Baum and many others.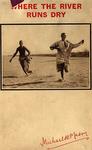 Where The River Runs Dry by Michael Mason (1934) is a hunting travelogue about the Sudan and Ethiopia. Mason returns to the Nile region after a nine-year absence and proceeded to hunt roan, reedbuck and buffalo near Bahr-el-Dinder, continuing into the Abyssinian interior after elephant and lion.
In Ethiopia: A Game Warden's Adventures In Haile Selassie's Medieval Empire is John Blower's account of his four years as the first senior warden of the Ethiopian National Parks and Nature Reserves and advisor to the emperor, Haile Selassie.
Ethiopia Hunting Recommended Viewing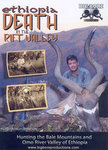 Ethiopia: Death In The Rift Valley DVD. Five years and two trips in the making, this DVD gives a good picture of the country and most of its game animals including mountain nyala, lesser kudu, Nile buffalo and more.
Hunting Ethiopia Resources
---
Hunting Ethiopia
Back to Top