Monkey Hunting
African monkey hunting is usually done if an opportunity arises while looking for another animal.
Huntable Monkey Species
Vervet Monkey - Chlorocebus pygerythrus
Blue or Diademed Monkey - Cercopithecus mitis
Mantled Guereza or Black-and-white Colobus Monkey - Colobus guereza
Grivet Monkey or African Green Monkey - Chlorocebus aethiops
Just to complicate things further, there are 17 subspecies of blue monkey which go under different common names depending on the country...
South Africa has 2 subspecies - Stairs's white-collared monkey, Cercopithecus mitis erythrarchus and the samango monkey or white-lipped Guenon, Cercopithecus mitis labiatus both commonly known as Samango or Sykes' monkey. (Not huntable).
Tanzania has 4 subspecies - the Zanzibar Sykes' monkey or white-throated Guenon, Cercopithecus mitis albogularis in the north, Doggett's blue monkey, Cercopithecus mitis doggetti in the north-west, Moloney's white-collared monkey, Cercopithecus mitis moloneyi in the south and Tanzania Sykes' Monkey Cercopithecus mitis monoides in the Selous GR, all of which are known as the blue or diademed monkey.
Zambia has Moloney's white-collared monkey, Cercopithecus mitis moloneyi which may be commonly known as Moloney's monkey.
Zimbabwe has Stairs's white-collared monkey, Cercopithecus mitis erythrarchus where it is known as Samango or Syke's monkey.
Ethiopia has Boutourlini's blue monkey, Cercopithecus mitis boutourlinii which is found in the south and is known commonly as the blue monkey.
Mozambique has Stairs's white-collared monkey, Cercopithecus mitis erythrarchus and is known commonly as the blue monkey.
Click images to enlarge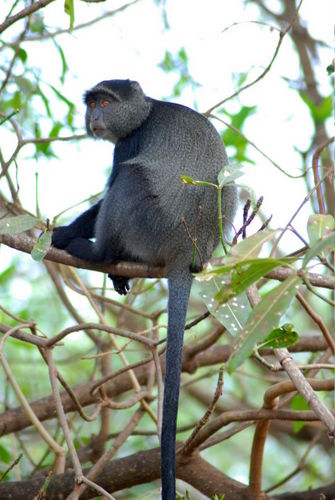 There may also be confusion between a vervet monkey, Chlorocebus pygerythrus and a grivet monkey, Cercopithecus aethiops, as the vervet was previously classified as Cercopithecus aethiops. The true grivet or African green monkey, range is in Ethiopia and Sudan and the vervet ranges from South Africa, up the east side of Africa into southern Ethiopia.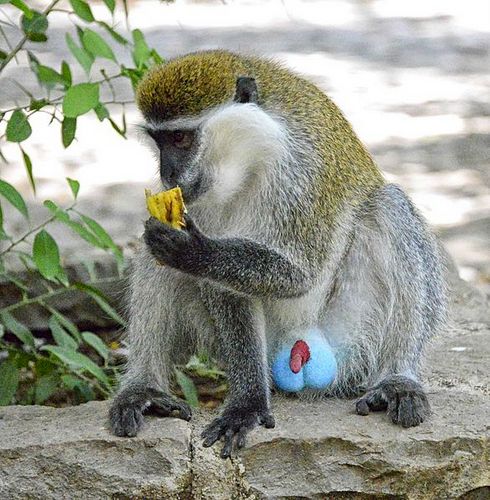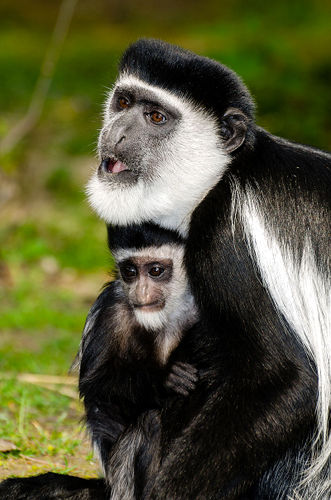 Mantled Guereza/Black & White Colobus
Where To Hunt A Monkey
All huntable African monkey species are CITES II and will require a CITES II export permit.
You can hunt a vervet monkey in Botswana, South Africa, Zambia, Zimbabwe, Ethiopia, Uganda, Tanzania and Mozambique.
You may hunt a blue monkey in Ethiopia, Zambia, Zimbabwe and Tanzania.
The grivet monkey is only available to hunt in Ethiopia.
The mantled guereza/black-and-white colobus may be hunted in some areas on a highland hunt in Ethiopia.
Monkey Hunting Prices
Monkey Hunting Methods
Spotting, walking and stalking the likely habitats. Monkeys are really only hunted as animals of opportunity.
A Good Monkey Trophy
A mature large-bodied male preferably in all these animals.
Monkey Hunting Shot Placement
Aim at the chest area with a small calibre.
Male Monkey Vital Statistics
Male Monkey Vital Statistics
Vervet Monkey
Grivet Monkey
Blue Monkey
Mantled Guereza
Body Length
17-24.5"
42-60cm
19"
49cm
19.6-25.5"
50-65cm
24.2"
61.5cm
Weight
8.6-17.6lb
3.9-8.0kg
7.5-17.6lb
3.4-8.0kg
7.5-17.6lb
3.4-8.0kg
21-30lb
9.3-13.5kg
Monkey Habitat and Requirements
Vervets inhabit savanna and mountains and most places in between up to an elevation of about 4000m, including urban and agricultural areas.
The main habitat of the grivet is savanna woodlands close to water.
The blue monkey is found in the canopies of evergreen forests and montane bamboo forests.
The mantled guereza colobus lives in forests and woodlands, often extending into highland and montane forests.
Monkey Social Structure
Vervets commonly lives in groups of 20 or more.
Grivets can range from 5 to over 70. It is one of few monkey species that has male-only groups of a large size.
Blue monkeys live in groups of 10 to 40, containing only a single adult male.
A Guereza Colobus group is usually 6-9, with one or more adult males.
Monkey Gestation Period
They have a 5-7 month gestation period and usually 1 young is produced.
Monkey Gender Identification
Males are larger than females.
Male genitalia are often obvious.
Monkey Trophy Permits (2015)
All Huntable Monkey Species

CITES

USF&W

EU

AUS

CITES II
CITES II Export Permit
Annex B/CITES Export Permit
CITES II Export Permit
Raw Monkey Trophy Import Into The USA
If you are intending to import a raw monkey trophy (skull and/or skin) into the US, you will need to complete the CDC application form for Etiological Agent Import Permit.
Go to Bringing Animal Products Into The United States for guidance on the application.
Contact: Centers for Disease Control and Prevention, Mailstop A-46, 1600 Clifton Road, Atlanta, GA 30333 Tel: 404-718-2077 Fax: 404-718-2093 E-mail: importpermit@cdc.gov
Raw monkey trophy products must be crated separately from other trophies for import into the US.
Fully-treated, taxidermied mounts of monkeys do not need this permit for importation into the US.
If you are using a shipping agent, experienced with handling hunting trophies, he will usually take care of this permit on your behalf.
Monkey Trophy Taxidermy
Most hunters opt for a full monkey mount with or without habitat.
Click images to enlarge
Hunting Other African Animals
Big Five Hunting
Waterside Hunting
Other Plains Game Hunting
Spiral Horned Antelope Hunting
Large Antelope Hunting
Medium Antelope Hunting
Small Antelope Hunting
African Pig Hunting
Other Cat Hunting
Animals Of Opportunity