Crocodile Hunting
Crocodile hunting, like hippo hunting, is a challenging exercise. Seeing lots of crocodile basking motionless on river banks belies the fact that they are extremely sharp-eyed and will make a run for the water if they feel in the least bit threatened. The big old crocs are even more wary.
"The ears are your target for the brain shot - the only shot guaranteed to kill him instantly. A shot through the side of the neck lays him low, but unless it severs the spinal cord it will require more than one bullet to do him in. A bullet through the heart gives him plenty of time to dive to the bottom and get himself lost." Alexander Lake
Crocodile Trophy Minimums
Crocodilus nilotica (Nile Crocodile)
RW Minimum
RW Record
RW Measurement Method
SCI Minimum
SCI Record
SCI Measurement Method
14'
17' 87/8"
18
9' 7"
18' 7"
8
Where To Hunt Crocodile
You can hunt Nile crocodile in Mozambique, Namibia, South Africa, Zambia, Zimbabwe and on a 16 or 21 day licence in Tanzania
Crocodile Hunting Prices
There is no doubt some monster crocodile can be taken on the Zambezi river in Mozambique with some outfitters claiming all croc trophies they take are over 14 feet. In Mozambique there are plenty of crocodile hunt packages of varying lengths and combinations. For example a 10 day hippo and croc package comes with a daily rate of US$850 or a 7 day crocodile hunt is US$10135 including the croc licence fee and trophy fee. As with all hunt packages carefully check the terms and conditions if for any reason you don't get the included animal(s).
Package hunt or not, make sure the outfitter knows you want a crocodile before booking the hunt because there are limited quota in Mozambique and you will need to pay the usual non-refundable croc licence fee before the hunt starts. The croc Government licence fee varys from outfitter to outfitter and according to the hunt area. The croc licence fees can range from US$350 to US$850 and the crocodile trophy fee from US$2000 to US$3500. Some Mozambique outfitters are offering cheaper crocs if they are under 9 feet in length - the licence fee is the same but the trophy fee is in the range of US$1600.
Crocodile hunting is done in the Caprivi region of Namibia where there are many crocodile combo hunt packages available, particularly with hippo. For example, a 7 day croc hunt only hunt may have a daily rate of US$860, concession fee of US$700, licence fee of US$700 and a croc trophy fee of US$3000. You can have a 7 day hippo and croc hunt for US$20800 all inclusive. A straight crocodile trophy fee in Namibia ranges from US$3000 to US$5000.
In South Africa crocodile hunting requires a TOPS permit which must be applied for prior to the hunt starting in the particular hunting client's name. Do not shoot a crocodile here without having seen your valid permit and have it in your hand, despite any promises to get one after. As with many game animals, outfitters in South Africa frequently apply a sliding scale of trophy fees according to crocodile length, so if you don't like this way of hunting look for an outfitter who charges a straight trophy fee no matter what the croc measures. Some sliding scales are in metres and others in feet so you could be looking at US$7000 for a 3.2m and US$9000 for a 4m croc. In feet the trophy fee may be US$10000 for a croc over 12 feet and US$8000 for a croc between 10 feet and 12 feet. A trophy fee for any length croc in South Africa ranges from US$7000 to US$8500.
In Tanzania you can hunt a crocodile on a 16 or 21 day licence. The Government crocodile trophy fee is US$1700 but the final trophy fee will in the region of US$2000 to US$2900. Don't forget that Tanzania has a crocodile minimum overall length requirement of 3 metres from the tip of the nose to the tip of the tail. If your crocodile has lost most or a small part of it's tail which may be critical for attaining the minimum length, allowances are usually made. Tanzania's game law of not permitting any female animals to be hunted is relaxed in the case of crocodiles, as you can't definitely tell the gender of a crocodile except by doing an internal examination.
Crocodile hunting in Zambia can be done as a hunting package combo or on a minimum of a 7 day hunt. A 12 day hunting package may include a croc with a buffalo, roan and hippo which goes for US$14400 + trophy fees. A crocodile trophy fee will be in the range of US$2800.
Zimbabwe crocodile hunting can be done in all kinds of dangerous game combo hunts. For example you can do a 14 day croc, buffalo and hippo hunt for US$1100 daily rate + trophy fees or a 7 day croc and hippo hunt for US$750 daily rate + trophy fees. Crocodile trophy fees go from US$3500 to US$5500 in Zimbabwe.
Crocodile Hunting Methods
You can try walking and stalking the river bank looking for a suitable croc lying on a sandbank in a suitable position to get a shot but these animals are wary in the extreme despite looking like they are asleep. They have extraordinary senses of hearing, sight and vibrations, even utilising the behaviour of birds to warn them of any threats. You might get lucky but don't bet on it - most crocs will have high-tailed it into the water before you get within range.
The most effective method by far is to use baits placed at shallow waters edge that are anchored to prevent them being dragged into the water. Then set up a rough blind and wait...
Be prepared for a long wait before these extremely cautious animals come to feed.
It's very common for a small croc to come in first and take possession of the bait. So don't be too quick on the trigger as it usually won't take long for a bigger one to come in and chase the youngster away.
Crocs although wary in the extreme are not particularly bright animals and even if you wound one or scare him away, he'll often come back to the bait again within about 24 hours or so.
Croc Hunt On The Luangwa River, Zambia
A Good Crocodile Trophy
The deciding factor is length but this isn't always easy to judge without a great deal of experience. The largest Nile crocodiles on record (but not in the Books) have been over 19 feet and 600kg.
It is not uncommon for crocs to lose the end segments of their tails whilst fighting, so try to check it's not missing before you take your shot.
Crocodile Hunting Shot Placement
Shot placement has to be accurate in the extreme on these animals, as getting it even slightly wrong and he is back into the water before you can say knife.
Once he has made it into the water, you've either lost your animal or your PH and hunting team have to go into the water to try to fish him out for you.
Try to place your bullet into the brain which is about the size of a golf ball.
You'll find the brain located midway between the eyes and ears ridges and about two inches lower.
If you can get into an elevated position, you can shoot the same place from above which is a slightly easier shot.
The only other option is a neck/spine shot where the spine joins the skull. That's about halfway up the animal at the end of the crocodile's 'smile'.
If you can take your shot when the animals head is facing the bank rather than the river, you'll be increasing your chances dramatically.
Although you don't really need a particularly big calibre for this species, solids are to be recommended only because a soft will do a lot of damage to the trophy.
Nile Crocodile Vital Statistics
Shoulder Height: 55" / 140cm (average)
Weight: 1764lbs / 800kg (average)
Length: 11' 6" - 16' 5" / 3.5 to 5m (Very old ones can grow to 18' 1" / 5.5m)
Crocodile Habitat And Requirements
Crocodiles are territorial.
They live in and hunt from the water - lakes, rivers, freshwater swamps, brackish water and in deep pools. They require suitable nesting spots such as sandy banks and a sufficient food supply.
They like to bask in the sun on the waters edge. If the water evaporates they will migrate across country to another source of water, if necessary.
Crocodile Social Structure
Crocodiles are gregarious animals forming groups of up to 100 animals, depending on the food supply.
Crocodile Incubation Period
Female crocodiles are egg layers who bury the eggs in sand and guard them for 3 months incubation period. The sex of the offspring is determined by temperature inside the egg chamber.
Crocodile Gender Identification
It is very difficult if not impossible to be 100% sure of the gender of a crocodile by sight, especially of young crocs. A mature male crocodile will generally have a broad head and a wide, v-shaped muzzle.
The muzzle of a female will be shorter and slimmer.
This is one of the few animals you can usually get away with if you shoot a female in a country that prohibits shooting females. Only an internal examination will definitively determine the gender of the animal.
Nile Crocodile Gallery
Click images to enlarge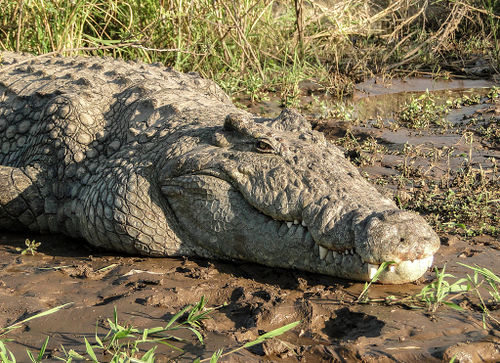 Crocodile Trophy Permits (2015)
Crocodilus nilotica (Nile Crocodile)

CITES

USF&W

EU

AUS

CITES II
N/A
Annex B
CITES II
Crocodile Trophy Taxidermy
If you have the space, a full mount Nile crocodile makes a spectacular trophy, either as an 'action' diorama with other animals, with a habitat base or just free-standing. A bleached crocodile skull is also a very effective display as is a rug mount with a taxidermied head, for the floor or possibly a wall mount. Some taxidermists have got very imaginative with crocodile trophies, for example, creating a glass top table with a crocodile head rising out of it.
If you don't want a crocodile mount, the skin can be leathered to make all kinds of accessories such as handbags, wallets, boots, etc.
Click images to enlarge
Recommended Reading For Crocodile Hunting
Crocodiles: Their Natural History, Folklore And Conservation by C A W Guggisberg is a comprehensive study of all types of crocodiles including alligators, caimans and garials, showing crocodile daily life, predation, mating and reproduction.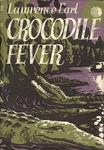 Crocodile Fever by Lawrence Earl is a thrilling story of adventure. Bryan Dempster hunted monster crocodiles in the depths of Africa not for sport, but for a living, devising special techniques and taking mortal gambles to make a go of it. Dempster is one of those restless people who cannot stay long in civilization. Danger and the unneutral jungle, the cataracts and whirlpools of the Zambezi, hold him in perpetual bondage - even at the cost of health, wealth, and love. This is Dempster's story as told to Lawrence Earl.
Crocodile Trader by Rory Macaulay gives a graphic account of the hazards which go with such an occupation in the wilds of the upper Zambesi in Northern Rhodesia. That the story is a true one - both in Africa and in the United States, where the reptiles are taken to a crocodile farm - makes it all the more readable.
My Enemy, The Crocodile: The Strange Story Of Africa's Deadliest Business
by Paul Potous is the true story of a professional crocodile hunter in Nyasaland and East Africa during the late 1940's and early 1950's.
Hunting Other African Animals
Big Five Hunting
Waterside Hunting
Other Plains Game Hunting
Spiral Horned Antelope Hunting
Large Antelope Hunting
Medium Antelope Hunting
Small Antelope Hunting
African Pig Hunting
Other Cat Hunting
Animals Of Opportunity