African Trophy Taxidermy
Your African trophy taxidermy mounts will be in your trophy room or on the walls of your home for many years to come and will invoke all the memories of a great African hunting experience.
Choosing A Taxidermist
You have invested not an inconsiderable amount of effort and money obtaining those trophies. So it should be just as important to get the taxidermy right and pay the same attention to selecting the right taxidermy company as you did with selecting a hunting company.
Dip & Pack
If you are intending to have your trophies mounted in your home country, you will need the raw skins and skulls to be dipped and packed in Africa.
The taxidermist you use for this service is up to you and you are strongly advised to shop around for the best price. You are absolutely under no obligation to use the dip & pack service recommended by your PH or outfitter.
Dip & pack costs vary enormously and some hunters are very upset to get presented with a unexpectedly huge bill, which when shipping costs are added, virtually costs the same as another safari. You really must check the dip & pack prices first as well as check the quality of the dip & pack service. The cheapest is not necessarily best - could be your trophies get lost, damaged, inadequately treated and badly packed by an internationally inexperienced taxidermy company. However, you do not need to be fleeced because you are an overseas customer either.
A Taxidermist In Africa Or Your Home Country?
Visit at a few taxidermy studios, look at taxidermy websites and African hunting forums where hunters often post photos of African trophy taxidermy - compare the look of the mounts, prices and terms of business.
Bear in mind when looking at taxidermy websites, photographs or exhibitions at conventions, that the pieces on show are their best work probably done by the master taxidermist. Your trophies may be delegated to a lesser mortal in the taxidermy company to mount and may not achieve such a high standard of artistry.
Is cost a major concern? Many hunters feel that is cheaper to import their raw trophies home and get the work done there.
The cost difference between getting the taxidermy work done in Africa is less that in most other taxidermy studios worldwide. The difference comes in the shipping costs as obviously a crate of finished trophies will be larger than that of raw trophies.
Most quality African taxidermists are found in South Africa, so if you are hunting in another country there will be the additional costs of importing the trophies into South Africa.
Hunters may also feel that they will have better communications with a taxidermist at home and are nervous of doing business with a company in Africa.
Contact several reputable studios and, as with any business, make a judgement on their knowledge and professionalism.
Though there are good and bad taxidermists everywhere, the best experience of mounting African trophies is really to be found in South Africa. One would hardly send trophies taken in Alaska to a taxidermist in Australia and expect a tip-top result. It is not just the taxidermy technique that makes a great trophy mount, it is the artistry, experience, knowledge and 'feel' for an animal.
Other African Trophy Taxidermy Considerations
Taxidermists whose usual work is their country's domestic species, may have trouble getting African animals right. Some even adapt their standard forms to accommodate African animals - it's not uncommon seeing a leopard looking strangely like a mountain lion or a waterbuck with a muledeer nose.
When viewing a prospective taxidermist's work, check closely whether the African trophies look anatomically correct. There are some real taxidermy horrors out there, where it's obvious the taxidermist hasn't a clue about the African animal he is trying to represent. Pay particular attention to the mouth and eyes of a shoulder mount, for example. Do they look natural and not popping out, with the correct eye pupil shape for the species. Do the lips correctly look relaxed with the upper one slightly protruding over the lower one or are they in line with each other and the animal looks like it's smiling?
If you want some more exotic mounts done like full mounts or small diorama scenes like a lion leaping up to nail a sable, you really need to be even more careful with your choice of taxidermy. If you really care about the look of your trophy, you will need a taxidermist with museum quality taxidermy experience with great knowledge of the African species - it is not necessarily a job for a small local home taxidermist.
Look for the taxidermist's experience with importation and exportation of African trophy taxidermy. Has he done this before? Is he well-versed in all documentation and all regulations on moving animal products? This is a critical aspect of the service - any documentation errors and your trophies will be, at best, delayed, or even refused entry and possibly destroyed.
If you are still doubtful about the quality of work a taxidermist, a rule of thumb is to look at their cat mounts. If a taxidermist can produce outstanding African cats mounts, you can bet your bottom dollar, the rest of his work will be excellent, as cats are always a challenge to get right.
Do not be too concerned with the length of time it takes to get your trophies finished by a taxidermist. Remember that African trophy taxidermy is an art and good art takes time to produce. Also a reputable taxidermist of quality will be constantly busy and the work is done on a first come, first served basis. If you factor in the time for the raw trophies to move from the skinning shed, to the main town for crating, treating, documentation, exporting and importing (either to South Africa or home), it could be close to 18 months before you see them.
After Choosing A Taxidermist
If you've chosen a taxidermist in your home country, it will be useful if you could arrange for him to supply you with trophy shipping tags to take with you. You will need enough to label every single trophy part you intend keeping. For example, one Cape buffalo may need labels for the skull and horns, cape skin, back skin, hooves x 4 and tail (if not attached to back skin). These labels should be indestructable with a secure method of attachment like a ladder strap. They should be indelibly printed with your taxidermist's full address and contact details. They should either be pre-printed with your details or with a sections to complete with the hunters name, outfitter's details, animal type (ie. Cape buffalo) and trophy part (ie. cape skin).
If you are using a taxidermist in Africa, check with your outfitter if he is able to get trophy shipping tags from the taxidermist. It's not problem if the tags are not supplied - most PH's have a supply of blank tags to complete all with the necessaruy details. Just make sure you know the name, address and contact details of your taxidermist.
Try to decide what mounts you would like on the species you are likely to hunt. This need not be cast in stone at this stage but may help with your taxidermy budgeting.
If you are going to be hunting a CITES Appendix I animal you will need to apply for a CITES Import Permit ahead of the hunt.
Your Trophies After The Hunt
Hunting outfitters usually move an entire seasons trophies out together from wilderness hunting destinations. Trophies usually need to be moved out by lorry or even chartered aircraft and it is more cost effective to do all at once rather than sending out part shipments.
This can mean that even though trophies are hunted within the first few months of the year that they will only be ready for export at the end of the year, or even early the following year.
The export documentation is then done for the trophies of the entire season.
There can be delays when documentation is issued incorrectly by the exporting countries Wildlife and CITES Authorities.
Weather conditions also affect the movement of trophies from remote areas - bush roads can turn into quagmires if the rainy season starts early.
On your return home send your taxidermist a list of your trophies so he knows what to expect and can compare it with the export documentation received. If there are any discrepancies, they can be dealt with before the consignment leaves the hunt country.
Once the taxidermist has the contact details of the outfitter or exporter, he can try to expedite the shipment.
Most taxidermists will require a deposit prior to the importation of the trophies commensurate with the volume of trophies.
The receipt of this deposit will also usually 'book' your trophies into the taxidermist's production schedule, thus expediting the completion of the work.
It is recommended that you insure your trophies from the country of export to the country of import.
Our thanks go to Cecil and his team at Lifeform Taxidermy for their expert help with the taxidermy section and for permission to use their photographs.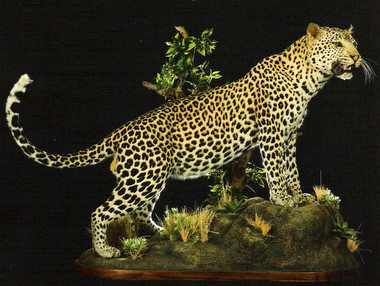 More On African Trophy Taxidermy