African Hunting Gaiters
Page Updated: Apr 2020
As with your choice of African hunting boot tread and safari clothes colour, check with your outfitter or PH about the terrain and vegetation you are likely to encounter at the time of year of your trip. This will help you determine if gaiters are really necessary and if so, which type of gaiter to choose. At certain times of year, particularly in grassland country like the eastern Cape of South Africa, the grass seeds can be a nightmare, pricking your skin through your socks, boot lace holes or any mesh panels of hiking shoes or boots, sometimes causing a skin infection.
Most hunters choose to wear gaiters all the time in Africa, whether with short or long pants, at any time of year. They are no big deal to pull on and don't get in the way.
A precursor to todays light ankle gaiters for African hunting, were the puttees wore by most of the African hunters of old. Originally puttees (from the Hindu, word patti) were a strip of cloth or leather wound tightly round the lower leg to provide support and protection. They were adopted as part of the service uniform of foot and mounted soldiers serving in British India during the second half of the nineteenth century. They then remained part of the British army uniform until 1938. Consequently as many early hunters served in the forces, puttees found their way into the African and Indian big game hunting fields.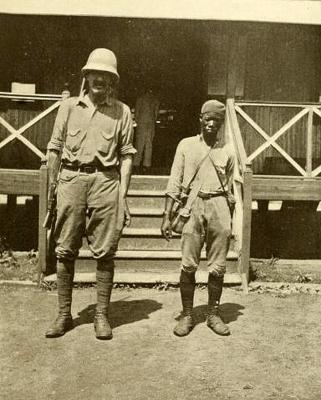 1907 Percy Madeira wearing his puttees on a 100 day East African hunt
Choosing African Hunting Gaiters
Gaiters are very useful particularly if you wear short hunting boots or trainers and shorts when hunting in Africa.
Boot gaiters prevent thorns, grass seeds and burrs, sand or any debris from getting into your shoes or boots.
For hunting in Africa, make sure gaiters are made of sturdy canvas/cotton, hook securely in place and are quiet when walking. Some stiff synthetic gaiters tend to make an annoying swishing noise with every step.
The heavy duty, long, snake-proof gaiters are likely to be unnecessary in Africa and may be too hot to wear. Short ankle gaiters will usually suffice.
You may want gaiters that come with a removable instep cord that can be replaced separately if it wears out.
Gaiters that are easy to get on and off with Velcro closure are preferable.
Gaiters which are water repellent will be useful when hunting in the early mornings through a heavy dew.
Most gaiters come in various sizes which are related to boot size so it is important to get this right. You need a snug, sealed fit round the leg but not too tight that it cuts in and causes discomfort.
Do not rely on gaiters to keep ticks out. Ticks can easily get access to you under the gaiter, so keep examining yourself from head to toe each day.
African Hunting Gaiters
Please note, this page contains affiliate links, which means Shakari Connection receives a commission if you make a purchase using these links.
(Click on images or links for full details & colour options)
These Boyt Harness canvas gaiters are made of canvas and have elastic tops. Buy Now
---
These gaiters are made from tough, soft suede and will give you many years of use. They have an elasticated top, velcro down the length of the gaiter and a press stud. They also have a brass clip which attaches to the front of your shoe for added security. Buy Now
---
These short ankle gaiters are made from canvas with an elasticated ankle and velcro closure with a press stud. A leather tab with a clip attaches to your shoe at the front for added fit. Buy Now
---
These snake proof gaiters are made with Turtleskin Snake Armor - ballistic fibres in a fabric that is windproof, waterproof and comfortably flexible. Comfortable in all weather and terrain. Tested with live diamondback strikes and simulated needle strikes. Camo hunting gaiters in reversible camo/khaki. Buy Now
---
These 6" ankle gaiters are made of durable nylon packcloth with a double-riveted lace hook. They have a zip back, elastic bottom, cord sole straps and drawstring top. Buy Now
---
These Tag gaiters are made from medium weight cotton canvas. The elastic tops keep grass burs from sticking to your shoe laces and making your skin itch. Velcro in the back makes them easy to put on and take off. Buy Now
---
These fitted front opening gaiters come with a full-length hook and loop enclosure, secure snaps, adjustable top web strap with secure cam lock buckle and reinforced boot section. They are waterproof with a breathable membrane keeps water out of your boots. Buy Now
More African Hunting Gear
---
African Hunting Gaiters
Back to Top