Rifle Sights
Telescopic & Open Sights
When it comes to rifle sights, most hunters shoot better with telescopic sights because quite simply, they can see better.
Telescopic Rifle Sights
Telescopic sights place the aiming point and the target in the same optical plane. This eliminates the necessity for the eye to align a back sight, front sight, and target that are all in different planes of focus. Modern scopes generally use some sort of tapered crosshair as an aiming point. This is much more precise than an iron front sight and obscures very little of the target or the surrounding landscape.
Telescopic sights help you see better in low-light conditions, such as early morning and dusk. A good quality scope that 'gathers light' and will give you a clear picture earlier than you could see using iron sights.
The only real drawback to a telescopic sight is that it makes snap-shooting difficult.
Telescopic Sights For An African Hunt
A low-powered scope is the most popular type for hunting dangerous game. It maximises the field of vision which is vital for finding the target quickly - large animals at close range. A fixed power scope in the 1.5x to 2.75x range is ideal.
A variable powered scope in the 1-4x range is also fine but it is important to remember to reset it to the low magnification after high magnification use, especially if you are hunting dangerous game.
The scope should be mounted on the rifle as low as possible to allow for faster shooting if necessary.
With some telescopic sights, you might possibly need to consider the issues of parallax. Most telescopic sights have automatic parallax adjustment but check that yours does not need manual adjustment.
QD mounts should be considered mandatory for dangerous game hunting
The reticule should be simple and visible even in low light.
On rifles with heavy recoil, a scope with extended eye relief or sprung loaded eye relief may be appropriate.
Please leave your pop-on/off scope protectors at home. If you must bring them, leave them in camp, failing that, in the hunting truck. Just don't get tangled up in them when you are about to shoot a 46" buffalo!
Electronic illuminated reticles are useful but will need to be set up quickly before a shot. Relying on batteries, they may not be the best choice for dangerous game hunting.
Scopes, when attached to rifles, should only be used for shooting - when you know what you are looking at and are preparing to shoot. They are not for looking at or for game - and doing so is dangerous and at the very least, bad mannered. Binoculars or spotting scopes are for game viewing.
Different Reticles Used In Telescopic Sights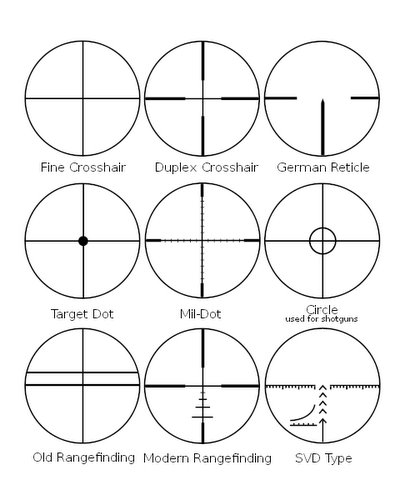 Some Typical Telescopic Sights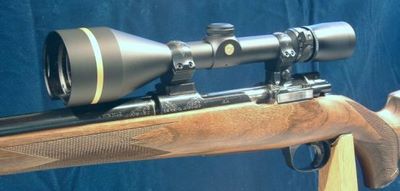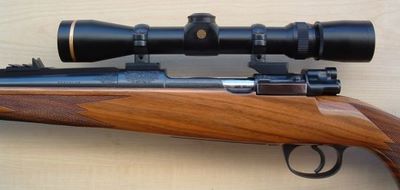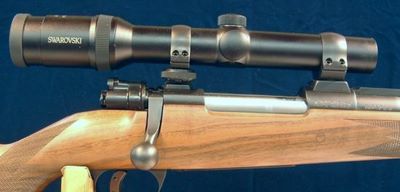 Straight tube scopes look very 'African' but give no advantage in low light conditions
Photographs courtesy of Eugene Combrink of
Sabi Rifles
, South Africa
Choosing A Scope For Africa
Choosing a scope is quite a personal business and you will probably get lots of recommendations if you ask other African hunters. However a scope has to work just right for you, your eyes and your rifle.
Try to find the best quality scope for your budget. You are spending a lot on an African hunt so skimping on your scope could impact on your success. In fact having a good scope is more important than having a good rifle and you need the right tool for the job - hunting in Africa.
Variable low power magnification for most usual bushveldt African hunting. Higher power may be needed for long shooting such as in the Kalahari.
Best 'light gathering' or light transmission as most hunting success occurs at first or last light of the day.
Robust, waterproof construction with scratch-proof lens coatings.
Matt finish preferably.
If using battery-powered illumination, a scope with auto shut off is useful. Alternatively stick a bit of tape over the switch so it can't be knocked on accidentally so the battery is dead by the time you need it. Always take spare batteries with you when hunting.
Simple adjustment mechanisms - which you have practised using adeptly before your hunt.
(Click on images for full details)
Zeiss Optical Victory HT 1.5-6x 42mm is well-suited for safari hunting and other short-range shooting and hunting. It has High-Transmission glass and enhanced optical coatings which generate 95% light transmission. With advanced fibre-optics and nanotechnology, it provides an intense illuminated red dot at the center of every reticle. Easy to operate windage, elevation turrets and illumination adjustment knob. The slim eyepiece allows you to mount the 30mm scope flat to the rifle. Buy Now
---
Trijicon TR24 AccuPoint 1-4x 24mm is ideal for big game hunting or anytime shorter distance hunting. It has a vivid aiming point illuminated using fibre optics and tritium - no batteries required. This scope features true 1x (and up to 4x) magnification with a straight 30mm tube, enabling consistent eye relief at all magnifications. Buy Now
---
Swarovski Z6 1-6x 24mm is the most complete scope for large calibre rifles on a hunting safari with the widest field of view of any comparable scope when at 1x. Tthe scope includes an ultra-precise #4 German reticle, 3.74" eye relief and a robust coil spring system that delivers excellent shot-by-shot precision, shock-resistance even with large calibre rifles. Buy Now
---
Schmidt Bender Zenith 2.5-10x 56mm has a FD7 reticle and rail mount. This scope is ideal for hunting in poor light conditions. Buy Now
---
Leupold VX-6 1-6x 24mm has an illuminated Firedot Circle reticle. It is ruggedly built to handle extreme hunting conditions and has a pop-up re-zero dial system which matches your shot to specific ranges, ballistics and environments and then lets you return to zero. Buy Now
Open Rifle Sights
Make sure both the front and rear sights are solidly in place and not going to fall off.
The type of open sight is down to personal preference and what works best for you.
The express sight with a shallow rear V and large bead in front is good for fast target acquisition.
For more precision but much slower to line up, a U, deep V or square notch sight may be preferable.
Aperture Rifle Sights
Also known as 'peep sights' or 'ghost ring sights'.
At the rear is a small ring close to the hunter's eye and a bead or post at the front.
They are faster to line up and more accurate than open sights.
Types of Iron Sights

Open sights and one aperture sight
(A) U-notch and post (B) Patridge (C) V-notch and post (D) Express (E) U-notch and bead (F) V-notch and bead (G) Trapezoid (H) Ghost Ring. The gray dot represents the target.
More On Rifles For Africa