Hunting Uganda
Page Updated: Apr 2020
Hunting Uganda has been gradually re-opening since the late 2000s in the wilderness areas. Hunting will be tough but rewarding. You need to be fit, prepared to walk and tolerate some degree of hardship and not expect 'shopping list' hunting.
For the first time in over thirty years, 5 wilderness areas in Uganda, including the renowned Karamoja has re-opened for hunting.
The hunting concessions are vast, each being approximately 27,000km2 (10,000 square miles) and there has been no sport hunting there for over 30 years.
After the demise of Idi Amin in the late 1970s, constant insecurity and sporadic bouts of warfare had more or less sealed these areas from the outside world. In the past few years, the Ugandan Government has seriously tackled the issue and an effective disarmament program has returned the region to normalcy.
This is a rare opportunity to hunt the real Africa - to go with the local tribesmen to their traditional hunting grounds, to live an unscripted adventure that will not be possible anymore in a few years as asphalt is coming, the region is opening up, and things will soon change.
The Uganda Wildlife Authority has agreed to allow hunting these areas and most importantly, these agreements stipulate that 75% of the trophy fees accrue directly to the local communities, while the Government (through UWA) retains only 25%. By making the local communities the major beneficiaries from sport hunting revenues, the wildlife is transformed from a nuisance to be poached to extinction into a valuable resource.
"I have dreamed of hunting in Africa since I was a small boy. I never expected to be able to experience Africa as it was in the early 1900's. But that's what the Karamoja area of Uganda is like right now. I have traveled in East Africa on business and for vacations eight times in the past. I was amazed to see this area of Uganda and I was not prepared for the beauty of the area."
Read more about the late D R Hooker's first exploratory hunt in Karamoja, Uganda.
Uganda Hunting Season
There is no set hunting season for wilderness hunting in Uganda but the rainy seasons would be best avoided.
Uganda Climate
Uganda is on the Equator, and at 1200m altitude and above (4000ft and more).
Temperatures vary between 20ºC and 30ºC year round.
In the north, nights are cool and at times cold and days slightly hotter.
Rains occur, in theory, from March-April and October-November.
Uganda Current Weather Forecast
Uganda Map
Uganda Hunting Areas Map
Uganda used to have about 12 protected Controlled Hunting Areas (CHAs) but they have gradually been degazetted or downsized. However trophy hunting may be conducted in the following locations...
There used to be 3 CHAs in Karamoja (North, Central & South) which covered 68.2% or 18,898km of Karamoja. These were degazetted and 3 much smaller Community Wildlife Areas were created - Iriri CWA Map No 43, Karenga CWA Map No 2 & Amudat CWA Map No 42. In CWAs, local people are allowed to live, graze livestock and other regulated activities if they do not adversely affect wildlife. In addition, hunting can also be done in Pian Upe Wildlife Reserve Map No 41, Matheniko Game Reserve Map No 45 and Bokora Game Reserve Map No 44.
Some other wilderness hunt locations in Uganda include Kabowya Wildlife Reserve Map No 12, Lake Mburo Map No 27, Katonga River Map No 20, Ajai Wildlife Reserve Map No 6, Aswa-Lolim (between Ajai WR and Murchison Falls NP) and areas within the Kafu River basin.
Click maps to enlarge
Getting To Your Hunt Area In Uganda
Most hunters will arrive at Entebbe Airport where you will be met and assisted through Customs with your firearm(s) by a company representative. Depending on the schedule you may need to overnight in Entebbe or Kampala. Your onward journey to the hunt area will generally be by road.
Hunting Accommodation In Uganda
Most accommodation will be tented, either traditional large East Afeican tents or small fly camp tents. There are some hunting camps that offer more permanent thatched chalets.
Uganda Hunting Terrain
Depends where you go...if you are after a sitatunga, expect large stretches of papyrus swamps. Otherwise the terrain is not particularly physically challenging with rolling grass hills, small valleys and light forest. Near rivers you will find typical dense riverine forest.
Uganda Hunting Laws
These game laws apply to wilderness hunting in Uganda and not ranch hunting which may vary.
All trophy hunting to take place within the hours of daylight.
Shooting from or within 50m of a motor vehicle (boat, aircraft) is not permitted. Vehicles must not be used to drive or stampede any animal.
Use of radio communication system to locate any protected species is not permitted.
Hunting with dogs is not permitted.
Hunting with lights/flares/night vision equipment is not permitted, excepting certain species like bushpig and leopard.
Hunting permits must be issued prior to the hunt commencing.
A separate permit must be issued for each individual hunting client.
Automatic and semi-automatic firearms are not permitted, as is the use of silencers.
No shooting of immature animals or females with dependant young or are apparently pregnant.
No minors (under 18 years) are allowed to hunt or handle firearms.
Bow hunting is permitted in wilderness hunt areas.
Uganda Hunting Species
There is CITES quota for exporting leopard trophies from Uganda, however a leopard may only be hunted as a genuine PAC animal after complaint has been received from the locals and permission from the wildlife authority.
Hippo may also only be hunted as PAC animals.
Uganda Hunting Recommended Reading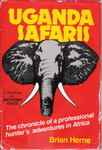 Uganda Safaris by Brian Herne tells of hunting Uganda as it was before the rise of Amin.
Karamojo Safari is the true story of W D M Bell's journey into Karamojo some fifty years ago when it was an unknown part of Africa. Indeed, even today with the aid of modern transportation, it is but little known.
Hunting Uganda Resources
Uganda Travel for information on money, health & malaria, electricity, international travel and visas for Uganda.
---
Hunting Uganda
Back to Top