Hunting Cameroon
Page Updated: Mar 2020
Hunting Cameroon - Two types of hunting are available here - savanna hunting in the north and forest hunting in the south. Both are distinct from each other with different seasons, climate and species.
Before Booking A Hunt In Cameroon...
TRAVEL ALERT

March 2020: The UK Foreign and Commonwealth Office (FCO) is advising against all travel to Cameroon. Read more
March 2020: The US Travel Advisory has a Level 4 Alert advising not to travel to the north, far north, northwest and southwest regions of Cameroon due to armed conflict. Other areas are covered by a Level 2 Alert to exercise increased caution in Cameroon due to crime.Read more
Cameroon Hunting Seasons
Savanna hunting is from 1st January until 30th April.
Forest hunting is from 1st March until 30th June.
Cameroon Climate
The savannah region temperatures range from 18°C to 29°C and the hunting season coincides with the dry season.
The forest region temperatures range from 21°C to 28°C and some rain is always to be expected.
Cameroon Current Weather Forecast
Cameroon Map
Cameroon Hunting Areas Map
On the map below all the hunting areas are marked in orange.
In the northern savanna region of Cameroon there 3 National Parks and 32 hunting zones clustered around the Parks which are leased from the Government for a 5 year term, after which the lease must be renewed. The hunting zones are classified as one of three types:
ZIC (Zone d'Intérêt Cynégétique) for sport hunting where most of the trophy fee revenue goes to the general Government coffers and a lesser proportion to the Ministry of Forest & Wildlife.
ZICGC (Zone d'Intérêt Cynégétique à Gestion Communautaire) for community managed hunting zones where 50% of the trophy fee revenue is distributed to the community such as villages in the hunting zone and 50% goes to the Ministry of Forest & Wildlife.
COZIC (Cogestion Zone d'Intérêt Cynégétique) for co-managed hunting zones where 100% the trophy fee revenue goes to the Ministry of Forest & Wildlife. An additional % is added to the regular trophy fees which goes to the local communities.
Click map to enlarge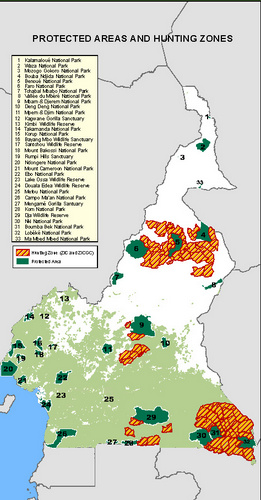 Getting To Your Hunt Area In Cameroon
The international airport where you will land for either the savanna or forest hunt, is Douala, which is is where your outfitter or company representative will meet you and help with your firearm import. You usually will need to overnight there. If you are hunting the forests in the south or south-east, you will usually need an onward charter flight into your hunt area.
If you are hunting the savanna in the north, you may need to take a domestic flight to Garoua, followed by a 3-4 hour road trip into your hunting area. Check whether your travel days are included in the length of hunt, as they are with some outfitters.
Hunting Accommodation In Cameroon
The hunting accommodation in both regions is in permanent camps with chalets with all mod-cons and French cuisine. Some even have swimming pools and air conditioning.
Cameroon Hunting Terrain
In the north the typical savanna terrain is dry with bushes and small woodland areas that can be quite thick. There are usually plenty of watering places which are a great draw for buffalo and other game. Hunting is done by driving out from camp, then tracking on foot.
The southern forest hunts are conducted in dense rainforest and only on foot which is very physically demanding.
Cameroon Game Laws
All trophy hunting to take place in the hours of daylight.
No hunting is allowed at night.
No hunting is allowed with artificial light.
Minimum number of days for a hunting safari based upon the species being hunted.
Hunting of female, young and/or immature animals is not permitted. If you do, you will be charged double the trophy fee for that species and will count as 2 animals from the Group (See Groups below).
Shooting from a vehicle is not permitted, though the vehicle can be used to reach the area from where hunting on foot can begin.
Clients are only permitted to hunt animals for which a permit is issued.
All animals are subject to quota availability.
Hunt permits must be issued prior to the hunt commencing.
A separate permit must be issued for each individual hunting client.
Double the trophy fee must be paid if an animal is wounded and lost.
The minimum legal weight of ivory for an Elephant is 11 pounds (5 kilograms) per side.
A special separate hunting permit is required to hunt lion and hippo.
Small game in Group 3 or C - maximum calibre is .240 or shotgun. (See Groups below).
Medium game in Group 2 or B - calibres from .240 to .354 maximum.
Large game in Group 1 or A - minimum of .354 calibre.
Cameroon Hunting Licence
In order to get a hunting licence for Cameroon you will need to submit the following to your outfitter...
Passport photos x 4.
Copy of your passport details & photo page.
Copy of your visa for Cameroon within your passport.
Copy of your firearm permit obtained from the Cameroon Consulate.
Health certificate from your doctor stating that you are physically fit enough to hunt big game.
Cameroon Hunt Licence Groups & Species
Hunting licences are arranged for 3 Groups of animals. These may be either referred to as Groups 1-3 or Groups A-C.
Where outfitters operate both forest and savanna areas, you may find the animal species of both areas lumped together in the Groups.
A maximum of 1 hunting licence per Group can be purchased per hunter. Some outfitters offer an 'upgrade' on a 'Big Hunting Licence' with the option to buy an additional 'Medium Hunting Licence' but you still are not allowed to hunt more
It is not allowed to hunt two of the same species, irrespective of the licence.
This licence may be known as the 'Big Hunting Licence' and the hunter may select 2 animals from the Group 1/A and 4 animals from Group 2/B and Group 3/C.
Alternatively the hunter may take 4 animals from Group 2/B and 4 animals from Group 3/C on a 'Medium Hunting Licence'.
If you don't want any animals from Group 1/A or 2/B, you can be issued with a 'Small Hunting Licence' for any or all animals in Group 3/C.
Note, if you are intending to do both a forest and savanna hunt on the same safari, you won't be able to take both types of buffalo (forest and western savanna buffalo) or elephant (forest and savanna elephant) as they are considered as the same in Cameroon, so only 1 may be taken.
You will find some outfitters shift different animals into different Groups. For example, you may see the Sing-Sing waterbuck and harnessed bushbuck in savanna Group 1/A or in Group 3/C in some cases. This maybe because they maybe rather scarce in a particular area and an outfitter wants to conserve his quota.
Lion (CITES II) does not belong in any group but needs a separate lion permit.
Group 1 (Or Group A) Forest Animals
Group 1 (Or Group A) Savanna Animals
Group 2 (Or Group B) Forest Animals
Group 2 (Or Group B) Savanna Animals
Group 3 (Or Group C) Forest Animals
Group 3 (Or Group C) Savanna Animals
Olive Baboon - CITES II
African Rock Python - CITES II
Bird Species
Cameroon Hunting Trophy Export Restrictions
Since February 2015, the EU Scientific Review Group has delivered a 'negative' opinion on wild lion conservation in Cameroon. Even though lion is still CITES II, now most EU member states will require and likely deny an import permit for Cameroon lion hunting trophies as part of EU 'stricter domestic measures'. Australia has banned all lion trophy imports since March 2015.
With an CITES export quota of 10 hippo hunting trophies from Cameroon, the same EU Scientific Review Group has delivered a 'negative' opinion on hippo conservation in Cameroon. This means EU member states require an import permit for CITES II/Annex B hippo hunting trophy items from Cameroon which they will likely deny.
Yellow-backed duiker is no longer available to hunt in Cameroon, due to their own Government directive.
Import of elephant trophies into the EU from Cameroon has been suspended since May 2015.
Import of of elephant trophies into the USA from Cameroon is not allowed.
There is no distinction between forest or savanna elephants in Cameroon as far as CITES, the EU or USF&W are concerned.
Get A Flavour Of Hunting Cameroon
Forest Hunting In Cameroon
Savanna Hunting In Cameroon
Hunting Cameroon Recommended Reading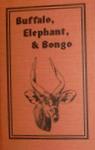 Buffalo, Elephant And Bongo: Alone In The Savannas And Rain Forests Of The Cameroon by Reinald von Meurers is an account of many hunting trips into the interior of Cameroon in search of elephant, bongo, buffalo, sitatunga, giant forest hog, bushpig and dwarf buffalo. The author organises his own safaris and carries them out only in the company of local helpers. Includes a chapter on organising your own hunting trip, as well as much incidental useful advice.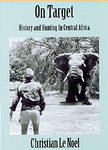 This book On Target: History And Hunting In Central Africa by French Professional Hunter Christian Le Noel provides some entertaining stories of hunting man-killers and rogues, 100-pound tuskers and record book trophies.
Cameroon Hunting Recommended Viewing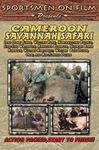 Cameroon Savannah Safari
- With the help of native trackers and water-bearers near the Chad border, the hunters divide the licensed species and successfully hunt 16 animals including the highly-prized Lord Derby Eland, western Roan and western savannah buffalo. 60 minutes. DVD by Ken Wilson.
More Hunting Cameroon Resources
---
Hunting Cameroon
Back to Top