Elephant Hunting
At the time of writing (May 2015), African elephant hunting by sporting hunters has had additional restrictions imposed as a result of large-scale commercial poaching which is decimating the elephant populations of many African countries.
New USF&W Elephant Trophy Import Rules
Regardless of the 1989 CITES international trade ban on elephant ivory, USF&W has recently seen fit to use the Endangered Species Act (ESA) to institute a near-total ban on the domestic commercial trade of African elephant ivory.
As of 6th July 2016 all elephant trophies, regardless of the country in which they were taken (including CITES II elephant populations), will require an Import Permit. This also includes elephant trophies taken before this date which arrive in the US after the date. In addition, US hunters may only have 2 import permits in a year. To get your import permit, you must complete Form 3-200-19.
So back to elephant hunting. Let's see where you can actually still hunt them and furthermore keep and import the trophies.
"It is a common saying hereabouts that no hunter is entitled to a big bull elephant till he has done two hundred solid miles on foot. As far as I am concerned, I qualified a long time ago". Count Zsigmond Szechenyi 'Land Of Elephants'
African Elephant Trophy Minimums
SCI has a separate forest and savanna elephant categories and Rowland Ward has only one for all African elephant.
Loxodonta africana (African Savannah Elephant)
RW Minimum
RW Record
RW Measurement Method
SCI Minimum
SCI Record
SCI Measurement Method
80lb
226lb
16
100lb
302lb
14
Loxodonta cyclotis (African Forest Elephant)
RW Minimum
RW Record
RW Measurement Method
SCI Minimum
SCI Record
SCI Measurement Method
N/A
N/A
N/A
N/A
104lb
14
Where To Hunt Elephant & Keep Your Ivory
Currently in Botswana no elephant hunting is allowed. In 2014, elephant and all other hunting on public land was banned by the Botswana Government, saying "The shooting of wild game for sport and trophies is no longer compatible with our commitment to preserve local fauna." So with a vast population of more than 130,000 elephants, this short-sighted commitment ensures that local fauna doesn't stand a chance of being 'preserved'. The only small ray of hope for re-opening of this once fine elephant hunting country is that the attitude of the local people has changed due to massive crop damage and the everyday reality that there are far too many elephants near their villages.
In Cameroon both forest and savanna elephants may be hunted. All Cameroon elephants are classified as CITES Appendix I and there is an export an annual CITES quota of raw ivory from 80 animals. However the import of trophies from both types of elephant is prohibited by the USF&W, Australia and the EU due to elephant populations in Cameroon being threatened or in jeopardy.
In the Central African Republic (CAR) no elephant hunting, of either forest or savanna elephant, has been allowed since 1989.
In Ethiopia no elephant hunting has been allowed since 1990.
In Mozambique, elephant hunting is allowed. The elephants of Mozambique are classified as CITES Appendix I but USF&W or Australia will not allow the import of elephant trophies from there. As of 2 July 2015, the EU will not allow the import of elephant trophies from Mozambique into any member states.
In Namibia elephant hunting is allowed and importation of Namibian elephant trophies are only allowed into the US with a ESA Import Permit as from 6 July 2016. Namibia has a CITES annual export quota of raw ivory hunting trophies from 90 animals. Australia's 'stricter domestic measures' elevate the CITES II elephant populations to CITES I and thereby the the import of all African elephant trophies or products is not allowed. Though Namibian elephants are CITES II and EU Annex B, the EU now requires a CITES I import permit to be issued by the member state of destination, provided it considers, on scientific advice, that the elephant hunt did not have a harmful effect on the conservation status of the species. So potential elephant hunters should head to the Caprivi area of northern Namibia for great quality elephant hunting...while you still can.
In South Africa elephant hunting is allowed with a South African TOPS hunting permit in your name and in your hand at the time of the hunt. South Africa has a CITES annual export quota of raw ivory hunting trophies from 150 animals.South African elephants are CITES II but trophies can be only allowed into the US with a ESA Import Permit as from 6 July 2016. As above with Namibia, Australian hunters can't import elephant trophies and EU hunters will need a CITES I import permit.
In Tanzania you can hunt an elephant on a 21 day licence but from 2014 and as things stand now, US hunters may not import elephant trophies from Tanzania. Tanzania has an annual CITES quota of raw ivory hunting trophies from 100 animals. As of 2 July 2015, the EU will not allow the import of elephant trophies from Tanzania into any member states. Tanzania allows elephant hunting only if you obtain a CITES import permit from your country before the hunt. If you are not allowed to import an elephant trophy into your country, the elephant will be removed from your 21 day hunting licence. Only bull elephants with the heaviest tusk weighing 15kg or the longest measuring 1.50m may be shot in Tanzania, so don't make any mistakes. If the elephant you are looking at only maybe, possibly makes the measurements, don't shoot it unless you are prepared to pay double the trophy fee if it comes in just under.
In 2014 Zambia lifted its ban on hunting in 19 hunting blocks and, despite the initial statement by ZAWA (Zambian Wildlife Authority) that elephant hunting (with cat hunting) was still to be banned, this decision was reversed - elephant hunting is allowed in Zambia, at the present time. With a quota of 36 animals allowed to be hunted, they remain classified as CITES I with a CITES annual export quota of trophies from 80 animals. An import permit will be required to import elephant trophies from Zambia to the US if USF&W approve. As of 2 July 2015, the EU will not allow the import of elephant trophies from Zambia into any member states.
In Zimbabwe, you may hunt elephants but from 2014 and as things stand now, US hunters may not import elephant trophies from Zimbabwe. Elephant populations from Zimbabwe are classified as CITES II with an annual CITES export quota of trophies from 500 animals. The EU classifies elephants from Zimbabwe as Annex B but since their 2015 'stricter domestic measures' on elephant, a CITES I import permit will be required from the member state of destination. No African elephant products may be imported into Australia.
Elephant Trophy Permits (2016) At A Glance
Elephant Trophy Permits

CITES

USF&W

EU

AUS

Botswana
CITES II
NO Elephant hunting
Cameroon
CITES I
No Import
No Import
No Import
CAR
CITES I
NO Elephant hunting
Ethiopia
CITES I
NO Elephant hunting
Mozambique
CITES I
No Import
No Import as of 2/7/15
No Import
Namibia
CITES II
ESA Import Permit from 6 July 2016
Annex B + CITES Import Permit
No Import
South Africa
CITES II
ESA Import Permit from 6 July 2016
Annex B + CITES Import Permit
No Import
Tanzania
CITES I
No import
No import as of 2/7/15
No Import
Zambia
CITES I
ESA Import Permit from 6 July 2016
No import as of 2/7/15

No Import
Zimbabwe
CITES II
NO Import
Annex B + CITES Import Permit
No Import
Elephant Hunting Prices
"The essence of elephant hunting is discomfort in such lavish proportions that only the wealthy can afford it." Beryl Markham
In Cameroon, despite the trophy import restrictions, it is perfectly legal to hunt elephant which is in the Group A animal licence. You may choose 2 animals to hunt out of Group A and on a forest hunt you can hunt a forest elephant though it is likely the bongo will be the priority. Usually the daily rates are quoted in US$ and the trophy fees in Euros. Depending on the hunt length and camp you choose, forests hunts in Cameroon range from US$30000 for 14 days to US$35000 for 16 days. On a savanna hunt the priority is usually the Lord Derby eland but you can choose to hunt an elephant as your second Group A option. The trophy fee for the forest elephant is 4500 Euro to 5000 Euro. On a savanna hunt you can hunt a savanna elephant for between US$35000 and US$42000 with an elephant trophy fee of 3500 Euro to 4000 Euro.


In Mozambique there are plenty of elephant hunting options. You can buy all-inclusive elephant package hunts - for example, a 14 day hunt for US$42500 including the licence and trophy fee. Then there are numerous combo hunts of various lengths such as elephant with plains game or all or any dangerous game. A 21 or 28 day Big 4 including elephant will be between US$52500 to US$70000 with a total trophy fee of about US$18000 (including licence fee). A 12 day elephant and plains game can be about US$15600 with a trophy fee of US$8500. Most outfitters use sliding scales of ivory weight with some stipulating up to 6 incremental ivory weight trophy fees.

PAC (Problem Animal Control) elephant hunts, either offered in advance or during an ongoing hunt, to paying overseas hunting clients are completely illegal in Mozambique.

In Namibia you can hunt a trophy elephant bull on the minimum of a 14 day hunt. If you want to hunt a non-trophy elephant you can do a shorter hunt of 7 or 8 days so the hunt is much cheaper.

So what is a non-trophy elephant? Some outfitters set firm size criteria, others are vague and others don't mention it at all, so always check first. Also the ivory and other trophy products of a non-trophy elephant are not generally exportable. Some outfitters neglect to mention this. So if you are interested in doing a non-trophy elephant hunt, you will be hunting one who maybe tuskless, short in the tooth or with broken tusks, where for example, both tusks come in under 70lbs total or no single tusk is over 50lbs. A short non-trophy elephant hunt will be in the region of US$11600 to US$16250, excluding the US$500 conservation fee. Non-trophy elephant trophy fees go from US$5000 to US$6000.

If you are after a trophy elephant bull, you have lots of choices including 14 day elephant-only hunt packages which go for about US$47000 including the elephant trophy fee. 14 day trophy elephant-only hunts from between US$16000 to US$33600 + conservation fees and elephant trophy fees between US$12500 to US$30000. You can also do various longer trophy elephant combo hunts with other dangerous game like buffalo or hippo etc.

Some hunting agents make a big deal about hunting desert elephants in the Kunene region of Namibia. These elephants are technically exactly the same as any other savanna elephant except they have adapted to life in the desert with particularly broad feet, long legs and smaller bodies. Desert elephants are given lots of attention by animal rights campaigners because they believe they are specially endangered but the Namibian Government are not worried about their numbers and issue a limited number of hunting permits for these desert-adapted elephants. A 14 day desert elephant hunt will cost around US$14000 with a trophy fee of US$15000.

Click image to enlarge

Desert Elephants Of Namibia

PAC elephant hunting in Namibia by a foreign, paying hunter is legal only if a particular animal is identified in a specific location and officially declared to be a Problem Animal by MET (Ministry of Environment and Tourism). A problem animal is supposed to be put down within 48 hours of completion of the investigation and the issuing of a destruction permit which is valid for 2 weeks maximum. The landowner or leaseholder of the land on which the animal is located may offer it to a hunting client to shoot, only if the elephant remains on the land. If it leaves the designated area, it cannot be pursued and shot on another landowner's property by the same hunting outfitter and client. PAC elephant hunts are frequently subject to various scams run by unscrupulous outfitters so a diligent and scrupulous hunting client must know what to find out before he agrees to one of these hunts. PAC elephant hunts cannot be legally offered for sale to hunting clients a long time in advance, so the client generally must already present in Namibia or able to be there at very short notice. The specific animal must be shot in the presence of a Game Warden. It is illegal to procure a PAC permit first and then start looking for any potential PAC elephant that might be in the vicinity. Any trophy products from a PAC elephant are non-exportable.

To hunt an elephant in South Africa a TOPS permit must be issued to the landowner in the name of the foreign hunter and must be in his hand when the hunt takes place. A TOPS permit cannot be issued after the hunt and any trophy will not be exported without this permit being signed off after a successful hunt and only then will a CITES II export permit be issued. Elephant hunting is somewhat different in South Africa - the precise elephant and it's likely ivory weight or the choice of one elephant of a few, to be hunted is frequently known ahead of time and the hunt priced accordingly. Many hunts are priced as all-inclusive elephant packages such as a 10 day hunt at US$35200 with an expected trophy weight of between 30lb to 50lb or 12 days at US$65000 including a 60lb elephant trophy fee.

It is illegal for a foreign hunter to shoot a PAC elephant in South Africa. Any trophy from a PAC animal cannot be exported. A genuine PAC elephant must be dealt with minimum delay have a TOPS Damage Causing Animal (DCA) Permit issued to the landowner who may shoot it himself or ask a South African resident hunter to deal with it.

A if a so-called elephant 'management hunt' or 'non-trophy hunt' in South Africa implies that an elephant with very light weight ivory is to be hunted for a cheap rate, as long as the sport hunting TOPS permit is issued, there is no reason the hunter cannot get a CITES II export permit to export the trophy. However it must NOT be a PAC elephant in disguise! Always check out these sort of hunt offers carefully because it is hard to see why an outfitter with a limited number of elephant tags would offer a cheap non-trophy hunt when he could sell a trophy quality hunt at full price.

In Tanzania the Government elephant trophy fees are based on a increments of ivory weight starting at the minimum weight for a shootable bull. So from 2013 the Government trophy fees were raised - 15kg/33lb/1.5m to 27kg/60lb is US$8500, 27kg/60lb to 32kg/80lb is US$15000 and over 32kg/80lb is US$21900. Adding on the community development/anti-poaching percentages, you are looking at trophy fees in the range of US$17000 to US$23100 for the smallest ivory weight, US$25000 to US$36750 for the middle weight and US$30000 to US$47250 for the heaviest ivory. Some outfitters do not use the exact Government weight increments.


In Zambia there are no elephant hunt or trophy prices out yet.


The cheapest elephant hunting can be found in Zimbabwe if you happy to shoot a tuskless cow with a trophy fee from US$3750 to US$5950. A 10 day 'tuskless' only hunt can be had for US$10000 or 5 day 'non-exportable' elephant hunt is US$10950. Other 'non-trophy' quality elephants can be hunted on various length hunts or combo hunts at the lesser trophy fees of around US$9500. You will need to check what an individual outfitter classes as a 'non-trophy' elephant in size and the exact circumstances of the hunt - it is a 'management' hunt or does it cross the blurry line into an illegal PAC elephant hunt?

There are a few outfitters that offer 'any size' elephants hunt packages. These range from US$15000 to US$20000 depending on hunt length with an any size elephant trophy fee of US$12500.

If you are after a trophy bull elephant hunt, you can choose an all-inclusive package. For eaxample a 14 day elephant hunt will be around US$31900 and an 18 day all-inclusive will be US$42000. These include the elephant trophy fee. Other trophy elephant hunts can be done as varying length combo hunts with plains or dangerous game with usually a 14 day minimum hunt. The trophy fees are based on various levels of ivory weight increments usually starting at less than 49lb which will be around US$13500, 50-59lb will be around US$15500, 60-69lb will be about US$16000 and over 70lbs will be around US$18000. More expensive elephant hunts can be had in Zimbabwe with 1x1 hunt rates at US$21700 to US$68600 and elephant trophy fees less than 59lb at US$29000, 60-69lbs at US$36000 and over 70lb will be US$40000.

The hunting of PAC elephants in Zimbabwe by foreign hunters is illegal.
Elephant Hunting Methods
Usually by tracking on foot following fresh spoor. Walks after elephants can often be very long drawn out affairs.
Large calibres and solid, preferably monolithic solid bullets are essential when hunting this species.
A Good Elephant Trophy
The old bulls are the very best animals to take. They are past breeding age and will have already passed on their genes.
They have six sets of teeth in their lifetime and when the last set of teeth wear out, they slowly die of starvation.
Old tuskers who are approaching death can often be found in dense riverine habitat where they can source soft, easily digestible and succulent plants.
Obviously, every hunter wants heavy tusks for his trophy room and the embodiment of a truly wonderful tusker is to reach the 100 lbs a side, but trophies of this quality are extremely rare nowadays and anything over around 40 lbs a side is considered a good trophy.
A good way of judging tusk weight is to estimate the circumference of the tusk at the lip in inches, multiply by the length of the tusk from lip to tip, minus 10% and you'll have the weight in pounds.
Elephants from east Africa tend to have longer, more slender tusks and those from southern Africa tend to have shorter thicker ivory.
Elephant Hunting Shot Placement
Elephants have a very large 'engine room' area. Bring your sights up the foreleg, divide the animal in half and half again and you'll have the centre of the heart in your sights. If taking a side on chest shot it helps to wait till the nearside front leg moves forward.
If taking a frontal head shot, imagine a broomstick shoved in one ear hole and out of the other. Then aim to break the broomstick in the centre.
A side head shot can be achieved by shooting into or just behind the ear hole, exact spot really depends on the angle of the head and the height of the animal.
Elephant Bull Vital Statistics
Shoulder Height: 3.2-4m / 10-13ft
Weight: 10360-13330lbs / 4700-6048kg
Elephant Habitat And Requirements
Elephants can live in a wide range of habitats which are diminishing due to human encroachment.
Their only requirements are sufficient food on which to continously feed, shade to rest in during the heat of the day and water to drink and bathe in every day.
Elephant Social Structure
African elephants have an extremely complicated matriarchal social structure that is divided into family units, bond groups and clans.
Each family unit is composed of mostly closely related females dominated by a matriarch which is why the shooting of a cow can cause so much distress to a herd. Male calves are ejected from the herds of cows and calves around the time they reach adolescence and the young males then move off to form loose associations with other males.
They are highly intelligent when compared to other mammals and can communicate with each other by subsonic rumbles over long distances.
Elephant Gestation Period
After a gestation period of 22 months, usually a single calf is born (Twins are extremely rare). Calves may be born any time of the year, but births may reach a peak during the rainy season.
Cows are extremely protective to their young and calves are highly valued in elephantine society. Should anything happen to a nursing mother another lactating female will often take over the feeding of the baby.
Elephant Gender Identification
African elephant males when fully mature are usually about 30% larger than the females.
Look for more angular foreheads on the males, and thicker tusks.
Don't necessarily look at the 'undercarriage' as a male elephant keeps his testes in his body cavity and the penis is not easily seen unless he has lowered it for some reason. When he does, you can't miss it!
Females have breasts on the chest and more rounded foreheads.
Males from time to time come into musth, which translates to a desperation to mate. They can breed without being in musth, but a male who is not in musth will almost always give way to one that is in musth. The most obvious indicators of this condition are liquid oozing out of the glands in their forehead, aggressive behaviour, strong smell and liquid leaking from the penis, which often turns a greenish colour.
Click image to enlarge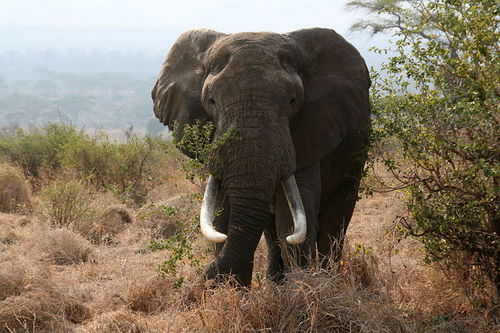 Elephant Trophy Taxidermy
For most elephant hunters, the ivory is the treasured trophy of an elephant hunt. Sport-hunted tusks must be imported to the USA as 'raw' ivory items which means they must not have been mounted, carved or worked in any way or they can be refused entry. Once they are home, you can mount the tusks however you want them.
Other elephant trophy products such as panels of leathered skin can be used to cover stools or make into leather bags or boots etc. The tail hairs are commonly made into intricate bangles. Elephant feet are traditionally made into umbrella stands, bar or foot stool bases or containers of any kind.
Elephant ears are frequently retained as trophies because they look like the outline of Africa in shape. They can be painted with typical African scenes or wildlife, then mounted on the wall.
Of course, if you have the space, you could choose to have an elephant head mount or skull mount.
Click images to enlarge
Elephant Hunting Recommended Reading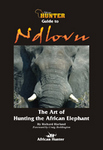 Ndlovu, The Art Of Hunting The African Elephant by Richard Harland is essential reading for all with an interest in this subject - destined to be a "classic". Richard Harland, is a seasoned elephant hunter. In this book he gives a great deal of practical advice on just about all facets of hunting elephant. In addition, there is a photo gallery of live tuskers, the largest known from Southern Africa in the last twenty to thirty years, which is worth the price of admission itself. A great book.
Elephant Hunting In East Equatorial Africa by Arthur H Neumann (1898) is an account of three years ivory hunting under Mount Kenya and among the Ndorobo of the Lorogi Mountains, including a trip to the north end of Lake Rudolph.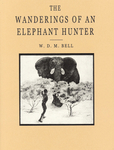 Wanderings Of An Elephant Hunter by W D M Bell is a series of elephant-hunting essays and stories during the glory days of Bell's career.
Elephant Hunting Recommended Viewing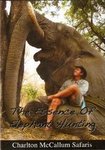 The Essence Of Elephant Hunting
Produced by Charlton McCallum Safaris. Covers Zimbabwean elephant hunting only. It clearly shows the difference between elephant hunting in northwestern Zimbabwe versus the Zambezi Valley area near Lake Kariba. The difference in terrain, trophies to be expected, tracking, vegetation and difficulty of the hunting are clearly laid out. If you intend to hunt elephants in Zimbabwe you would do yourself a great favour by watching this DVD.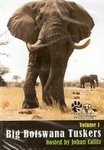 Big Botswana Tuskers
takes you on 15 hunts in the best elephant hunting areas in Africa for some of the world's biggest elephants. Lots of close-up action, many turn downs and elephant charges. Hosted by professional hunter Johan Calitz.
More elephant hunting DVDs
More On Elephant Hunting
Hunting Other African Animals
Big Five Hunting
Waterside Hunting
Other Plains Game Hunting
Spiral Horned Antelope Hunting
Large Antelope Hunting
Medium Antelope Hunting
Small Antelope Hunting
African Pig Hunting
Other Cat Hunting
Animals Of Opportunity