Namibia Travel - Namibia is in south-west Africa and borders the Atlantic Ocean in the west, Angola in the north, Zambia in the north-east, Botswana in the south-east and South Africa in the south. Namibia is stable and prospers from its productive mining, farming, fishing and tourism industries.

Namibia Travel Facts
Formerly: South West Africa
Capital: Windhoek
Area: 825,418 sq km li>
Population: 2,030,692
Language: English, Afrikaans, German & indigenous languages
Time In Namibia
Namibia is the only hunting country that implements daylight saving time. Namibia is one hour ahead of GMT in the winter months, April to September and two hours ahead of GMT from October to March. During winter the time in Namibia is 1 hour behind its neighbours South Africa, Botswana, and Zimbabwe.
Namibia Money
The local currency is the Namibian Dollar (NAD).
ATMs are the cheapest way to get local currency in Namibia but be security aware when using an ATM. Also don't wholly rely on getting your local cash at an ATM in Namibia - they are frequently empty or broken. Read more on money in Africa.
There are no Visa and Mastercard ATMs available at Windhoek airport.
Electricity In Namibia

Voltage: 220 V | Frequency: 50 Hz | Power sockets: Type E
Namibia Map
Getting To Namibia

Non-Stop from Frankfurt to Windhoek, Namibia

Non-Stop from Johannesburg to Windhoek, Namibia
Namibia Travel Health
Vaccinations/boosters are strongly recommended for:
Malaria In Namibia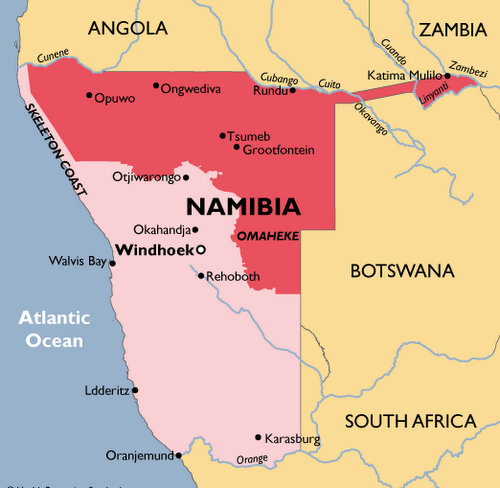 Malaria Map Of Namibia
Prophylaxis is recommended for the provinces of Kunene, Ohangwena, Okavango, Omaheke, Omusati, Oshana, Oshikoto, Otjozondjupa and in the Caprivi and Kavango regions. Transmission occurs throughout the year along the Kunene River and in Caprivi and Kavango regions and from November to June in the other malaria risk areas.. The red area indicate substantial risk of malaria.
Other Health Hazards In Namibia
Namibia Visa
Namibia visa and passport information includes all application instructions and visa application form downloads.
Visa and Passport Requirements For US & UK Citizens
No visa is required by US or UK citizens, provided...
They hold a passport valid at least 6 Months
They hold confirmed onward/return tickets
They hold proof of sufficient funds
Should a person be of an nationality to require a visa...
Submit your Passport, must be valid at least 6 months beyond intended stay
2 Visa Application Form, fully completed and signed
2 Recent passport-type photographs in colour (black & white or scanned photographs are not acceptable)
Copy of round trip airline tickets
Applicants are advised to request maximum length of stay on application form (31 days).
Certain applicants may be requested to present additional documentation to the Namibia High Commission, (hotel confirmation and/or proof of sufficient funds)
Consular Fee: $50.00 per visa - single-entry tourist visa (US citizens)
Consular Fee: £42.00 per visa - single-entry tourist visa (UK citizens)
Application Forms
Namibia Embassies
Namibia Embassy in US
1605 New Hampshire Avenue NW, Washington, DC 20009
Tel: (202) 986-0540
Fax: (202) 986-0443
Namibia Embassy in USA website
Namibia Embassy in UK
6 Chandos Street, London, W1G 9LU
Tel: 020 7636 6244
Fax: 020 7637 5694
Namibia Embassy in UK website
US Embassy in Namibia
Ausplan Building, 14 Lossen St, Windhoek
Tel: [264] (61) 295-8554
Fax: [264] (61) 229792
US Embassy in Namibia
UK Embassy in Namibia
116 Robert Mugabe Avenue Windhoek
Tel: (264) (61) 274800
Fax: (264) (61) 228895
Email UK Embassy in Namibia
Recommended Reading For Namibia Travel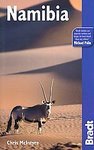 The Bradt Travel Guide to Namibia offers coverage of the Caprivi Strip and the pristine yet accessible wilderness of Namibia - from the desolation of the Skeleton Coast to the picturesque capital of Windhoek.
Useful Namibia Travel Resources