Zambia Travel
Page Updated: Apr 2020
Zambia Travel - Zambia is a landlocked country with land borders with Tanzania in the north-east, Malawi in the east, Mozambique and Zimbabwe in the south-east, Botswana and Namibia in the south, Angola in the west and Zaire in the north-west. The Victoria Falls and Zambezi river contribute to Zambia's scenic splendour.

Zambia Travel Facts
Formerly: Northern Rhodesia
Capital: Lusaka
Area: 752,614 km2
Population: 9,959,037
Language: English and many local languages
Zambia Money
The local currency is Zambian kwacha (ZMK).
ATMs are the cheapest way to get local currency in Zambia but be security aware when using an ATM. Also don't wholly rely on getting your local cash at an ATM in Zambia - they are frequently empty or broken. Read more on money in Africa
There are Visa and Mastercard ATMs at Lusaka airport.
Electricity In Zambia
There are 2 plug configurations in Zambia.


Voltage: 220 V | Frequency: 50 Hz | Power sockets: Type B & D
Zambia Map
Getting To Zambia

Non-Stop from Johannesburg to Lusaka, Zambia

Non-Stop from Dubai, UAE to Lusaka, Zambia

Non-Stop from Dar Es Salaam to Lusaka, Zambia

Non-Stop from Windhoek to Lusaka, Zambia
Zambia Travel Health
Vaccinations/boosters are strongly recommended for:
As of 4 February 2015, you will no longer have to produce proof of yellow fever vaccination on arrival in South Africa from a 'low risk' country, as defined by the WHO. Low risk yellow fever countries include Zambia, Tanzania, Eritrea, Somalia, Sao Tome and Principe. This is good news for hunters return transiting from Zambia or Tanzania via South Africa. Read full SA Government Yellow Fever Policy
Malaria In Zambia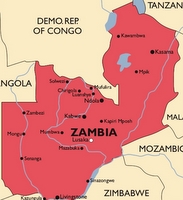 Malaria Map Of Zambia
Prophylaxis is recommended for all travellers at all times of year.
Other Health Hazards In Zambia
Getting A Visa For Zambia
US & UK citizens require a visa for Zambia.
Visa application must be made at the nearest Zambian Embassy. Visa application form with instructions and required documents.
Zambia EmbassyWebsites
Zambia Travel Recommended Reading
The Bradt Travel Guide to Zambia covers all the prime attractions, including all national parks from the Zambezi and Kafe to the famous Luangwa park, host to several unique species and the best place for leopard-spotting. Advice for the independent traveler encompasses everything from choosing the best bushcamps, lodges and hotels to organizing memorable safaris.
Zambia Travel Resources
---
Zambia Travel
Back to Top