African Taxidermy Mounts
African taxidermy mounts include the traditional shoulder mount which is far by far the most popular choice for African hunters. For some animals though, especially the cats, nothing short of a full mount will do justice to the animal and the hunt memories.
The the decision on which type of African taxidermy mount to have is one usually based on personal taste, space available to display the trophies and budget. More and more hunters are deciding to forgo trophy taxidermy altogether as the cost of the taxidermy work and shipping often works out to be such a significant amount that could go towards their next African hunt. They are happy to rely on their trophy photographs to recall the memories of the hunt.
If You Want To Taxidermy Your Trophies...
As you take each of your African animals, you should be asked which mount and/or other parts you would like and the skin will be cut appropriately. This decision may have to be made in the field if you are a long way from the skinning shed or it is a heavyweight animal that will need to be carried to the hunting truck. Your mount choice is a 'do or die' decision because it is usually not possible to convert a skin to different traditional mount style once it has been cut. You can see from the skinning diagrams how skinning for each mount differs.
If you are really unsure of what you want to keep as a trophy at the time of skinning, ask to have the skinning done to cover all the possibilities. Remember, you can take skin away but cannot add it and some cuts cannot be adjusted to make different mounts. For example, a flat skin cannot be turned into a full mount but a full mount could be reduced to a shoulder mount.
Some taxidermists, particularly in the US, are offering alternative mounts like wall art taxidermy and more elaborate multi-animal pedestals.
Should you want to have a wall art mount of an African animal, you may need bring your taxidermist's wall art skinning instructions for the skinner in Africa. .
Other African Trophy Items
Apart from the main mounts you want, there may be other parts you may like to keep...
The back skin is the remaining skin after a cape has been cut. These can be tanned (with fur) or leathered to make leather items, rugs etc.
If you decided on a skull mount only, you may want to keep the whole or partial flatskin to be a fur rug or leathered.
Feet and/or hooves of antelope, buffalo or zebra make interesting bookends or lampstands. Elephant feet are traditionally made into footstools or umbrella holders.
Tails may be kept as a separate item. Tails with long hairs, such as from wildebeest, can made into ornamental fly-swats.
Skin panels usually taken from elephant or hippo can be used to cover furniture like chairs, stools, footstools or to make into luggage.
Elephant tail hairs can be made into the popular knotted bracelets. These really need to be made by an expert skinner while you are in Africa, particularly if you want a fancy treble bangle.
Elephant ears can be made into a decorated wall ornament. The shape of an elephant's ear resembles the outline of the African continentand can be painted with various African animals or scenes.
More examples of accessory, furnishing or decorative items can be seen here.
More On African Taxidermy Mounts...
Further Reading African Taxidermy Mounts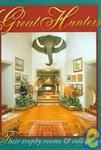 Great Hunters Vol 1: Their Trophy Rooms And Collections. World-famous hunters from this century share photographs of their incredible trophy rooms.
For all the more volumes of
Safari Press Great Hunters Series
More On African Trophy Taxidermy
---
African Taxidermy Mounts
Back to Top
Page Updated: Feb 2020