Hunting Botswana
Botswana had always been a premier big game hunting destination, particularly for elephants, until 2014 when hunting was totally banned in the Controlled Hunting Areas of the Okavango and on all public land. This ban even includes the traditional subsistence hunting done by the San Bushmen of the Kalahari who had a legally binding right to hunt on their ancestral land.
"The shooting of wild game for sport and trophies is no longer compatible with our commitment to preserve local fauna." Pesident of Botswana, Ian Khama.
So with a vast and growing, surplus population of more than 130,000 elephants, this short-sighted commitment ensures that local fauna doesn't stand much chance of being 'preserved' due to habitat destruction. The only small ray of hope for re-opening of this once fine elephant hunting country is the changing attitude of the local people who are now suffering even more massive crop damage and living with the ever present danger of far too many elephants near their villages.
The only hunting available now in Botswana is on private game farms for plains game.
Botswana Hunting Season
In a private hunting areas, such as game ranches in Tuli Block or Kalahari regions, a stipulated hunting season does not apply and you can hunt all year round.
Botswana Climate
The best time to hunt the private game ranches is March through to September as the climate is most comfortable - dry, warm days and cold nights.
Daytime temperatures generally reach 20°C and can drop as low as 5°C at night.
From November, the temperature rises and can reach 38°C during the day.
Botswana Current Weather Forecast
There is no point showing in the Maun weather any longer, so here is the forecast for Selebi Phikwe, a town close to private game farms of the Tuli Block.
Botswana Map
Botswana Hunting Areas Map
This land use map of Botswana shows the location (marked in brown) of private game farms and ranches in the Tuli Block and the Kalahari.
Click map to enlarge
Getting To Your Hunt Area
If you are hunting a Tuli Block game ranch, you will usually land in Johannesburg and take an onward domestic flight to Polokwane (previously, Pietersburg) then have about a 3 hour drive to one of the Botswana border posts. Alternatively your outfitter may collect you from O R Tambo Airport, Johannesburg and drive all the way in about 5 hours.
If you are hunting on private land in the Kalahari region you can either fly to Maun, Botwana or Windhoek, Namibia as the starting point of your road trip to the hunt area.
Hunting Accommodation In Botswana
Most hunting accommodation is in permanent camps with chalets with all mod-cons. Some even have swimming pools and air conditioning. A few outfitters do offer semi-permanent safari tent accommodation with permanent dining areas.
Botswana Hunting Terrain
The Tuli Block is mainly bush-savanna with low hills. There is dense bush with big trees along the Limpopo river but generally the terrain is easy to move about in on foot.
The Kalahari is a semi-arid region and the predominantly flat terrain consists mainly of sandy savanna with acacia or mopane forest, thorn bush and grassy plains.
Botswana Game Laws
These game laws now only pertain to hunting on private game farms.
All non-resident hunters must hunt under the supervision of a licenced professional hunter and the hunt must be outfitted by a licenced outfitter.
Hunting may be done at night on private land.
There is no restriction on hunting females or animals of a certain age on private land.
Shooting from a vehicle is not permitted, though the vehicle can be used to reach the area from where hunting on foot can begin. A vehicle should not approach nearer than 200 metres to any animal, if hunting.
Clients are only permitted to hunt animals for which a permit is issued.
All animals are subject to quota availability, even on private land. For example, a maximum of 10 zebras may be taken on private land.
There is no official minimum number of days for a hunting safari based upon the species being hunted. Minimum hunt lengths for some species may be set by outfitters.
Hunt permits must be issued prior to the hunt commencing.
A separate permit must be issued for each individual hunting client.
Minimum calibre for dangerous game is .375
Minimum calibre for any game, excluding dangerous game, is .222
Maximum calibre for any game is .577 Nitro Express
Botswana Hunting Species
Now big game hunting in the Controlled Hunting Areas and on any public land in Botswana has been banned, the available hunting species has been reduced to the following species...
Hunting Botswana Recommended Reading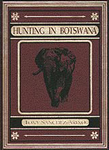 Hunting In Botswana by Tony Sanchez-Arino (1994) is an anthology of big game hunting in Botswana with contributions from numerous famous sportsmen including Oswell, Leyland, Holub, Gillmore, Baldwin, Farini, Stevenson-Hamilton, Bryden, Chadwick, Selby and many others.
The Hunting Blackbeards Of Botswana edited by Brian Marsh (2007) is the story of three generations of Blackbeards who have hunted and guided in Botswana.
More Hunting Botswana Resources
Botswana Travel for information on money, health & malaria, electricity, international travel and visas for Botswana.
Botswana Wildlife Management Association - For more information, contact Debbie Peake at Private Bag 98, Maun, Botswana. Tel: (267) 662671/3 Email: debbie@mochaba.net