Crystal Glassware Engraved by David Whyman
Page Updated: Aug 2023
About David Whyman, Wildlife Artist And Engraver
We are pleased to present the superb crystal glassware hand-engraved by David Whyman
Since 1981, David Whyman has built up an outstanding worldwide reputation for engraving crystal by hand to the highest quality.
With his special interest in wildlife, hunting, shooting and fishing, David's unique crystal glassware is something that can be treasured for years to come.
His work will truly immortalise your African hunting safari memories, from an elegant kudu on a crystal bowl to a decanter depicting a charging buffalo, or even an engraved portrait of yourself with your trophy animal.
"Thank you ever so much. The glasses are truly beautiful and I'm sure to have a more commissioned by David in the next few weeks, possibly a Coat of Arms if that's possible. All Glasses were received in great condition. Thank you once again." N J, Dubai
Commissions are taken for any subject - wildlife, portraits, buildings - the possibilties are endless...
David's engraved crystal is found in the collections of Queen Elizabeth, the late Queen Mother and other members of the British Royal Family, as well as President Ronald Reagan, the Sultan of Oman, the Amir of Kuwait, the Sultan of Brunei and many other notable persons. He has exhibited his works in Japan, USA, Hong Kong, Italy and Germany.
"Enjoying a cocktail in the new glasses, he loved them and may possible order more soon. Thanks again for all your help." S G, Texas
Take a moment to browse to through David's exquisitely detailed work. If you want to buy any pieces here, have any specific requirements or want a custom crystal engraving, please contact us and we will be happy to help.
We've received the glasses, and we must say, "Wow!"
These are beautiful renditions of the source material provided, and we're very happy with the results!
Kudos to David for his craftsmanship, and to you too for your excellent services and general assistance!
My wife's reaction?  "FANtastic!!" I guess that says it all! R L, British Columbia
This display of engraved crystal glassware is frequently updated to include David Whyman's latest designs of wildlife, hunting, shooting and fishing from all parts of the world.
Examples of David Whyman's work...
These are just a selection of a few of David Whyman's designs. Please click on the links to see more. Also if you see a design you like but prefer it on another glass item, it can be done. All the glassware is custom-engraved to be unique for you, so feel free to ask for any specific design or feature and we will do our best to get it just right for you.
The complete African collection of crystal glassware includes beautiful decanters, glasses and plaques engraved with the iconic wildlife of Africa.
African Elephant Decanter
See the complete collection of engraved decanters which may even be engraved as as scenic three-dimensional design, viewed from any angle.
Giraffe Decanter - 3D Design
You can choose any number of crystal wine or spirit glasses to make a set, engraved with any animal you like.
Have a look at this splendid collection of crystal highball glasses featuring the African Big 5 (with a cheetah) in action.
Cape Buffalo Highball Glass
David Whyman's glass artistry is at it's finest in these beautiful engraved optical crystal circles, blocks & plaques.
Bongo Optical Crystal Circle
This collection of crystal glass bowls & plates features a bowl engraved with the large antelopes of Africa.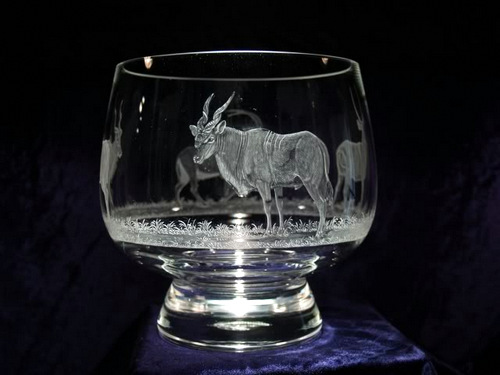 Like the decanters, the crystal glass vases can be engraved with a scenic 3D design.
Send a picture of your beloved dog or any other pet to have it immortalised as a crystal glass portrait on any glass item you prefer - any style of drinking glass, plaque, crystal block or decanter.
These Indian wildlife and vintage crystal glass tiger hunting scenes are engraved on plaques and a vase.
Tiger & Blackbuck Plaque | Special Sale Price £800
The beautiful crystal glass paperweights can be engraved with practically any design you like.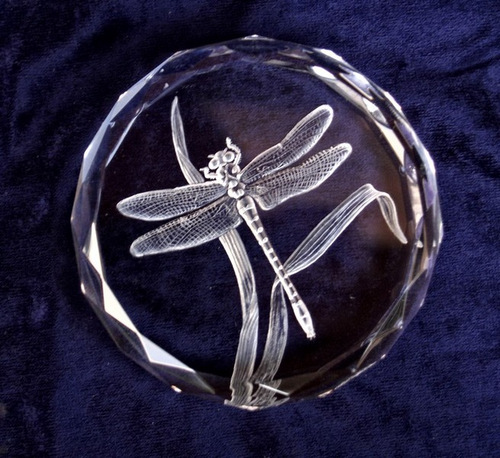 Take A Look At More Crystal Glassware...
---
Crystal Glassware
Back to Top