Mozambique Travel
Mozambique Travel - Mozambique is on the south-eastern coast of Africa and is bordered by Tanzania in the north, South Africa and Swaziland in the South, Zimbabwe in the West and Zambia and Malawi in the north-west. After years of civil war, Mozambique has been rebuilding itself and has much to offer overseas hunters and other tourists.

Mozambique Travel Facts
Formerly: Portugese East Africa
Capital: Maputo
Area: 801,590 km2
Population: 21,284,701
Language: Portugese (official), other dialects
Mozambique Money
The local currency is the Metical (MZM).
ATMs are the cheapest way to get local currency in Mozambique but be security aware when using an ATM. Also don't wholly rely on getting your local cash at an ATM in Mozambique - they are frequently empty or broken. Read more on money in Africa.
There is both a Visa and Mastercard ATM available at Maputo airport.
Electricity In Mozambique
Voltage: 220 V | Frequency: 50 Hz | Power sockets: Type B
Mozambique Map
Getting To Mozambique

Non-Stop from Lisbon to Maputo, Mozambique

Non-Stop from Johannesburg to Maputo, Mozambique

Non-Stop from Johannesburg to Beira, Mozambique
Non-Stop from Johannesburg to Tete, Mozambique

Non-Stop Addis Ababa to Maputo, Mozambique
Mozambique Travel Health
Vaccinations/boosters are strongly recommended for:
Malaria In Mozambique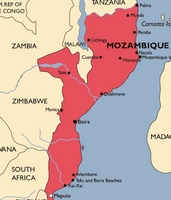 Malaria Map Of Mozambique
Malaria prophylaxis is recommended for all travellers to Mozambique at all times of year. The red area indicate substantial risk of malaria.
Other Health Hazards In Mozambique
All hepatitis strains are endemic.
Bilharzia is present in fresh water.
Tuberculosis is an increasingly serious health concern in Mozambique.
Food and drink contamination.
Mozambique Visa
Mozambique visa and passport information includes all application instructions and visa application form downloads.
A single entry tourist visas may be issued at the airport on your arrival at a cost of $60-$90, saving enormous prior effort. Your hunting outfitter will arrange this.
Visa and Passport Requirements For US & UK Citizens
Submit your Passport, must be valid at least 6 months beyond intended stay
1 Visa Application Form, fully completed and signed
2 Recent passport-type photographs
Copy of round trip airline tickets
Applicants are advised to request maximum length of stay on application form (31 days).
Certain applicants may be requested to present additional documentation to the Mozambique High Commission, (hotel confirmation and/or proof of sufficient funds)
Consular Fee: $20.00 per visa - single-entry tourist visa (US citizens)
Consular Fee: £60.00 per visa - single-entry tourist visa (UK citizens)
Mozambique Visa Application Forms
Mozambique Embassy in US
1525 New Hampshire Avenue, NW, Washington, DC 20036
Tel: (202) 293-7146
Fax: (202) 835-0245
Mozambique Embassy in USA website
Mozambique Embassy in UK
21 Fitzroy Square, London, W1T 6EL
Tel: 0207 3833800
Fax: 0207 3833801
Mozambique Embassy In UK website
US Embassy in Mozambique
193 Avenida Kenneth Kaunda, Maputo
Tel: [258] (1) 492797
Fax: [258] (1) 490114
US Embassy in Mozambique website
UK Embassy in Mozambique
Av Vladimir I Lenine 310 (Box 55) Maputo
Tel: 258(1) 320111/2/5/6/7
Fax: 258(1) 321666
Email UK Embassy in Mozambique
Recommended Reading For Mozambique Travel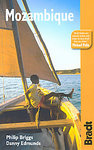 The Bradt Travel Guide to Mozambique contains a good overview of the history of Mozambique as well as useful hints for tourists in relation to money, customs, wildlife and more.
Useful Mozambique Travel Resources