Mozambique Travel
Page Updated: Apr 2020
Mozambique Travel - Mozambique is on the south-eastern coast of Africa and is bordered by Tanzania in the north, South Africa and Swaziland in the South, Zimbabwe in the West and Zambia and Malawi in the north-west. After years of civil war, Mozambique has been rebuilding itself and has much to offer overseas hunters and other tourists.

TRAVEL ALERT

March 2020: The UK Foreign and Commonwealth Office (FCO) is advising against travel to the district of Mocimboa da Praia in Cabo Delgado Province. Also there is advice against all but essential travel to the districts of Nangade, Quissanga, Ibo, Macomia, Palma, Meluco, Mueda and Muidumbe in Cabo Delgado province, including the islands off the coast, due to attacks by groups with links to Islamic extremism. This also applies to travel on the EN1 road between Inchope and the town of Gorongoza and the EN6 road between Tica and Inchope, in Sofala province. Read more
March 2020: The US Travel Advisory is advising to reconsider travel to some northern districts in Cabo Delgado Province due to violent extremism. Read more
Mozambique Travel Facts
Formerly: Portugese East Africa
Capital: Maputo
Area: 801,590 km2
Population: 21,284,701
Language: Portugese (official), other dialects
Mozambique Money
The local currency is the Metical (MZM).
ATMs are the cheapest way to get local currency in Mozambique but be security aware when using an ATM. Also don't wholly rely on getting your local cash at an ATM in Mozambique - they are frequently empty or broken. Read more on money in Africa.
There is both a Visa and Mastercard ATM available at Maputo airport.
Electricity In Mozambique
Voltage: 220 V | Frequency: 50 Hz | Power sockets: Type B
Mozambique Map
Getting To Mozambique

Non-Stop from Lisbon to Maputo, Mozambique

Non-Stop from Johannesburg to Maputo, Mozambique

Non-Stop from Johannesburg to Beira, Mozambique
Non-Stop from Johannesburg to Tete, Mozambique

Non-Stop Addis Ababa to Maputo, Mozambique
Mozambique Travel Health
Vaccinations/boosters are strongly recommended for:
Malaria In Mozambique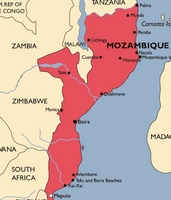 Malaria Map Of Mozambique
Malaria prophylaxis is recommended for all travellers to Mozambique at all times of year. The red area indicate substantial risk of malaria.
Other Health Hazards In Mozambique
All hepatitis strains are endemic.
Bilharzia is present in fresh water.
Tuberculosis is an increasingly serious health concern in Mozambique.
Food and drink contamination.
Getting A Visa For Mozambique
A Mozambique visa is required for most citizens of the world. The list of country exceptions can be seen here with all application requirements.
A single entry tourist visa may be issued at the airport on your arrival with payment of a fee, saving enormous prior effort. Your hunting outfitter will arrange this.
Mozambique Visa Application Forms
Mozambique Embassy Websites
Recommended Reading For Mozambique Travel
The Bradt Travel Guide (2017) to Mozambique contains a good overview of the history of Mozambique as well as useful hints for tourists in relation to money, customs, wildlife and more.
Useful Mozambique Travel Resources
---
Mozambique Travel
Back to Top