Burkina Faso Travel
Page Updated: Mar 2020
Burkina Faso Travel - Burkina Faso is a landlocked country in West Africa. It is bordered by Niger in the east, Benin in the southeast, Togo, Ghana and Ivory Coast in the south and Mali in the west and north. This country, which has barely been heard of by most hunters, is one of the world's poorest countries but it's also one of the most stable and efficient in west Africa.

Burkina Faso Travel Facts
Formerly: Upper Volta
Capital: Ouagadougou
Area: 274,200 sq km
Population: 13,925,313
Language: French & native African languages
Burkina Faso Money
The local currency is (West Africa Comunauté Financiere Africaine) CFA Franc.
There are no Visa ATMs in Burkina Faso
ATMs are the cheapest way to get local currency in Benin but be security aware when using an ATM. Also don't wholly rely on getting your local cash at an ATM in Burkins Faso - they are frequently empty or broken. Read more on money in Africa
There are no ATMs available at Ouagadougou Airport - the nearest being in the city centre.
Electricity In Burkina Faso

Voltage: 220 V | Frequency: 50 Hz | Power sockets: Type B
Burkina Faso Map
Getting To Burkina Faso
1-Stop from CDG, Paris via Niamey, Niger to Ouagadougou, Burkina Faso

Non-Stop from Brussels, Belgium to Ouagadougou, Burkina Faso

Non-Stop Addis Ababa to Ouagadougou, Burkina Faso
Burkina Faso Travel Health
Vaccinations/boosters are strongly recommended for:
Note, you must carry the WHO Yellow Fever certificate when travelling to and from Burkina Faso.
Malaria In Burkina Faso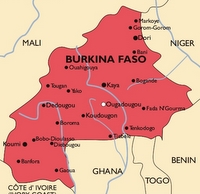 Malaria Map Of Burkina Faso
Malaria prophylaxis is recommended for all travellers to Burkina Faso at all times of year. The red area indicate substantial risk of malaria.
Other Health Hazards In Burkina Faso
All hepatitis strains are endemic.
Bilharzia is present in fresh water
Meningitis may be prevalent in certain areas
Food and drink contamination
Please note, this page contains affiliate links, which means Shakari Connection receives a commission if you make a purchase using these links.
Getting A Visa For Burkina Faso Visa
Burkina Faso visa and passport information includes all application instructions and visa application form downloads.
Visa and Passport Requirements For US & UK Citizens
US and UK citizens are required to have visas for travel to Burkins Faso.
US Visa Application Form. The online visa service is currently not working.
UK citizens must apply for a visa direct from the Embassy of Burkina Faso in Brussels. No website - Contact
Alternatively you can use a visa service to apply for a Burkina Faso Visa online
Burkina Faso Embassy Websites
Recommended Reading For Burkina Faso Travel
The Bradt Travel Guide to Burkina Faso provides information including town maps and descriptions of villages and traditional markets. Great attention to detail, honest appraisals of accommodations, restaurants, sights and festivals. In a country with a very limited tourist infrastructure where even your French may not be sufficient to allow you to communicate clearly with the locals, this kind of a guide is absolutely crucial. Burkina Faso is not for the novice traveller but it is an extremely relaxed and rewarding country to visit.
Useful Burkina Faso Travel Resources
---
Burkina Faso Travel
Back to Top