About Us | Shakari Connection
Get to know us and why we started Shakari Connection....
Over the nearly thirty years that we have been travelling around Africa in the hunting safari business, we have met numerous hunters in hotels, airports, bars, on concession boundary roads...and they all have had stories to tell...
"Nobody told me about the Dutch Consent Form and the new double rifle I bought especially for my first buffalo hunt is still in New York"
"I booked a 2x1 hunt with my buddy and there were 18 other hunters in our camp"
"Nobody met me at Johannesburg Airport. I didn't know I was supposed to fly to Richard's Bay"
"I've just finished my second hunt in Tanzania and still haven't got a buffalo"
"I've been staying in this hotel for 3 days and still haven't been told when my air charter leaves"
"British Airways won't carry my .308 Blaser"
"My trophies were refused entry and sent back to Dar es Salaam"
We don't claim to have all the answers but we thought it would be really useful for all hunters to Africa, especially first-timers, to have as much useful information as possible gathered together in one place.
There is plenty of information out there on different aspects of hunting Africa on other websites and hunting forums but we also aim to guide potential clients into asking all the right questions of their potential outfitters or agents in order to get their hunt completely right for them. Over the years it has never ceased to amaze us how clients part with so much money to hunt in Africa yet neglect to make sure the components of the hunt which obviously are important to them, are not in place.
About Steve Robinson
Steve began his professional hunter training in 1980 with the late Mr Vivian L Good and later under the eagle-eyed tuition of Mr Ian Goss, the chief examiner of professional hunters in Kwa Zulu Natal. During his almost three decades of working in the African hunting industry, Steve has hunted professionally in six African countries and has a wealth of experience with dangerous game. He writes for a variety of hunting magazines and websites and has completed an eBook called 'How To Become A Professional Hunter In Africa'. Steve has now retired from hunting but is still keenly involved in the African hunting industry.
About Susan Robertson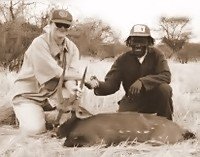 Susan was always a keen hunter in Africa for almost twenty years. For fun and to further her knowledge, she completed her Professional Hunter training with Ian Goss in 1995. Susan also has a great deal of medical experience with specific focus on cardio-thoracic surgery and has additional qualifications in tropical medicine, which came in useful in the remote hunting camps of Tanzania. Before she retired from the hunting business, Susan dealt with the management, sales and hunting client logistics of our hunting company.
We are both extremely keen proponents of ethical hunting and hunting industry business practices. Over the years, we believe we have built up a solid reputation both with our colleagues in the African hunting industry and with the hunting public.
In 2008 the Shakari Connection website came about as a result of the tons of accummulated African hunting knowledge we wanted to share. By chance we found the ideal company to help us on our way in the form of SiteSell.com. Their 'Site Build It' system truly allows anyone to create a successful website, step by step. So Susan taught herself to design and write Shakari Connection which, over the years, has developed into a huge ongoing project and a labour of love to give something back to the African hunting industry that gave us such wonderful lives.
Read more about Site Build It and how you can build a successful hunting company website yourself.
We owe a major debt of gratitude to our friend and veteran African hunter, Peter Lang who has not only contributed his informative and amusing hunting articles but has proof-read every page of this site. His suggestions and comments have been invaluable.