Hunting Mozambique
Page Updated: Apr 2020
Hunting Mozambique - A great hunting destination if you want tough big game hunting, free-range wild animals and no fences.
Before Booking A Hunt In Mozambique...
TRAVEL ALERT

March 2020: The UK Foreign and Commonwealth Office (FCO) is advising against travel to the district of Mocimboa da Praia in Cabo Delgado Province. Also there is advice against all but essential travel to the districts of Nangade, Quissanga, Ibo, Macomia, Palma, Meluco, Mueda and Muidumbe in Cabo Delgado province, including the islands off the coast, due to attacks by groups with links to Islamic extremism. This also applies to travel on the EN1 road between Inchope and the town of Gorongoza and the EN6 road between Tica and Inchope, in Sofala province. Read more
March 2020: The US Travel Advisory is advising to reconsider travel to some northern districts in Cabo Delgado Province due to violent extremism. Read more
"When hunting elephant in this God forsaken country, you need a client who trusts you, who trusts your judgement, who is willing to follow, putting his life in your hands and for what you may ask? For the glory of a few seconds? The shot that will make him a successful African hunter? You need a client who is true not only to himself, but also to his Professional Hunter and who knows his limits. For in this true wilderness there has never been and never will be room for overdriven egos, pretence or anything but honesty and the spirit of the hunt. The country in question lies in the corridor between Niassa and Qurimba National Park in Gabo Delgado province, northern Mozambique. Temperatures push the thermometer into the hundreds with high humidity and almost no shade, making hunting here harder than any of the other areas I have hunted across Africa."
Read more about hunting elephant in Mozambique with Jason van Aarde.
Mozambique Hunting Season
1st April until 30th November.
Most popular time to hunt is August/September. The season start date of 1st April is likely to be too wet for some operators to offer hunts this early.
Mozambique Climate
Warm, tropical climate
The average temperature in the country is 28°C
Temperatures and rainfall patterns vary greatly between the regions of the country.
The areas along Mozambique's north-eastern coast are the hottest and most humid in the country, while the high-altitude regions in the Nampula and Niassa provinces are the coolest
Mozambique Current Weather Forecast
Mozambique Map
Mozambique Hunting Areas Map
Hunting in Mozambique is conducted in concessions known as coutadas which are areas set aside specifically for sport hunting. There are 6 Niassa hunting blocks which are located in the buffer zone of the Niassa National Reserve. There are also a few community hunting areas and game ranches.
Click map to enlarge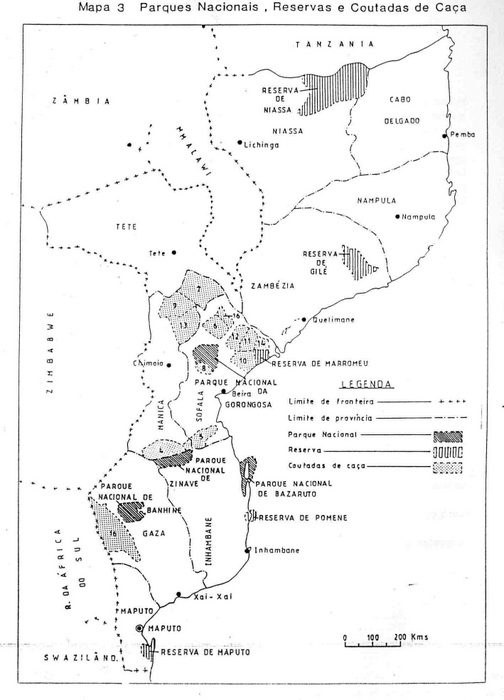 Click map to enlarge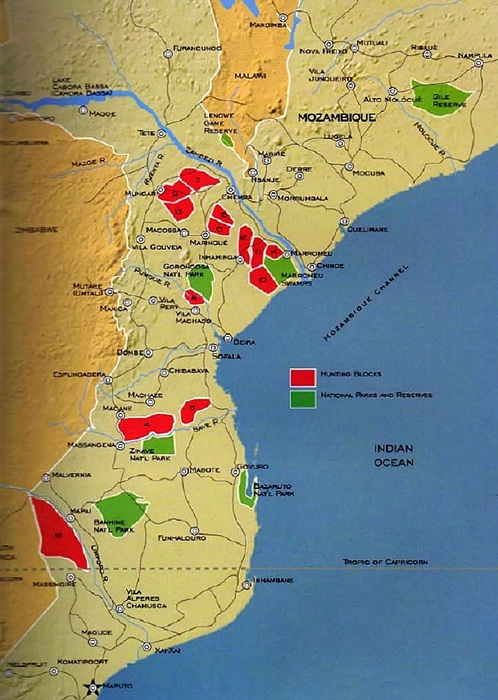 Mozambique Hunting Areas 2
Click map to enlarge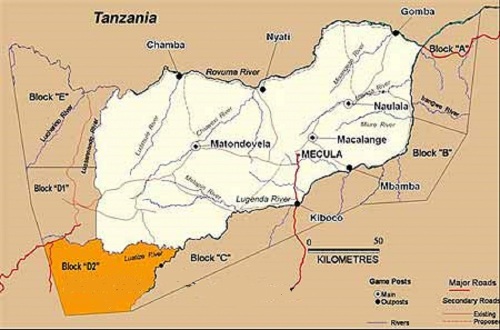 Mozambique Niassa Hunting Areas
Getting To Your Hunt Area In Mozambique
Most hunters will land at Johannesburg and take an onward domestic commercial flight to various Mozambique airports (Maputo, Beira, Pemba etc) depending on your hunt location. The airport of entry to Mozambique must have customs facilities to handle your rifle import, should you bring your own firearm.
Once in Mozambique, your outfitter or company representative will meet you at the airport and assist with your rifle import. You will then have a road trip or charter flight into your hunt area.
Hunting Accommodation In Mozambique
Most hunting accommodation is safari tents with en suite facilities but some areas have more permanent rustic chalets.
Mozambique Hunting Terrain
In the far north the terrain is generally flat or gently undulating, with Miombo woodland being the main vegetation.
In central Mozambique areas such as Marromeu, Lake Cabora Bassa on the Zambezi River and between the Zambezi River and Gorongoza National Park are made up of a wide variety of contrasting terrain such large flood plains, swamps, thick Jesse bush, mopane forests and rolling hills.
Mozambique Hunting Laws
All trophy hunting to take place in daylight, with a few exceptions.
Hunting is allowed at night with artificial light only for leopard, lion, bushpig and crocodile.
Minimum number of days for a hunting safari based upon the species being hunted and is set by the concession holder.
Hunting of female animals which are pregnant or with dependant young, young and/or immature animals is not permitted. If you do shoot a female you will be expected to pay the regular trophy fee (as for a male) but the trophy will not be exportable.
Hunting vehicles may only be used to reach an area where hunting on foot will begin.
Shooting an animal from a vehicle is not permitted. The hunter must be more than 200 yards (183m) away from a vehicle to shoot an animal with the exception of hunting crocodile from a boat.
Clients are only permitted to hunt animals for which a permit is issued.
All animals are subject to quota availability.
Hunt permits must be issued prior to the hunt commencing.
A separate Model A hunting licence must be issued for each individual hunting client.
There is a minimum requirement of 6mm calibre and a minimum case length of 40mm.
Buying or selling 'PAC' hunts has never been legal in Mozambique. Government of Mozambique This warning was issued in 2005 and repeated in 2009.
Mozambique Hunting Licence
The application for a hunting licence must be made by your outfitter who will need documents and information at least 3 months before the safari starts.
The cost for the hunt permit is non-refundable should you cancel the hunt.
Name of the person entitled by the licence.
Area where the hunting activity will take place.
A certified copy of passport for foreign hunters.
2 recent passport photographs.
Nationality and official residence of the applicant.
Full name, date and place of birth.
To be older than 18 years of age.
To be mentally fit and not suffer from any physical deficiency that might compromise the safety of hunting activities.
A declaration by the applicant to the effect that he is not conditioned by any legal disposition or judicial decisions to exercise hunting activities or to hold a firearm licence.
Mozambique Licence Fees
The Mozambique Government charge a licence fee for each animal you intend to hunt. The fee needs to be paid before the hunt starts and is non-refundable should you cancel the hunt or not take the animal while on the hunt. Technically, if you can return to hunt the same animal without paying another licence fee only if the second hunt occurs before the opening of the following hunting season (April 1st).
You may have wondered why there is such a large discrepancy between the licence fees charged by different outfitters. This because some hunt areas have extra charges which are lumped into the licence fee, such as the Niassa reserve blocks which have to pay nearly 100% extra. Then on other concessions there are extra conditions in their contracts where the operators have to pay additional fees to local communities. Game farms have to pay an additional 15% 'restocking fee'. On top of this, there are provincial differences, differences in each concession contract depending how old the contract is, all of which leads to different licence pricing. Then, of course, some operators may add a profit margin to the licence fees.
Often added into the licence fee or itemised separately is a Government levy of 15% of the licence fee.
Should you wound and lose an animal, you must pay the full licence fee, an extra Government levy of 15% of that animal's licence fee, if you have not done so already and the trophy fee.
So after you've paid your animal licence fees and before you arrive in Mozambique, your outfitter should have paid these fees to the Government. This enables the outfitter to receive your hunting licence which will list the animals on which you have paid the licence fee and can go ahead and hunt.
Most outfitters stipulate you must pay ALL the licence fees for every animal you intend to hunt, if not with the hunt deposit payment, at least 60 days before the hunt starts. A few outfitters just ask for the licence fees beforehand for your priority 'big' animals and tell you to bring cash to pay the licence fees for the other 'lesser' plains game animals that might you may want to hunt. This is not legal. However should you really want to hunt a particular 'inexpensive' animal at the last minute on which you have not already paid the licence fee, the outfitter should contact the game department for permission and their agreement that the licence fee can be paid after the event.
Mozambique Trophy Export Fees
These are the fees payable to export trophies of each animal you wish to retain. For example, a Cape buffalo trophy will accrue an export fee of US$275. If you have hunted an elephant or hippo, there is a separate charge for each trophy item, for example US$440 for elephant tusks or a hippo cape, US$220 per elephant foot, US$110 for hippo teeth. The amount only covers dip & pack and transport to Maputo. You will find these fees generally listed with the licence and trophy fees.
These fees do NOT include the fee for the veterinary and agricultural transport permit and inspection.
You must pay separately for all further trophy transportation and crating costs from Maputo onwards.
Mozambique Hunting Species
When hunting crocodile and hippo in water in Mozambique, it is worth knowing that some outfitters always count the shot as a hit, whether or not you actually see blood or retrieve the animal. Thus, you must pay the trophy fee in full.
Mozambique Hunting Trophy Export/Import Restrictions
Elephant is available to hunt in Mozambique as CITES Appendix I with a 100 animal (200 tusks) export quota but the US Fish & Wildlife Service does not permit import of any elephant products from Mozambique.
Since February 2015, the EU Scientific Review Group has delivered a 'negative' opinion on elephant conservation in Cameroon. Now most EU member states will require and likely deny an import permit for elephant trophies from Mozambique as part of EU 'stricter domestic measures'.
All exports of hippo trophies from Mozambique has been suspended by CITES and the EU.
The hunting of klipspringer, caracal, blacked-back & side-striped jackal, civet, genet, serval, honey badger or roan antelope is not permitted in Mozambique.
Australia has banned all elephant and lion trophy imports.
Get A Flavour Of Hunting Mozambique
Hunting Mozambique Recommended Reading
Kambaku by Harry Manners is the story of a lifetime spent hunting elephants in Mozambique. His story begins in 1937 when at an early age he shot his first elephant with tusks of over 80 pounds per side and continues until 1953 when ivory hunting was closed in Mozambique.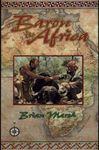 Baron In Africa: The Remarkable Adventures Of An Unusual Hunter by Brian Marsh is the biography of legendary hunter Werner von Alvensleben, a man without fear who also believed firmly in the value of wildlife and the wild places in modern life. He founded the famous Safarilandia hunting company, guiding Jack O'Connor, Robert Ruark and many others. A book full of excitement and adventure in post-World War II Mozambique.
Months Of The Sun is about Ian Nyschen's career as an elephant hunter which began in 1947 in Southern Rhodesia when he found a companion-Faanie Joosten and the pair of them started hunting for ivory for a living. They roamed far and wide, often outside of the law, as far north as southern Tanzania and as far east as the coast of Mozambique. But Ian's stronghold was the thick jess bush of the Zambezi Valley, a place he loved more than any other. There, visibility was so poor that sometimes a hunter could be close enough to touch an elephant with the barrel of his rifle before he could see it. Ian's life was one fantastic and epic adventure after another.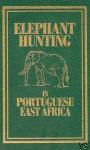 Elephant Hunting In Portuguese East Africa by Jose Pardal who hunted for over thirty-two years in Portuguese East Africa, in today what is known as Mozambique. During the years following World War II, Pardal hunted ivory by himself with only his family and occassional friends for companions. Without the help of any professional hunter, he shot nearly 100 elephants, the great majority above-average tuskers. This book chronicles the hunting-life story of a nearly vanished breed of man - those who single-handedly hunted elephants for prolonged periods of time.
Hunting Mozambique Resources
Mozambique Travel for information on money, health & malaria, electricity, international travel and visas for Mozambique.
Association of Mozambique Hunting Safari Operators (AMOS) was formed in 2010 to promote, regulate and enforce professionalism in the safari hunting industry, as well as promoting the benefits of ethical hunting and sustainable utilization of wildlife to the conservation. They also have a list of members who operate legal and ethical hunting safaris in Mozambique, so is a good place to start if you are researching a hunt in Mozambique. Read more about AMOS from African Indaba, the AMOS Code Of Conduct and AMOS Mission Statement. AMOS does not have a website but you can email the AMOS Chairman Mr. Adamo Valy adamov@hollard.co.mz
---
Hunting Mozambique
Back to Top