Sable Antelope Hunting
Sable antelope are a most highly sought-after African game animal. Excepting the spiral horns of the greater kudu, the sable has the longest horns of any African antelope.
There are technically four subspecies of sable antelope, which as usual, are uncertain. As far as hunting goes, you can hunt two, possibly 3, depending on our hunt location.
The Rowland Ward and SCI record books acknowledge two types of huntable sable - the typical or common sable and Roosevelt's or East African sable. Plus they do maintain the historic records for the Royal or giant sable of Angola. The Royal sable was thought to be locally extinct but a small population was discovered in 2004 which was relocated to protected areas in the hope that their numbers will increase. However...
Roosevelt's sable, Hippotragus niger roosevelti is thought to occur from the Shimba Hills of Kenya, through eastern Tanzania (including the Selous) to northern Mozambique. SCI only acknowledges sable taken within the Selous Reserve to be Roosevelt's sable. Any other sable taken anywhere else in Tanzania or northern Mozambique are classifed as common/typical sable. Rowland Ward does not recognise any sable in Tanzania as Roosevelt's sable, confining, the now historic records, to those sable of Shimba Hills, Kenya. It gets worse...
The sable of western Tanzania and western Zambia (north of the Zambezi) may technically be Kirk's sable Hippotragus niger kirkii but is lumped in as common or typical for record purposes.
All other sable found south of the Zambezi, are technically the Southern sable, Hippotragus niger niger. Of course, this excludes the captive-bred sables of South Africa whose blood lines are mixed up with western Zambian sables in order to grow the biggest sable, in horn and body.
Sable Antelope Trophy Minimums
Hippotragus niger niger (Typical, Common Sable)
RW Minimum
RW Record
RW Measurement Method
SCI Minimum
SCI Record
SCI Measurement Method
417/8"
553/8"
7
96"
1283/8"
1
Hippotragus niger roosevelti (East African, Roosevelt's Sable)
RW Minimum
RW Record
RW Measurement Method
SCI Minimum
SCI Record
SCI Measurement Method
34"
443/4"
7
61"
1145/8"
1
Where To Hunt A Sable Antelope
You can hunt a sable in Mozambique, Namibia, South Africa, Tanzania, Zambia and Zimbabwe.
Sable Antelope Hunting Prices
Sable is considered an 'elite' African game animal with hunting prices that reflect this.
Sable Antelope Hunting Methods
Walk and stalk in the likely habitat which is open woodland in the early mornings or evenings. This is when they are most active. In the heat of the day sable usually retreat into thick bush for a sleep.
Sable are not excessively wary, often running a short distance when startled, then stopping and looking back. This may be your chance for a shot.
They are tough antelope so make sure of your shot - if if wounded, they can run for considerable distances.
When wounded or cornered, sable antelope may viciously defend themselves with their sabre-like horns. The fight or flight distance for sable antelope seems to be smaller than for comparable species.
A Good Sable Trophy
Horn length with thick bases will make a good trophy. A sable's horn length should really be judged from side view of the animal. However if you look from the front and see the horns rising straight a long way before curving back and down and the horns flaring out, it should be a great animal.
Sable Antelope Hunting Shot Placement
Sable Bull Vital Statistics
Shoulder Height: 46-55" / 117-140cm
Weight: 518lbs / 235kg
Sable Antelope Habitat And Requirements
The sable's preferred habitat combines savanna woodlands and grasslands during the dry season.
Sables are considered grazers and feed on grasses, herbs, and foliage.
Most sable antelope must drink water every day or two and also visit salt licks on a regular basis.
Sable Antelope Social Structure
Herds of females typically have 15 to 25 members and tend to share the same home range.
Female sables are very aggressive and as a result, there is a female hierarchy system based on seniority.
Old bulls are believed to be territorial.
When fighting, males males drop to their 'knees' and engage in horn wrestling. Fatalities from these combats are rare.
Maternal herds are led by a dominant male.
Sable Antelope Gestation Period
After a gestation period of around 9 months, one offspring is born.
Sable Antelope Gender Identification
Colouration is the most obvious difference, with females and young being bright chestnut to dark brown and mature males being chestnut to jet black.
The semicircular, ridged horns are found in both sexes, although they are smaller in females.
Click images to enlarge
Sable Bull - Front View Of Horns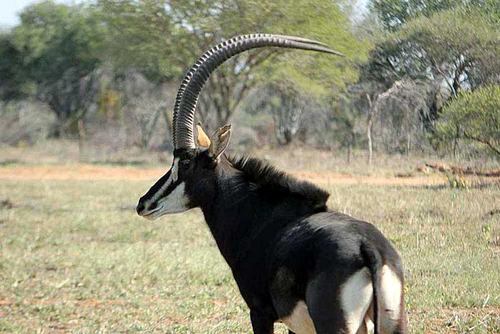 Sable Bull - Side View Of Horns
Sable Antelope Trophy Permits (2015)
Only the Royal or giant sable, Hippotragus niger variani, which may not be hunted, carries a CITES I classification.
Sable Antelope

CITES

USF&W

EU

AUS

N/A
N/A
N/A
N/A
Sable Trophy Taxidermy
If your budget can stretch to it, the sable makes a magnificent full mount display. If a full mount is not possible, they make a great shoulder mount or pedestal mounts.
Don't forget to tell your taxidermist the direction you want the head to turn and not to blacken and polish the horns, if you want the horns to look natural.
Click images to enlarge
Sable Antelope Recommended Reading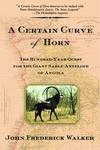 A Certain Curve Of Horn: The Hundred-Year Quest For The Giant Sable Antelope Of Angola by John Frederick Walker (2004) tells the story of the giant sable antelope of Angola, a majestic, coal-black quadruped with breathtaking curved horns more than five feet long. It is an enthralling and tragic tale of exploration and adventure, politics and war, the brutal realities of life in Africa today and the bitter choices of conflicting conservation strategies. A 'Certain Curve Of Horn' traces the sable's emergence as a highly sought-after natural history prize before the First World War and follows its struggle to survive in a war zone fought over by the troops of half a dozen nations and its transformation into a political symbol and conservation icon. As he follows the trail of this animal, Walker interweaves the stories of the adventurers, scientists, and warriors who have come under the thrall of the beast and how their actions would shape the fate of the giant sable antelope and the history of the war-torn nation that is it's only home.
Hunting Other African Animals
Big Five Hunting
Waterside Hunting
Other Plains Game Hunting
Spiral Horned Antelope Hunting
Large Antelope Hunting
Medium Antelope Hunting
Small Antelope Hunting
African Pig Hunting
Other Cat Hunting
Animals Of Opportunity