Klipspringer Hunting
Klipspringer, which means 'rock jumper' in Afrikaans, have incredible agility among the steep rocks which be attributed to their unique hooves. The hoof tips are almost circular with the diameter of about a dime. The klipspringer stands on the tips of the hooves and with it's strong back legs, it can jump up a smooth rock wall and land with all four feet on a tiny rock projection.
Klipspringer Trophy Minimums
Oreotragus oreotragus (Klipspringer)
RW Minimum
RW Record
RW Measurement Method
SCI Minimum
SCI Record
SCI Measurement Method
41/8"
63/8"
7
10"
17"
1
Where To Hunt A Klipspringer
You may hunt a klipspringer in the steep, rocky areas of Ethiopia, Namibia, South Africa, Tanzania, Uganda, Zambia and Zimbabwe.
Klipspringer Hunting Prices
Klipspringer Hunting Methods
Walking and stalking in the likely habitat of rocky kopjes or crags where they can be seen perching on steep rocky outcrops at dusk or early morning.
Use a small calibre or a solid bullet, as the skin and hair are easily damaged - Klipspringer have hollow and particularly brittle hair.
A Good Klipspringer Trophy
Look for solid bases and good horn length - if you can see at least an inch of horn showing above the ears, go for it.
Klipspringer Hunting Shot Placement
Klipspringer Vital Statistics
Shoulder Height: 20-23" / 51-58cm
Weight: 35-40lbs / 16-18kg
Klipspringer Habitat And Requirements
Klipspringer prefer steep rocky terrain, especially kopjes, in savannas in eastern and southern Africa.
It feeds on grasses, leaves, blossoms, fruit, lichens and is not water-dependent.
Klipspringer Social Structure
Klipspringer live as monogamous pairs and defend a territory.
Klipspringer Gestation Period
After a gestation period of 7 months, one offspring is usually born.
Klipspringer Gender Identification
Female klipspringers are generally larger in the body than males.
The horns, found in males (and sometimes on females in east Africa), are wide-set on the forehead and rise vertically as short spikes. They are ridged at the base.
Klipspringer Image Gallery
Click Images To Enlarge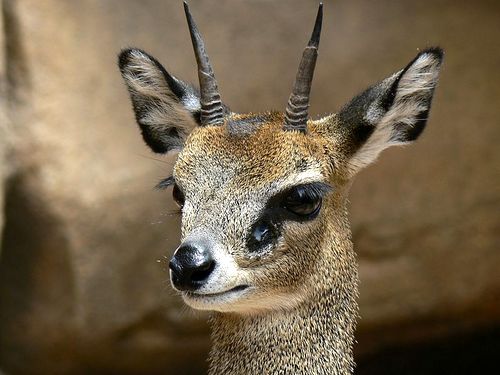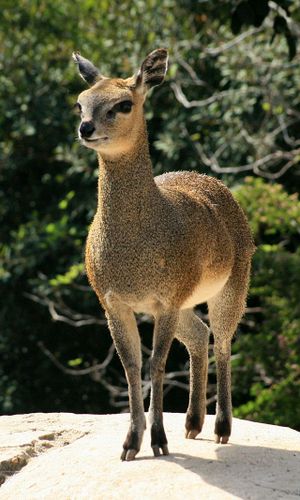 Klipspringer Trophy Permits (2015)
Klipspringer

CITES

USF&W

EU

AUS

N/A
N/A
N/A
N/A
Klipspringer Trophy Taxidermy
As with most small African antelope, a full mount is the best taxidermy display. However a skull mount on a shield, perhaps with multiple klipspringer skulls or other small antelope skulls looks very effective. Don't forget to instruct your taxidermist not to blacken the horns if you want them to look natural.
If you retain a klipspringer skin to be tanned, don't use it as a rug/mat in a high traffic area. The hollow hairs of the klipspringer are very brittle and will fall out very quickly.
Click images to enlarge
Hunting Other African Animals
Big Five Hunting
Waterside Hunting
Other Plains Game Hunting
Spiral Horned Antelope Hunting
Large Antelope Hunting
Medium Antelope Hunting
Small Antelope Hunting
African Pig Hunting
Other Cat Hunting
Animals Of Opportunity