Sitatunga Hunting
Expect to get very wet and muddy when sitatunga hunting in a swamp. This spiral-horned antelope is an excellent swimmer and when threatened, often run into and submerge in deep water or retreat into the very thickest vegetation. This is a specialist hunt and not for the faint-hearted hunter.
The sitatunga have elongated, splayed hooves and flexible foot joints that enable it to move across boggy ground.
Sitatunga Trophy Minimums
Tragelaphus spekii gratus (Western, Forest, Congo Sitatunga)
RW Minimum
RW Record
RW Measurement Method
SCI Minimum
SCI Record
SCI Measurement Method
25"
33"
8
50"
844/8"
2
Tragelaphus spekii selousi (Zambezi, Selous' Sitatunga)
RW Minimum
RW Record
RW Measurement Method
SCI Minimum
SCI Record
SCI Measurement Method
27"
321/2"
8
60
822/8"
2
Tragelaphus spekii spekii (Northern/East African, Nile, Speke's Sitatunga)
RW Minimum
RW Record
RW Measurement Method
SCI Minimum
SCI Record
SCI Measurement Method
26"
281/4"
8
50"
786/8"
2
Tragelaphus spekii sylvestris (Island, Ssese Islands Sitatunga)
RW Minimum
RW Record
RW Measurement Method
SCI Minimum
SCI Record
SCI Measurement Method
22"
311/8"
8
N/A
775/8"
2
Where To Hunt A Sitatunga
You can hunt a western sitatunga on forest hunts in Cameron and Central African Republic.
You can hunt an East African sitatunga in western Tanzania and Uganda.
The island sitatunga may only be hunted in the Ssese Islands of Uganda which are found in the north west corner of Lake Victoria.
You can hunt a Zambezi sitatunga in Zambia.
Sitatunga Hunting Prices
Sitatunga Hunting Methods
As sitatungas use regular, tunnelled pathways through the tall reeds and papyrus of swamps, they are often hunted from blinds, rickety high platforms or boats.
Be prepared to take a quick accurate shot - the last thing you want is a wounded sitatunga follow-up through swamp vegetation. They are notoriously difficult to find if wounded, often submerging underwater with only their nostrils showing.
Sitatunga are most active just after dawn and just before dusk.
Sitatunga Hunting In Uganda
A Good Sitatunga Trophy
Good horn length with thick bases will make a good trophy.
Sitatunga horns are similar to those of an nyala. If you actually get to see the horns before shooting, look for a deep 'bell' that extends past the ears on the outer curve and then flare out.
Sitatunga Hunting Shot Placement
Sitatunga Bull Vital Statistics
Shoulder Height: 32-46" / 81-116cm
Weight: 168-262lbs / 76-119kg
Sitatunga Habitat And Requirements
This antelope lives in thickly vegetated, muddy swamps and marshes.
Sitatunga Social Structure
Essentially solitary animals, pairs associate for short periods of time for mating and small mixed groups are occasionally formed.
Sitatunga Gestation Period
After a gestation period of around 7 months, one offspring is born.
Sitatunga Gender Identification
Only male sitatunga have horns.
The males are grayish-brown and the females are a reddish brown, with six to eight vertical white stripes on the body.
Males are also considerably larger than females.
Click images to enlarge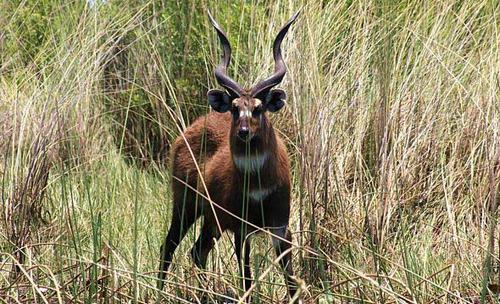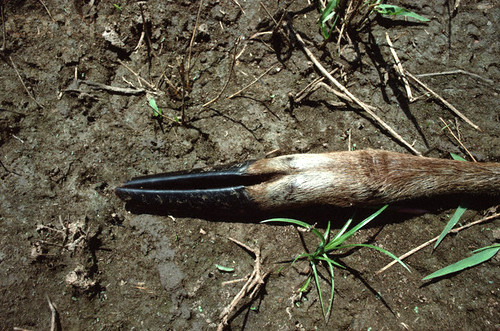 Sitatunga Trophy Permits (2015)
All Sitatunga

CITES

USF&W

EU

AUS

N/A
N/A
N/A
N/A
Sitatunga Hunting Recommended Reading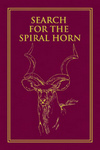 Search For The Spiral Horn by Craig Boddington (2002) who is one of the few hunters who has successfully hunted each of the major varieties and most of the subspecies of the nine spiral-horned antelope of Africa.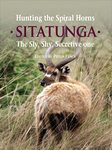 Hunting the Spiral Horns: Sitatunga: The Sly, Shy, Secretive One by Peter Flack (2015) is the only book you will need on sitatunga. Contributors include Don Cowie, Brian Herne, Robin Hurt, Rudy Lubin, Jeff Rann, Alain Smith, Chris Kinsey (the first sport hunter to bag all 26 subspecies of sitatunga) as well as other noted professional and experienced sport hunters. As John Jackson says in his foreword. "You are about to embark on an incredible journey across the range of all sitatunga".
Sitatunga Hunting Recommended Viewing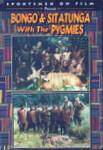 Bongo & Sitatunga With The Pygmies
. Hunts for western bongo, western sitatunga and the duikers of the rain forest with hired hunters of the Pandjele Pygmy tribe as trackers. 60 mins.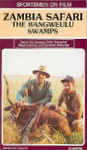 Zambia Safari: The Bangweulu Swamps
DVD by Ken Wilson. The black lechwe is only found in the Bangweulu Swamps and this hunt ends with a 26" animal. Then the hunt begins for one of Africa's greatest trophies, the Zambezi sitatunga. 55 minutes. DVD.
Hunting Other African Animals
Big Five Hunting
Waterside Hunting
Other Plains Game Hunting
Spiral Horned Antelope Hunting
Large Antelope Hunting
Medium Antelope Hunting
Small Antelope Hunting
African Pig Hunting
Other Cat Hunting
Animals Of Opportunity