Ethiopia Travel
Ethiopia Travel - Ethiopia is in North Eastern Africa bordering Sudan in the north and north-west, Eritrea in the north and north-east, Djibouti in the east, Somalia to the east and south east and Kenya in the south.
Ethiopia has some of the highest and most stunning mountains on the African continent - the Simien mountains, and the lowest flats - the Danakil depression. However, the most distinctive feature is the Great Rift Valley, which runs through the entire length of the country.

Ethiopia Travel Facts
Formerly: Abyssinia
Capital: Addis Ababa
Area: 1,127,127 km2
Population: 74,777,981
Language: Amharic, Oromo, Tigrinya Guaragigna, Somali, Arabic, other local languages, English
Time & Date In Ethiopia
In Ethiopia, the 12 hour clock is sometimes used locally which may be somewhat confusing to visitors. The first time cycle starts with 'one' at 7 am and goes to 'twelve' at 6 pm. The second time cycle starts with 'one' at 7 pm and goes on to 6 am at 'twelve'. Airline schedules and most businesses work on Western time but if you are making a casual appointment to meet a local, it may be worth confirming the time as 'English' rather than Ethiopian.
Ethiopia also follows the Julian calendar, which consists of twelve months of 30 days each and a thirteenth month of 5 days ( six days in a leap year). The calendar is about eight years behind the Western (Gregorian) calendar. The Ethiopian New Year begins on the first day of the month of Meskerem, which falls on September 11th on the Gregorian calendar.
Ethiopia Money
The local currency is Birr (ETB). Unlike some other African hunting countries where the US$ can commonly be used for most transactions, the Birr must be used in hotels and shops etc.
If you intend to exchange currency in Ethiopia, it is best to bring US$ cash which can be easily exchanged in banks and bureaux de change. Traveller's cheques are not accepted.
Major foreign credit cards are accepted in big hotels in Addis but are not accepted by local ATMs.
It is illegal to carry more than 200 Birr when entering or leaving Ethiopia. If you are found to be carrying in excess of 200 Birr the money will be seized and a prison sentence is possible.
Electricity In Ethiopia
There are 2 plug configurations in Ethiopia.
Voltage: 220 V | Frequency: 50 Hz | Power sockets: Type B & E
Ethiopia Map
Getting To Ethiopia

Non-Stop from Dulles, Washington DC to Addis Ababa, Ethiopia
1-Stop return Addis Ababa via Rome, Italy to Dulles, Washington DC
Non-Stop from CDG, Paris to Addis Ababa
1-Stop from CDG, Paris via Nairobi, Kenya to Addis Ababa

Non-Stop from Frankfurt to Addis Ababa
Ethiopia Travel Health
Vaccinations/boosters are strongly recommended for:
Note, you must carry the WHO Yellow Fever certificate when travelling to Ethiopia from a country with risk of YFV transmission including transit of more than 12 hours in an airport located in a country with risk of YFV transmission.
Malaria In Ethiopia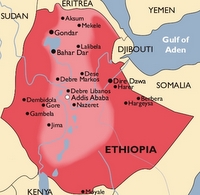 Malaria Map Of Ethiopia
Malaria prophylaxis is recommended for all travellers to Ethiopia at all times of year even though the risk of getting it is low if you are hunting highland areas of over 2000m above sea level. The red area indicate substantial risk of malaria.
Other Health Hazards In Ethiopia
Ethiopia Visa
Ethiopia visa and passport information includes all application instructions and visa application form downloads.
Visa and Passport Requirements For US & UK Citizens
Submit your Passport, must be valid at least 6 months beyond intended stay
2 Visa Application Forms, fully completed and signed
Forms must be completed in BLOCK capitals and in black or blue ink only.
1 Recent passport-type photographs - Passport size, (45mm x 35mm), in colour, signed by the applicant on the back in block capitals, full face, without sunglasses, hat or other head covering, (unless for ethnic or religious reasons)
Paper-clip photograph to the form
Copy of round trip airline tickets, or itinerary, or letter of confirmation from travel agent
Consular Fee: $70.00 per tourist visa
Consular Fee: £18.00 per tourist visa
Ethiopia Visa Application Forms
Ethiopia Embassy in US
3506 International Dr., NW, Washington, DC 20008
Tel: 202-364-1200
Fax: 202-587-0195
Ethiopia Embassy In USA Website
Ethiopia Embassy in UK
17 Prince's Gate, London, SW7 1PZ
Tel: 020 7838 3897/98
UK Embassy In Cameroon Email
Ethiopia Embassy In UK Website
US Embassy in Ethiopia
Entoto Street, Addis Ababa
Tel: 251/11/517-40-00
Fax: 251/11/517-40-01
US Embassy In Ethiopia Website
UK Embassy in Ethiopia
Fikre Mariam Abatechan Street Addis Ababa
Tel: (251) (1) 612354
Fax: (251) (1) 610588
UK Embassy In Ethiopia Email
UK Embassy In Ethiopia Website
Taking Video & Camera Equipment To Ethiopia
Any foreigner who wishes to do professional filming of any kind in Ethiopia needs to apply for a permit in advance from the Ministry of Communications. This would include professional videographers who are hired by hunters to film their hunts.
However, Ethiopian Customs have been requesting permits from ordinary tourists for all types of video cameras entering the country, considering them to be professional filming equipment. Also carrying multiple cameras with extra lenses etc may also be considered to be professional camera equipment. Ethiopian Customs have been occasionally prohibiting individuals from bringing cameras and other equipment into the country for personal use, confiscating all their equipment. Officially the Ethiopian customs law says that you are allowed to bring in one camera with accessories.
Recommended Reading For Ethiopia Travel
The Bradt Travel Guide to Ethiopia is the most thorough guide available to this country rich in culture, history and dramatic scenery and has been highly praised by both travel press and readers.
Useful Ethiopia Travel Resources