Uganda Travel
Page Updated: Apr 2020
Uganda Travel - Uganda is in East Africa, bordered in the east by Kenya, the north by Sudan, in the west by the Democratic Republic of the Congo, in the southwest by Rwanda, and in the south by Tanzania.
Uganda Travel Facts
"The Pearl of Africa" Winston Churchill
Capital: Kampala
Area: Total: 236,040 km2
Population: 24,699,073 (est)
Language: English, Swahili and local languages
Uganda Money
The local currency is the Ugandan shilling.
ATMs are the cheapest way to get local currency in Uganda but be security aware when using an ATM. Also don't wholly rely on getting your local cash at an ATM in Uganda - they are sometimes empty or broken. Read more on money in Africa
There are a number of banks and ATMs in larger cities and towns such as Kampala, Lira and Entebbe but they are few and far between in remote rural areas.
There are Visa ATMs at Entebbe airport.
Electricity In Uganda

Voltage: 230 V | Frequency: 50 Hz | Power sockets: Type D & E
Uganda Map
Getting To Uganda

Non-Stop from Schipol, Amsterdam to Entebbe, Uganda

Non-Stop from Dubai, UAE to Entebbe, Uganda

Non-Stop from Doha, Qatar to Entebbe, Uganda

Non-Stop from Abu Dhabi, UAE to Entebbe, Uganda

Non-Stop from Johannesburg to Entebbe, Uganda

Non-Stop from Dar Es Salaam to Entebbe, Uganda

Non-Stop Addis Ababa to Entebbe, Uganda
Uganda Travel Health
Vaccinations/boosters are strongly recommended for:
Malaria In Uganda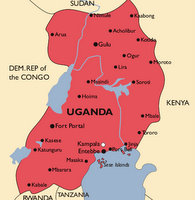 Malaria Map Of Uganda
Prophylaxis is recommended for all areas of Uganda at all times of year.
Other Health Hazards In Uganda
All other hepatitis strains are endemic.
Bilharzia is present in fresh water.
Outbreaks of Meningitis, cholera and haemorrhagic fevers such as Ebola, sometimes occur.
Food and drink contamination.
Getting A Visa For Uganda
US and EU citizens may buy a Uganda visa on arrival at Entebbe Airport for US$50. See below for advance visa application.
You can now apply online for a visa to travel to Uganda. Get full guidelines, regulations and required documents here.
Uganda Embassy Websites
Recommended Reading For Uganda Travel
The Bradt Travel Guide to Uganda offers in-depth background information on Uganda's history and fascinating mix of cultures. It has all the practical details on travelling around the country you might possibly expect plus a guide wildlife, trekking and climbing.
Uganda Travel Resources
---
Uganda Travel
Back to Top