Zimbabwe Travel
Page Updated: Apr 2020
Zimbabwe Travel - Zimbabwe is a landlocked country in south-central Africa. The country has land borders with Mozambique in the north and east, South Africa in the South, Botswana in the south-west and Zambia in the north and north-west.

Zimbabwe Travel Facts
Formerly: Southern Rhodesia
Capital: Harare
Area: 390,580 km2
Population: 11,376,676
Language: English and many local languages
Zimbabwe Money
The local currency was the Zimbabwean dollar (ZWD) but since 2009 it is no longer. Most transactions will be conducted in US$ or in South African Rand (ZAR).
It is illegal to exchange foreign currency anywhere other than at officially licensed dealers and banks.
Carry small denomination notes as change is rarely available in smaller businesses.
Credit and Debit cards are still not commonly accepted by hotels or shops anywhere except in Harare or Victoria Falls.
ATMs are common in Harare and they dispense US dollars but don't rely on this service being available throughout Zimbabwe. Read more on money in Africa
There is a Visa ATM only at Harare airport.
Zimbabwe Foreign Currency Restrictions
There is no limit to the amount of foreign currency that a visitor can bring into Zimbabwe.
On arrival in Zimbabwe, a Currency Declaration Form must be completed to state how much currency you are bringing into Zimbabwe.
You must retain a copy of the Currency Declaration Form and show it on departure from Zimbabwe.
If no official declaration of the funds was made upon entry into the country, only up to US$1000 will be allowed to be exported on departure. The money may also be confiscated and/or a court appearance may be necessary which would delay departure.
It is a serious offence to leave the country with foreign currency exceeding US$5000, or equivalent.
Electricity In Zimbabwe
There are 2 plug configurations in Zimbabwe.


Voltage: 220 V | Frequency: 50 Hz | Power sockets: Type D & E
Zimbabwe Map
Getting To Zimbabwe
No flights from Europe direct to Zimbabwe. Use South African, East African Or Middle East hubs.

Non-Stop from Heathrow, London to OR Tambo, Johannesburg with onward connection to Harare with Comair or Kalula
NOTE Comair is a franchise partner with British Airways and, as of March 2013, will not carry firearms. Kalula has an interline agreemant with BA Comair and will also not carry firearms.

Non-Stop from Johannesburg to Harare, Zimbabwe
Non-Stop from Johannesburg to Victoria Falls, Zimbabwe

Non-Stop from Dubai, UAE to Harare, Zimbabwe

Non-Stop from Johannesburg to Harare, Zimbabwe

Non-Stop from Windhoek to Victoria Falls, Zimbabwe
Non-Stop from Windhoek to Harare, Zimbabwe

Non-Stop Addis Ababa to Harare, Zimbabwe
Zimbabwe Travel Health
Vaccinations/boosters are strongly recommended for:
Malaria In Zimbabwe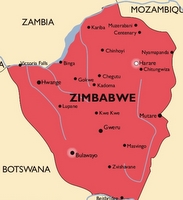 Malaria Map Of Zimbabwe
Prophylaxis is recommended for all areas, except the cities of Harare and Bulawayo. Malaria risk exists from November through June in areas below 1200m and year-round in the Zambezi valley.
Other Health Hazards In Zimbabwe
Getting A Visa For Zimbabwe
As a Category B country, US & UK citizens are not required to apply for a visa before travelling, but may pay for and obtain a visa on entry in Zimbabwe.
If you are a passport holder from a Category C country, you need to get your visa in advance of travel and make your application at the Zimbabwean Embassy.
If you are a passport holder from a listed eligible country, you may apply online for an e-visa for Zimbabwe.
Zimbabwe Embassy Websites
Zimbabwe Travel Recommended Reading
The Bradt Travel Guide to Zimbabwe offers in-depth information on the facilities, advice on itinerary planning as well as how to select a safari. Accommodation is covered with up-to-date information on everything from luxury safari camps to budget stays.
Zimbabwe Travel Resources
---
Zimbabwe Travel
Back to Top