Hunting Tanzania
Page Updated: Apr 2020
Hunting Tanzania - The unspoilt wilderness areas of Tanzania make for some of the best big game hunting in Africa.
"The Selous Game Reserve is a massive 5 million acres in extent and has a further 2 million acres of buffer zone surrounding it. The reserve supports the largest populations of African game animals in one reserve anywhere on the continent - 30,000 elephants, 200,000 Cape buffalo and 80,000 wildebeest and significant populations of almost every other species of African mammals. Although there are a very few exceptions, the buffer zones tend to hold far fewer head of game per square kilometre than the Selous Reserve proper. This is mostly due to the fact that unlike the Selous itself, the buffer zones permit human habitation and therefore suffer from a degree of poaching - mostly subsistence poaching. The Selous is the largest game reserve in the world, is entirely unfenced and can be classified as one of the very few remaining pristine true wilderness areas in existence. The reserve is split into approximately 40 hunting concessions and leased on five year terms, to a variety of safari companies. These concession blocks are labelled by letters and numbers. The letter(s) refers to the first letter(s) of the name(s) of the river boundaries and the number refers to the exact location. For example, K2 refers to the second concession on the Kilombero River. If the area is referred to by a name such as Gonabisi it is a buffer zone and not part of the Selous Reserve. There are no exceptions to this rule."
Tanzania Hunting Season
1st July until 31st March (The season was extended in the new Tanzanian Wildlife Tourist Hunting regulations of 2010)
Tanzania Climate
The season may end earlier (mid November) in some areas like the Selous Reserve because the rains may start towards the end of November making the hunting impossible.
Tanzania lies so close to the equator that seasonal variations in temperature are not extreme.
In the north, temperatures will range between 25°C to 28°C during the day.
Further south, temperatures may reach 40°C.
Tanzania Current Weather Forecast
Tanzania Map
Tanzania Hunting Areas Map
The hunting areas of Tanzania can be divided into three main regions - Masailand, the Selous & coastal areas and western Tanzania. Within these regions, trophy hunting in Tanzania can be conducted in...
Game Reserves, such as Selous, Rungwa and Ugalla which have restricted entry and where no human habitation or activities (hunting, grazing animals, cutting wood etc.) are allowed except with permission of the Government Wildlife Management Authority. So only licenced tourist hunting and licenced non-comsumptive tourist activities are permitted.
Around National Parks, Game Reserves and other protected areas of Tanzania are buffer zones which you can hunt in up to within 1km of the National Park boundary. Buffer zones technically are supposed to add an extra layer of protection for the wildlife within the core area while allowing the local communities to benefit by permitting limited activities such as firewood collection, seasonal grazing, light agriculture and ecotourism.
Game Controlled Areas (GCA) used to allow human habitation and associated activities such as livestock grazing. However since the 2009 Wildlife Conservation Act, residence and livestock grazing has been prohibited in GCAs.
Wildlife Management Areas which are designated in areas which are used by local community members within village lands and outside protected areas. Tourist hunting is available in some WMAs.
Click maps to enlarge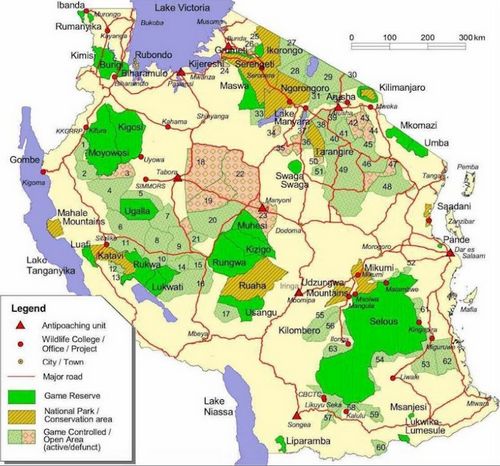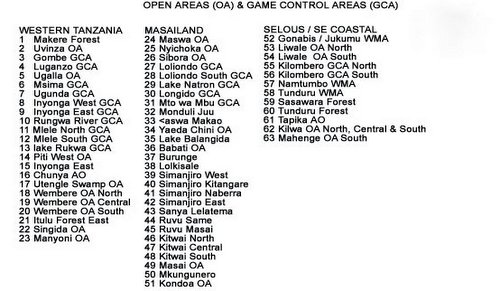 Tanzania Game Controlled & Open Hunting Areas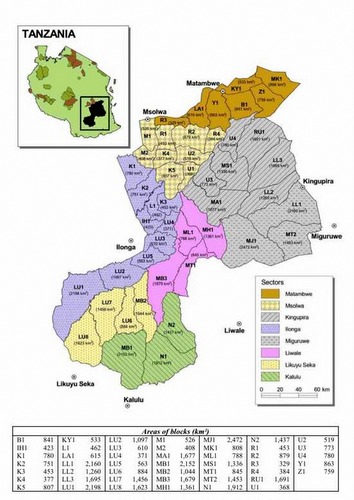 Selous Game Reserve Hunting Blocks
Getting To Your Hunt Area In Tanzania
Most hunters will arrive at Dar Es Salaam Airport, particularly if you are going to be hunting in the Selous. You will be met there and assisted through Customs with your firearm(s) by a company representative. If you are hunting in Masailand, you may find it more convenient to fly to Kilimanjaro, either directly from Europe (KLM) or on a domestic flight from Dar.
Most likely you will have to overnight in a hotel in Dar Es Salaam or Arusha. If you are hunting in Masailand, depending on the distance, you could be offered a road trip into camp. However, nearly all other hunting areas will require a charter flight in and out.
Hunting Accommodation In Tanzania
The majority of hunting camps in Tanzania are composed of large safari tents with other temporary structures serving as dining areas. These non-permanent camps are mandatory in game reserves like the Selous and are completely dismantled at the end of the season. In other hunting areas such as Masailand, there may be more permanently structured camp facilities but usually still with tented sleeping accommodation.
Tanzania Hunting Terrain
Most of the hunting terrains in Tanzania are not very physically demanding being generally flat.
Masailand is a low rainfall area where the major habitats are acacia woodlands and dry open grasslands. The northern part of Masailand can be particularly dry and desert-like.
In the Selous and coastal region the most prominent habitat is mixed acacia and miombo woodlands, which can be quite dense.
Western Tanzania generally has higher rainfall where the major habitats are miombo woodlands and wetlands.
Tanzania Hunting Permit
The hunting permit is applied for by the outfitter before the hunt starts and essentially lists all the animal species you are allowed to hunt according to the length of hunt you have booked.
All hunts in Tanzania are accompanied by a Government game scout who is there to ensure no hunting laws are infringed. The game scount validates your hunting permit at the end of the hunt, which shows which animals have been hunted successfully (or wounded and lost). You must sign the permit at the end of the hunt.
Once done, the permit is taken to the local game authority who clears the trophies to be removed from the hunting area then further on, the completed hunting permit allows the issuing of the trophy export cerificate, once all the trophy fees and trophy handling fees are paid.
Tanzania Hunting Laws
All trophy hunting to take place within the hours of daylight (5.30am to 6.30pm).
No hunting is allowed at night or with artificial light.
The minimum number of days (10, 16, 21/28) for a hunting safari is controlled by the Government and is based upon a certain list of species that may be hunted.
Shooting an animal from a vehicle is not permitted. You must be over 200 metres from a vehicle when shooting an animal.
Shooting within 500 metres of any permanent water, pool, waterhole or salt-lick is not permitted except when hunting a hippopotamus, otter, sitatunga, puku, crocodile, waterbuck or bird.
Hunting is not permitted within 1 kilometre of a national park, a zoo, game sanctuary, the Ngorongoro Conservation Area or an aerodrome.
Hunting female animals which are apparently pregnant or accompanied by young, young and/or immature animals is prohibited. If done, the hunter is liable to pay twice the trophy fee. Some leeway is allowed for crocodile and hyena.
Baiting of lion and leopard is allowed as long as the bait animal is on licence.
Hunting permits must be issued prior to the hunt commencing.
A separate permit must be issued for each individual hunting client.
Only hunting clients over the age of 18 are permitted to hunt. Any observers who wish to hunt will need to upgrade to hunting client status, with all relevant permits and costs.
Particular species size minimums (below) must be adhered to or there may be a penalty of up to 3x the trophy fee and possible confiscation of the trophy.
The minimum calibre requirement for any game, except dangerous game is .240
The minimum calibre requirement for dangerous game is .375
Tanzania Species Minimum Size/Age Requirements
The 2010 Tourist Hunting Regulations, which replace those of 2000, state no person may hunt...
Lion below the age of 6 years.
Elephant with tusks weighing less than 18kg per tusk or measuring less than 160cm per tusk.
Leopard less than 150cm from nose to base of tail.
Crocodile less than 300cm from nose to tip of tail.
Hunting A Lion In Tanzania
As mentioned above only a male lion of over 6 years of age should be hunted on a 21 day hunting permit. So how is this controlled or enforced, as there is no fail-safe way of knowing the exact age of a lion in the field?
Tanzania has introduced a system of 3 lion age ranges - 6 years and over, 4 to 5 years and under 4 years.
The lion quota of the hunting block is based on the age of lions harvested during the previous season.
Thus, if all the lions taken in a season were 6 years old or over, the hunting block receives 1 more lion on their quota for the following season. The quota is decreased by 1 for each lion harvested with an age of 4 and 5 years. The quota is decreased by 2 for each lion harvested with an age under 4 years.
Any lion taken which is judged to be under 4 years of age is not allowed to be exported.
When a lion is being hunted, the PH must complete and return a 'lion safari form' whether or not the hunt is successful. This form is supplied with the 21 day hunting permit.
If a lion is successfully hunted, the PH must submit a trophy photograph of the lion with the completed 'lion safari form' to the Wildlife Division. No CITES export permit will be issued without compliance. Additional information such as specific measurements (total length and shoulder height) and other specified photographs will also be required, showing mane growth, nose pigmentation, facial markings and canine tooth coloration.
The lion skull will then need to be taken to the Wildlife Division for inspection. Failure to do so means the lion trophy will not receive a CITES export permit.
The lion aging team at WD will inspect, measure and photograph the skull and a tooth is extracted and x-rayed to measure the relative size of the pulp cavity which 'fills' or decreases as a lion ages, finally closing by approximately 5 years of age. Each lion trophy is then assigned to an age category.
Tanzania Hunting Species
Giraffe, cheetah, rhino and wild dog are protected game and cannot be hunted in Tanzania.
More than one of a species may be taken on different hunt licences. Occasionally an outfitter may reduce this number in order to stretch his quota. For example, the Government allows 2 Cape buffalo to be taken on a 10 day hunt but an outfitter may restrict this to 1.
Elephant trophy fees are incremental based on the weight of the tusks.
On 21 day 2x1 hunts, it is usual for the hunters to only be able to hunt 1 of the key species (such as lion, leopard, lesser kudu etc) between them.
Tanzania Hunting Trophy Export/Import Restrictions
Tanzania elephants are classified as CITES I and 'Threatened' by USF&W. You will have to apply for an enhancement permit, Application Form 3-200-20, in order to import elephant trophies into the US.
CITES I/Annex A elephant hunting trophies from Tanzania are likely to be refused a CITES import permit into any of the EU member states, as in July 2015, the EU Scientific Review Group returned a 'Negative Opinion' on the conservation status of elephant populations of Tanzania.
Australia has banned all African elephant trophy imports.
CITES II lion trophies must be formally assessed to have attained the age of 4 years of age or over, in order to be eligible for a CITES II export permit from Tanzania. See above
Hunting Tanzania Recommended Reading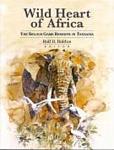 Wild Heart Of Africa by Rolf Baldus. The Selous is the largest protected wildlife area in the world. There are no people living within its boundaries and it comes some of the greatest wildlife concentrations on the continent, including 70 000 elephant, over 120 000 buffalo more than half a million antelope and a couple of thousand large carnivores roaming freely in its forests, riverine thickets, steppes and mountain ranges. The contributors to this book share over a century of work in the reserve. They also share the belief that the Selous is not only the largest and oldest protected area in Africa but its also one of the finest in the world.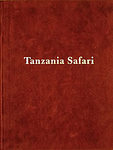 Tanzania Safari: Heia Safari by Robert De Pole. De Pole is the pen-name of Tanzania PH, Robert Kotowicz and describes in detail not only the hunting country but why he selected certain areas for certain clients or certain times of year for certain safaris.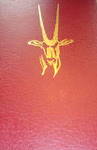 Tanzania Safaris by Brian Herne is a great title on hunting in Tanzania - a country that is a popular and productive big game hunting destination.
Hunting Tanzania Resources
---
Hunting Tanzania
Back to Top