Hunting The Selous Reserve
'Hunting the Selous Reserve' by Steve Robinson
The Selous Game Reserve is a massive 5 million acres in extent and has a further 2 million acres of buffer zone surrounding it. The reserve supports the largest populations of African game animals in one reserve anywhere on the continent - 30,000 elephants, 200,000 Cape buffalo and 80,000 wildebeest and significant populations of almost every other species of African mammals. Although there are a very few exceptions, the buffer zones tend to hold far fewer head of game per square kilometre than the Selous Reserve proper. This is mostly due to the fact that unlike the Selous itself, the buffer zones permit human habitation and therefore suffer from a degree of poaching - mostly subsistence poaching. The Selous is the largest game reserve in the world is entirely unfenced and can be classified as one of the very few remaining pristine true wilderness areas in existence. The reserve is split into approximately 40 hunting concessions and leased on five year terms, to a variety of safari companies. These concession blocks are labelled by letters and numbers. The letter(s) refers to the first letter(s) of the name(s) of the river boundaries and the number refers to the exact location. For example, K2 refers to the second concession on the Kilombero River. If the area is referred to by a name such as Gonabisi it is a buffer zone and not part of the Selous Reserve. There are no exceptions to this rule.
In order to protect this pristine environment and its wildlife, the Tanzanian Game Department doesn't make the hunting experience cheap for the client. The presence of hunters has a low negative impact on the environment and expensive Government fees provide a consequent high financial income, which is the reverse of the photographic tourist situation. The Tanzanian Game Department offer a selection of 10, 16 and 21 day licences. Each licence allows the named hunter to take a specific number of specified animals and the longer the licence, the more animals and species are allowed to be hunted. It's also possible to hunt additional days on any licence. For example, a 21 day licence may be extended to 28 days if the client wishes.
The Game Department ensure the wellbeing of the reserve and it's game populations by limiting the number of animals taken by means of the licencing system and strict quotas on all the key species. Thus each area is only allowed an annual quota of 4 Lions, 4 Leopards and 4 Elephants. They also strictly enforce defined trophy minimums for these same key species. The various game acts forbid the taking of females and young of any and all species, although they do cut the PHs some slack with crocodile and hyena which cannot be visually sexed. There is no way other than in defence of human life that a hunter may take an animal that is not specified on his hunting licence. Even then, you'd better be sure you can prove your actions were justified.
There are no permanent buildings allowed in the Selous itself and at the end of the hunting season every area must be vacated by the leaseholders and all traces of human habitation removed. Accommodation is in what's generally referred to as 'traditional east African' tents. This means large canvas tents usually equipped with twin single beds, wardrobes, safari chairs and en-suite bathrooms containing toilet, basin and shower. The en-suite bathrooms are not just there for the hunter's convenience, they're there to keep him or her safe as well. The tents themselves are insect proof with mesh windows and cans of fly killer. Mains electricity at 240 volts 50 hertz is provided by a generator. Plug fittings are of the square 13 amp variety such as found in the UK. Daytime temperatures can easily hit the mid to high thirties centigrade (100 degrees Fahrenheit plus). The same game conservation acts forbid the growing of any non-indigenous plants, so all fruit and vegetables have to be flown in by charter planes or bought in by vehicle. The camps are staffed by a multitude of highly competent Tanzanians. These staff consists of trackers, gunbearers, cooks, laundry staff, hot water carriers, mechanics, skinners, night watchmen, tent staff, waiters and general workers.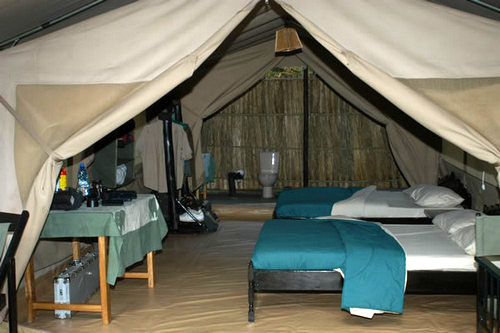 Typical Selous Tented Accommodation
'Standard issue' hunting camps are designed to be extremely comfortable and functional with excellent cuisine and service. For those clients (or their partners) who prefer to live in the lap of pampered luxury complete with Persian carpets and haute cuisine dining, these options are also available - at a price! However, usually only on 21 day licences. It cannot be denied that these top quality hunting safari camps are an expensive option, but this is justified by the added luxury and style of camp and by the fact that although the safari company pays for the entire Government quota, they habitually limit the number of animals taken in these areas to well below that Government quota and thus maintain an even higher trophy quality than elsewhere in the Selous. They also pay a much higher percentage of Community Development Fee than usual in these areas.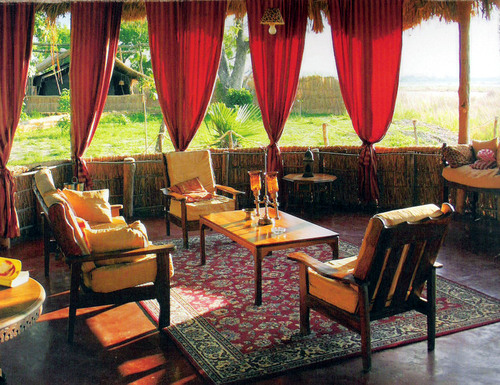 Luxury Selous accommodation
The terrain in the Selous varies from mountainous to rolling hills and is generally thickly wooded with a variety of predominantly acacia and miombo trees. Interspersed with this are areas of high grassland, mixed with water/mud holes, rivers and streams. Other than the hunting safari company and Game Department staff, there is no human habitation allowed in the Selous and no permanent human habitation whatsoever.
Tanzania really is the finest African destination for dangerous game hunting and, as an example, has more Cape buffalo than all the other southern and east African countries combined. It's also fortunate to be host to species such as gerenuk, lesser kudu, fringe-eared oryx and the Thomson's and Grant's gazelle. With very few exceptions, the Professional Hunters who operate in Tanzania are extremely good at what they do - if you book a hunt in Tanzania, you'll almost certainly be hunting with some of the most competent, experienced and consistently successful Professional Hunters in the industry.
The Selous Game Reserve has the largest single Cape buffalo population anywhere in Africa and as there are absolutely no fences of any kind, the game populations are free to follow the most recent rains and the best grazing. There is no human interference or intervention permitted whatsoever to attract game to a particular area. The hunting season runs from July 1st to March 31st and the peak is around September, October and November. The long rains usually arrive around the end of November and consequently most safari companies try to vacate the area by then.
Your hunting team will consist of an experienced 4x4 driver and a Government game guard sitting up front, the hunting client(s) and Professional Hunter sitting in the hunting seat on the back of the truck and two or three trackers/gun bearers in the back of the truck.
The hunting day will usually start before first light and you'll always take a 'chop box' with you so that you can have lunch in the bush if necessary to ensure you don't waste any valuable hunting time. You'll also have a cool box of cold drinks on board and water bottles for any long walks. You'll usually arrive back in camp around 7 or 8 pm for showers, drinks and dinner.
Steve Robinson
---
Hunting The Selous Reserve
Back to Top