African Hunting Vehicles
The most popular African hunting vehicles are 4x4 Toyota Land Cruisers or Land Rovers.
Q: What do you have to do if your Land Rover gets in the way of a swarm of African killer bees?
A: Stop pushing and take refuge inside the car.
Your hunting vehicle will be equipped with a high hunting seat on the back. The most common configuration of the hunting rig is a bench seat behind the cab, though some trucks have single seats.
In hunting countries like Tanzania, the PH usually rides with the hunting client(s) on the back and a designated driver always drives. In southern Africa, it is not uncommon for the PH to drive.
With most hunting vehicle rigs, the gun rack will be against the back of the cab, directly in front of you. There is usually room for at least 4 rifles. The gun rack hooks should be padded or at least wrapped so your rifle is not moving against metal. A good truck will probably have a cab roof rack for your day bags etc.
Some African hunting vehicles are furnished with a shooting rest. These are mostly seen in South Africa where, in some provinces, it is not illegal to shoot from the vehicle.
A well-equipped African hunting vehicle should carry at least 2 spare tyres/wheels, high-lift jack, fire-extinguisher, tool boxes, winch, spade, extra fuel jerry can. In spite of using the best quality tyres, the dirt roads in Africa are usually so bad, that punctures are frequent.
The vehicle will also be carrying a first aid kit, a cool box or 2 with drinks and snacks, shooting sticks, an extra water container and soap for hand-washing, toilet paper, ropes, wire, plastic sheeting and often 2-way radios. Some vehicles carry collapsible chairs and table for comfortable eating out.
On Board The Hunting Vehicle
In southern Africa, there will be your PH, either driving or not. If the PH is not driving, another tracker or member of staff will be driving.
In other hunting countries like Tanzania or Botswana, you will have a Government Game Scout with you. Being quite 'important' and in some cases, quite elderly, he or she usually rides in the passenger seat in the front. As mentioned before there will be a designated driver who not only drives but attends to all the vehicle mechanical requirements.
You, the hunter, will sit in the back on the hunting seat with your PH and your companion hunter, if hunting 2x1, or non-hunting observer. Standing behind in the bed of the truck, or sitting perched on the spare tyres, will be your trackers. One will be the number one tracker and the other could be termed as a 'gun-bearer' as well as tracker.
Tips For Travel On A Hunting Vehicle
Remember to wear your sunglasses or regular glasses when you are travelling on your hunt vehicle when it is moving. They will prevent the collision of a flying insect and your eye. A small fly in the eye is a nuisance but a large one can really mess up, possibly, your shooting eye.
It's always tempting but try to avoid grabbing at grass as you go past or through any - some tall grasses can be sharp and cut your hand.
Keep your limbs inside the vehicle or at least watch out for branches before sticking your arm out to point at something.
In thick bush, watch out for low overhanging and adjacent branches. When driving through branches, don't hold on to them or ping them so they slap someone sitting behind. Just push them away with a flat hand.
Often the driver or someone will yell out a warning if the vehicle is going very close to a large overhanging branch. Obviously being high up on the back of the truck, you can be easily clunked on the head by a branch. Don't be surprised if someone pushes your head down out of the way, if you haven't noticed a branch coming.
If you smoke, take care when lighting up a cigarette in a moving hunting vehicle as it is not pleasant getting hot ash blowing into your eye. Don't throw either lit or dead cigarette butts out of the vehicle.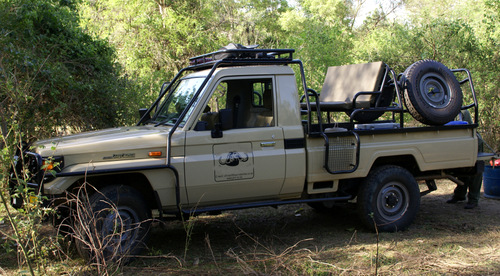 Typical African Hunting Vehicle | Photograph: Wikus Groenewald
More On African Hunt Expectations
---
African Hunt Staff
Back to Top
Page Updated: Jan 2020