Tanzania Travel
Page Updated: Apr 2020
Tanzania Travel - Tanzania is in East Africa with the Indian Ocean on the coast to the east. It shares land borders with Uganda and Kenya in the north, Mozambique and Malawi in the south, Zambia in the south-west and Zaire, Burundi and Rwanda in the west. Tanzania is quintessentially Africa with the wildebeest migration across endless savannah, the snow of Mt Kilimanjaro, the Masai warriors and exotic beaches of Zanzibar.

Tanzania Travel Facts
Formerly: Tanganyika
Capital: Dodoma
Area: 945,087 km2
Population: 37,187,939
Language: Kiswahili, English and many local languages
Time In Tanzania
In Tanzania, the 12 hour clock is sometimes used locally which may be somewhat confusing to visitors. The first time cycle starts with 'one' at 7 am and goes to 'twelve' at 6 pm. The second time cycle starts with 'one' at 7 pm and goes on to 6 am at 'twelve'. Airline schedules and most businesses work on Western time but if you are making a casual appointment to meet a local, it may be worth confirming the time as 'English' rather than 'Tanzanian'.
Tanzania Money
The local currency is Tanzanian shilling (TZS).
ATMs are the cheapest way to get local currency in Tanzania but be security aware when using an ATM. Also don't wholly rely on getting your local cash at an ATM in Tanzania - they are sometimes empty or broken. Read more on money in Africa
There are a number of banks and ATMs in larger cities and towns such as Dar Es Salaam, Arusha and Kilimanjaro but they are few and far between in remote rural areas.
There are both Visa and Mastercard ATMs at Dar Es Salaam airport.
Electricity In Tanzania


Voltage: 230 V | Frequency: 50 Hz | Power sockets: Type D & E
Tanzania Map
Tanzania Plastic Bag Ban
As of 1 June 2019, the Government of Tanzania issued an official notice to travellers planning to visit Tanzania that all plastic carrier bags, regardless of their thickness will be prohibited from being imported, exported, manufactured, sold, stored, supplied and used in mainland Tanzania.
Visitors to Tanzania are advised to avoid carrying plastic carrier bags or packing plastic carrier bags or items in plastic carrier bags in the suitcase or hand luggage before embarking on visit to Tanzania. A special desk will be designated at all entry points for surrender of plastics carrier bags that visitors may be bringing into Tanzania.
Plastic Ziploc bags used for carrying toiletries etc are exempt because they are expected to remain in the permanent possession of visitors and are not expected to be disposed of in the country. Read More
Getting To Tanzania

Non-Stop from Schipol, Amsterdam to Dar Es Salaam, Tanzania
Non-Stop from Schipol, Amsterdam to Kilimanjaro, Tanzania

Non-Stop from Zurich, Switzerland to Dar Es Salaam, Tanzania

Non-Stop from Dubai, UAE to Dar Es Salaam, Tanzania

Non-Stop from Doha, Qatar to Dar Es Salaam, Tanzania
1-Stop from Doha, Qatar via Dar Es Salaam, Tanzania to Kilimanjaro, Tanzania

Non-Stop from Abu Dhabi, UAE to Dar Es Salaam, Tanzania

Non-Stop from Johannesburg to Dar Es Salaam, Tanzania

Non-Stop from Dar Es Salaam to Kilimanjaro, Tanzania
Non-Stop from Dar Es Salaam to Arusha, Tanzania
Tanzania Travel Health
Vaccinations/boosters are strongly recommended for:
Tanzania is classed by the WHO as a 'low risk' country for Yellow Fever. As of 4 February 2015, you will no longer have to produce proof of yellow fever vaccination on arrival from Tanzania if you are transiting in South Africa. Read more
Malaria In Tanzania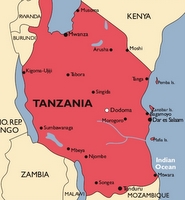 Malaria Map Of Tanzania
Prophylaxis is recommended for all areas of Tanzania, except for altitudes over 1800m. The risk is lower in Dar es Salaam than in rural areas.
Other Health Hazards In Tanzania
Getting A Visa For Tanzania
US & UK nationals who wish to visit Tanzania for tourism or holiday purposes, are required apply for a single or multiple entry visa with 3 month duration.
You can now use the Tanzania Electronic Visa Application System. Instructions, guidelines and required documentation can be found here.
Tanzania Embassy Websites
Recommended Reading For Tanzania Travel
The Bradt Travel Guide (2017) to Tanzania includes the main attractions of the Serengeti, Ngorongoro Crater and lakes Victoria and Tanganyika which are covered in depth. There is supporting advice on how to get the most out of photographic equipment, combating danger from hippos, crocodiles and snakes, recommended tour operators, interaction with local cultures and communicating in Swahili.
Tanzania Travel Resources
---
Tanzania Travel
Back to Top