Travel Benin
Travel Benin - Benin is in West Africa on the northern coast of the Gulf of Guinea. It shares land borders with Niger in the north, Togo in the west, Nigeria in the east and Burkina Faso in the north-west. Benin does not usually spring to mind as a top African hunting or travel destination. It is a relatively poor nation but is one of the more stable countries to visit in Africa.
Benin Basics:
Formerly: Dahomey
Capital: Porto Novo (official) Cotonou (Seat of Government)
Area: total: 112,620 km2
Population: 7,862,944
Language: French and many local languages
Currency: CFA Franc
Electricity: 220/50Hz (Plug 2 round pins)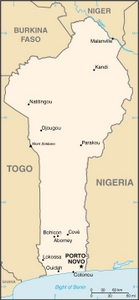 Benin Airlines:

Benin Golf Air operates domestic and regional international flights from Benin.



Air France operates from Paris to Benin