10,000 Miles For A Pig
by Chad Waligura
(Texas, United States)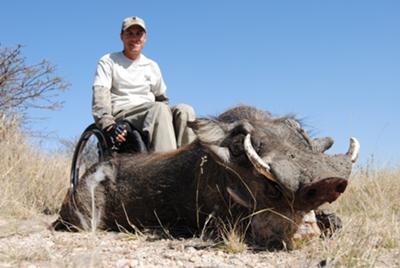 I'd been told that there'd never be anything like my first trip to Africa, a notion I readily agreed with. But the anticipation I felt before this second time was way worse. I knew what I was getting into, or at least I thought I did. As I'd later discover, I hadn't a clue what wonders were waiting for me in the vast remoteness of northern Namibia.

It was June 6th, and my lifelong friend, Greg Goerig, had just landed at Windhoek Intl. Airport and I were on our way by truck to the Oelofse's Mount Etjo lodge in the north, a four hour drive. (Jan Oelofse and his lovely wife Annette donated a 10-day safari to this year's Safari Club Pathfinder award winner, which was me!) I counted a grand total of two power lines and a lone 'rest stop' along the way, consisting of one gas station, a convenience store and a small market sit where two highways intersected. The rest was rolling bush.

Mountains sprang up in the distance as we got closer to Mount Etjo, and we started seeing animals, including two big warthogs that really got my blood pumping. During my first trip to South Africa two years earlier, I hunted hard for a big tusker but never saw one. You may laugh, but now it was at the top of my list.

The sky was ocean blue and fresh and beautiful, and our spirits soared like any travelers' would when new to a country they've never before been.

Safari Day 5 - A soft 5 a.m. knock at the door and a friendly "good morning" got us stirring under our blankets in the night-chilled room. We're expected in the breakfast room at six for a light meal before striking out. That's where my PH, Rudi De Klerk, met us as he did every day to plan the hunt. I still hadn't gotten a warthog, so today we were going to the low country where there was more of them. I was thrilled!

A light frost covered the grass as we packed the truck for the day. We eased out of camp a few minutes before sunrise over the mountains to the east, and yet another crisp, clear morning layed over the hood of the jeep as we come down off the high ground toward the plains.

The Namibian landscape at dawn was, quite simply, perfect. When the sun's rays hit, the savannah grass glows with the golden beauty of a mid-western wheat field before harvest.

After a lengthy drive, we came down into what looked like a grassy flat surrounded by bush. Rudi said that the big pigs liked to root around in it. Immediately, a boar busted out as we reached the field. He must've heard us. Rudi parked and climbed out onto the roof to try to spot another.

"Ok, there's another boar out there about 250 yards," he said softly as he climbed down, "Here's what I want to do. We're going to get you in your chair and Greg can push you out there and we'll see if we can get close enough for a shot." Sounded like a great idea to me. It's a rare treat for me to go on an actual stalk, and to be able to do it in Africa was, well, icing on the cake.

Everybody moved slowly and deliberately getting out of the jeep and getting ready for the stalk. There was a steady breeze in our faces which was ideal. We shed our jackets and I dropped the backpack off my chair. Rudi slung my rifle and away we went. Greg pushed me to the edge of the field where we stopped for a last look before going in. Wasn't long until we found the warthog ruts though. That, combined with the knee-high grass made it tough sledding. We needed a new plan.

After Rudi asked Greg if he could 'piggy-back' me, and Greg said "heck yeah", the hunt was back on! Rudi carried my folded up chair in one hand and my cushion in the other. Greg picked me up and we followed behind, where I could see right away what we were after. A hundred yards away, the grey outline of a pig stood out in the light yellow stalks. We went right for him, stopping whenever he lifted his head to check for danger. I don't know how he could see anything. All I saw when he raised his head was the sparse main on the back of his neck. He was listening more than looking I suspected.

I was loving every step.

At 50 yards, Rudi carefully unfolded my chair and quietly put it on the ground. Greg dropped me into it and then got on his knees facing me so I could rest my rifle on his shoulder. The big boar kept rooting, unaware.

"Wait 'til he lifts his head up" was the last thing Rudi said. And the next time he did, I lowered the crosshairs down from where I thought his shoulder was. When I pulled, he shot off like a rocket! He tore a straight line through 100 yards of grass before circling back finally and tumbling down. I had made a perfect quartering shot, and it was one of my most memorable experiences in Africa.