Welcome To Shakari Connection
"Latent it may be, but true none the less, and I venture to ask them to accept from me this definition of a sportsman:- One who loves game as though he were the father of it."
Abel Chapman in 'On Safari'
African big game hunting has existed since the mid 19th century when a few intrepid adventurers hunted for meat and trophies by themselves and for themselves.
It wasn't until the turn of the 20th century that equally intrepid hunters started to hire 'professional' hunters to accompany them on their African hunting safaris. East Africa was the place to hunt and large safari companies sprang up to outfit these long hunting safaris and manage their stables of famous Professional 'White' Hunters.
Today, African hunting trips with a Professional Hunter are the norm and are even more popular than ever, even if on a somewhat smaller scale. However now big game hunting battles against general public disapproval, unscrupulous operators and red tape which can make arranging an African hunt a major and complicated mission.
This is where Shakari Connection steps in to be your online African hunting safari information source...
You can look up information on general African hunting topics from planning a hunt and trophy shipping to specifics on hunting and travel in any of 13 different African hunting countries.
So our aim is to provide accurate, unbiased, up-to-date information on all aspects of an African hunting safari.
Shakari Connection Is An African Hunting Guide Written By Real African Hunters
Everything we have learned and discovered over the years of living, hunting and travelling in Africa is contained in Shakari Connection.
and that is just the start.....
Whether you are just dreaming about hunting Africa or already planning your hunt, you will find all the help you need here.
A word of warning though...When you do arrive in Africa on your first hunting safari, you will fall hopelessly under it's spell and will be committed to return time and time again - all you need is enough information and a little common sense to make your African hunting safari career a huge success.
Enjoy roaming around Shakari Connection and contact us anytime about anything to do with African trophy hunting.
Important News For African Hunters
South African Child Travel Regulation Amendment
As of 1st December 2018, where a child presents a passport which contains the details of his or her parent or parents, an immigration officer shall not require such child to produce an unabridged birth certificate on rrival or departure in South Africa. Read more...
As of 23 March 2017, the South African Police will no longer accept US Customs Form 4457 as proof of firearm ownership, if the date in the top right hand corner has expired. Please check your 4457 form and if expired, apply for a new one. You can download the 4457 here.
Tanzania New Firearm Import Requirement
Tanzania is now requiring all hunters who are importing firearms to provide photographs of the firearm(s) and photographs of their serial numbers. This has been confirmed by the Tanzania Professional Hunters Association and Tanzania Hunting Operators Association.
Yellow Fever Certification For Life
As of 11 July 2016 the certificate of vaccination against yellow fever is valid for the life of the person vaccinated. This lifetime validity applies automatically to all existing and new certificates, beginning 10 days after the date of vaccination. Accordingly, as of 11 July 2016, revaccination or a booster dose of yellow fever vaccine will not be required for international travellers as a condition of entry into a State Party, regardless of the date that their international certificate of vaccination was initially issued. Read more from the WHO
New USF&W Elephant Trophy Import Rules
Regardless of the 1989 CITES international trade ban on elephant ivory, USF&W has recently seen fit to use the Endangered Species Act (ESA) to institute a near-total ban on the domestic commercial trade of African elephant ivory.
As of 6th July 2016 all elephant trophies, regardless of the country in which they were taken (including CITES II elephant populations), will require an Import Permit. This also includes elephant trophies taken before this date which arrive in the US after the date. In addition, US hunters may only have 2 import permits in a year. To get your import permit, you must complete Form 3-200-19.
EU Fails To Stop All Hunting Trophy Imports
19 March 2016. Good news for European hunters...The motion by a group of European Parliament members to restrict the import of all hunting trophies to the European Union failed to achieve the requisite number of votes to be considered at the Parliament's next sitting.
No Hunting Firearms To CAR
As of March 2016, airlines to CAR are enforcing the UN arms embargo on CAR which blocks the transport of hunting firearms. Air France is the main carrier into CAR for hunters but all other airlines travelling to CAR will also enforce this UN regulation.
USF&W Uplisting Of African Lions
As of 22nd January 2016, USF&W will require 'Threatened Species Import Permits' for all wild lion hunting trophies from Tanzania, Ethiopia, Mozambique, Namibia, Zambia, Zimbabwe and South Africa (including captive-bred lions). 'Endangered Species Import Permits' will be required for all wild lion hunting trophies from from Benin, Burkina Faso, Cameroon and CAR. Permits will not be available until essentially USF&W approve of the lion conservation management plans of each country. Read the USF&W African lion ruling in full
EU Elephant Trophy Import Ban For Mozambique, Tanzania & Zambia
As of 2nd July 2015, no EU member states will allow the import of elephant hunting trophies from Mozambique, Tanzania or Zambia. The EU Scientific Review Group have now issued negative determinations for the elephant populations of these countries. Read more...
EU Lion Trophy Import From Tanzania & Zambia
As of 7th March 2015, the EU Scientific Review Group issued a positive opinion for the import of lion hunting trophies from Tanzania and Zambia Read more...
No African Lion Trophies To Australia
As of 13 March 2015, Australia has imposed a blanket ban on the import of all African lion products including hunting trophies "in response to Australian public concerns about 'canned hunting' of African lions." Read more...
EU African Lion Trophy Import Ban From Burkina Faso, Benin & Cameroon
As of 5 February 2015, the EU has effectively banned imports of lion hunting trophies into all EU member states from several west African countries, including Burkina Faso, Benin and Cameroon. The EU now requires CITES I import permits for African lion from all African countries, polar bear, African elephant, Southern white rhinoceros, hippopotamus and argali sheep as part of the EU's 'stricter domestic measures'. Read more...
Yellow Fever Certification For South Africa
As of 4 February 2015, you will no longer have to produce proof of yellow fever vaccination on arrival in South Africa from a 'low risk' country, as defined by the WHO. Low risk yellow fever countries include Zambia, Tanzania, Eritrea, Somalia, São Tomé and Principe. This is good news for hunters transiting in South Africa from Zambia or Tanzania. Read more...
Transiting With Firearms In the Netherlands
As from 19 May 2014 a 6 page 'Application Consent For Weapons And Ammunition' form must be submitted in advance to transit with firearms through the Netherlands. The single page form is no longer accepted. Go to Transiting With Firearms to download the latest application form.
***********************************************************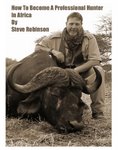 How To Become A Professional Hunter In Africa by Steve Robinson, is a practical guide and comprehensive training manual for anyone wanting a career in the African hunting safari industry. To buy...
Hardback Book | pdf eBook | Kindle eBook