Trypanosomiasis In Africa
Trypanosomiasis in Africa is also known as African Sleeping Sickness and it may pose some risk to hunters in tropical rural areas.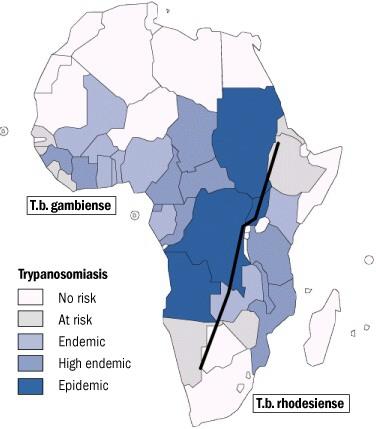 Dark Blue = sleeping sickness epidemic areas, Light Blue = Areas where sleeping sickness are endemic, White = low to no risk of sleeping sickness. Black line indicates the boundary between Rhodesian (east) & Gambian (west) forms of trypanosomiasis - WHO 1999
Trypanosomiasis Facts
Trypanosomiasis or sleeping sickness is a systemic disease caused by parasites known as 'trypanosomes' which are transmitted by the bite of an infected tsetse fly.
There are 2 varieties of trypanosomiasis in Africa - the Rhodesian form of East Africa which is transmitted to humans who live or travel near wild animals, from wild animals, via the tsetse flies that breed in bush country. The Gambian form is found in West and Central frica and is transmitted from person to person by the tsetse flies that breed along rivers.
Sleeping Sickness occurs in a belt across Africa, north of South Africa and south of Eygpt, Libya and Algeria.
Tsetse flies inhabit rural areas, living in the woodland and thickets of the savannah and the dense vegetation along streams.
Infection of international travellers occurs but is rare.
No vaccine is available to prevent this disease.
Drugs are available to cure sleeping sickness although they are hazardous in themselves and require experienced medical supervision.

Trypanosomiasis Symptoms
The first sign of infection may be a boil-like swelling at the site of a tsetse fly bite about 5 or more days after the bite.
Early bite swellings are usually an allergic reaction and not a sign of trypanosomiasis infection.
Fever may develop within 2-3 weeks and if untreated, leads to the involvement of the nervous system and the drowsiness which gives the disease it's name.
Summary For African Travellers and Hunters
Prevention of sleeping sickness is dependent on avoiding tsetse fly bites.
Tsetse flies are attracted to moving vehicles and dark, contrasting colours, such as blue.
Areas of heavy infestation tend to be sporadically distributed. Avoidance of such areas is the best means of protection.
You are advised to wear clothing of wrist and ankle length that is made of medium-weight fabric in neutral colours that blend with the background environment.
They are generally not affected by insect repellents (although some hunters swear by certain repellent measures) and can bite through clothing.
More On Insect Protection
---
Trypanosomiasis In Africa
Back to Top
Page Updated: Jan 2020