African Hunting Lighting Gadgets
African hunting lighting gadgets include small, handy lights that you can clip on your hat or clothing, or squeeze in your palm to light and find your tent zip or use your ebook reader easily in the dark.
Please note, this page contains affiliate links, which means Shakari Connection receives a commission if you make a purchase using these links.
(Click on images or links for full details)
SunJack Waterproof LightStick Powerbank
This is an ultrabright waterproof light stick which comes with an integrated power bank that can charge a smart phone 3 times over, or provide over 40 hours of lighting on one charge.
It has 3 brightness levels + emergency flash.
Has a glow-in-the-dark switch for locating easily in the dark.
When fully charged in 4-5 hours, it provides up to 46 hours of light on lowest setting.
The lightstick is not like a flashlight, with a focused beam of light. It illuminates a large area similar to a lantern.
Easy to hang for hands-free use by attaching a tether or cord.
The Waterproof LightStick Mini Powerbank is a smaller version that can charge a smartphone 3 times over or provide over 60 hours of lighting on one charge.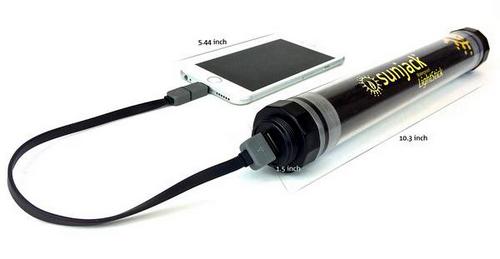 ---
ThorFire Cap 5-LED Headlamp
Delivers 30 lumens brightness.
Weighs less than an ounce.
Powered by 2 CR2032 button batteries, up to 24 hours working time.
90 degree rotatable head.
One-click power button for easy on/off operation.
---
Black Diamond Ember Power Light
150-lumen hand-held lighting with re-charging capabilities.
Integrated USB port
A swipe-activated TriplePower LED and a rechargeable lithium polymer battery with power meter and lock mode for increased shelf life.
Power meter shows remaining battery life.
Max burn time : 50 hrs.
---
Firefly Magnifier & Light
2.5x magnifier and headlamp are aligned to make any close work much easier
Clips easily to your hat for handy flip-down access
Bright 3-bulb LED is water resistant
Takes 2 x 3V 2016 lithium batteries
---
LED eReader & Book Light
Designed to be used with an eReader device or book
Flexible neck adjusts to eliminate reflection or glare
Compatible with Kindle, Nook and other eReaders
Bright, long-lasting and energy-efficient LED bulb
---
Luna USB LED Stick Light
It can be rotated 360°.
Long life LED, life expectancy of up to 50,000 hours or more.
Small size, light weight and portable.
No external power needed - powered directly from the inserted USB port.
Soft light and bright light settings.
---
Cyclops Orion 5-LED Hat Clip Light
Five super bright LED bulbs
Contoured shape fits hat brims securely
Takes two CR-2032 batteries
27 lumens of light
---
FuelBelt Night Runner LED Light
Helps you stay visible in the dark
Silicone rubber LED with flashing red and constant red settings
Fits comfortably on finger or can be clipped to belts and accessories
---
Cyalume Light Sticks
Cyalume light sticks offer reliable, effective illumination for up to eight hours without batteries
Simply bend, snap and shake for eight hours of bright light
Loop at end for hanging
Non-toxic
Requires no batteries
Package of 10 individually wrapped light sticks
---
Browning Night Seeker Pocket Light
Clips to a pocket or strap
Two 5mm LEDs
High and low modes
Head swivels 360° and pivots up and down
Digital circuitry delivers maximum power
Push-button on-off switch
Unbreakable LED and lens
Takes two lithium 2032 batteries
---
Multi Tool Flashlight
An indispensable 8 multi-tool flashlight.
Features a super-bright LED flashlight and red flashing emergency light with knife, bottle/can opener, flat screwdriver, file, nut driver, fish scaler/hook remover and more.
More African Hunt Lighting Gear