Safari Luggage Shop
Thank you for visiting our new Safari Luggage Shop
Shakari Connection is delighted to partner with The Safari Store, based in the UK, to bring you a range of multi-functional safari luggage, from roomy check-in bags, carry-on bags and day bags to practical wash bags to hang in your tent.
Please note, this page contains affiliate links, which means Shakari Connection receives a commission if you make a purchase using these links.
The star piece of safari luggage in the range is 'The Everything Bag' which is quite extraordinary in that it can be adapted and customised with various attachments. It could be used as your big luggage for long-haul international travel, or reduced down for short trips or reduced further to become a safari day bag, for example.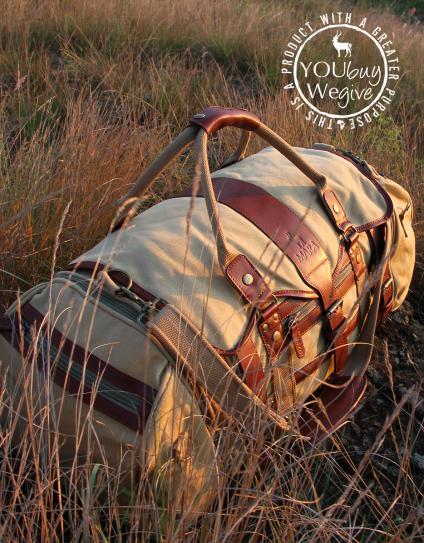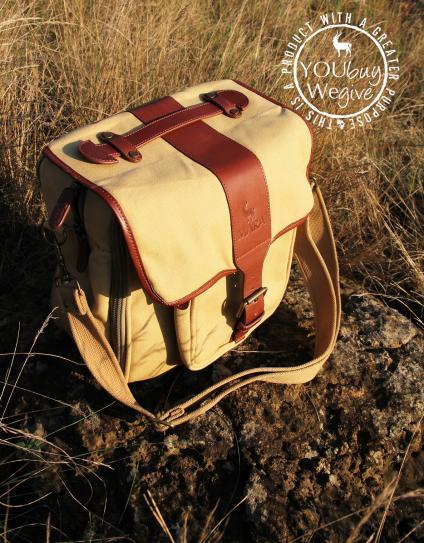 4 in 1 Pocket Safari Day Bag/Camera Bag (The Everything Bag Attachment)
Click images to enlarge
More Day Bag/Satchel Attachments For The Everything Bag
Safari Luggage Shop
Go to the individual luggage item page for exact dimensions and full details. In general, all the luggage has the following features...
The luggage is crafted from quality canvas and leather.
The stitching is strong, neat and compliments the bag. The brass buckles and studs offer durability and aesthetic detail to look of the bag.
The handles and straps are made from thick woven canvas with padded leather tabs for comfortable carrying.
The durable zips have leather tags to make zipping and unzipping easy. The main compartments have lockable zips that allow you to put a padlock through to keep the contents safe.
Check out the range full range of safari luggage...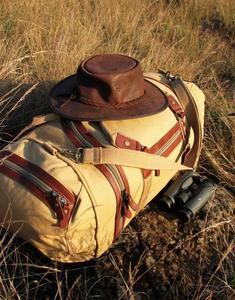 Rufiji Safari Explorer Bag
The soft, squashy and cavernous 'Rufiji Safari Explorer' has a horseshoe-shaped zip for easy of packing and unpacking. It comes with a second zipped side pocket and lockable zips on the end pockets and on the main compartment. The bag is fully lined and now has four zipped outer pockets, carrying handles and an adjustable/removable shoulder strap.
You Might Also Like...
Click images to enlarge
Please Note...
The Safari Store offers worldwide delivery on all their products.
Discount For Shakari Connection Visitors Only
If you buy anything from The Safari Store via Shakari Connection or directly, you will receive up to 10% off your purchases.
Just enter the unique discount code shakaricon in the promotion or voucher box in your shopping basket before you check out.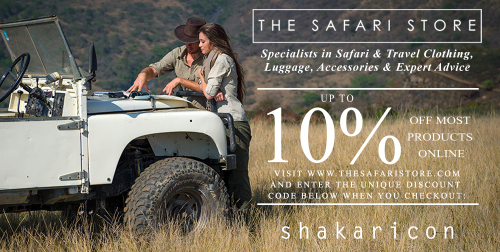 The Safari Store 'You Buy, We Give' Project
You might be interested to know about The Safari Store's supremely practical project to help local African communities and wildlife conservation...
If you buy a Mara & Meru The Everything Bag, they donate a 'Wonderbag' which is a simple but non-electric heat-retention cooker. This essentially frees up the time local women usually spend cooking on either open fires or electric hobs, thus saving on the amount of firewood, charcoal or electricity used. The 'Wonderbags' are also donated to Anti-Poaching Units (APUs) to use in the field to cook their food. Read more about 'Wonderbags'
If you buy a pair of Men's APU Boots which are ideal for hunting or just walking in the bush, a pair of the same boots is donated to an Anti-Poaching Unit.
In fact if you buy any of the Mara & Meru safari clothing range, any of Mara & Meru The Everything Bag attachments, SafariSUN sunscreen or a decorative wire acacia tree (made out of collected poachers wire snares), a percentage of the profit will go into The Safari Store 'Safari Impact' pot. This money will go towards communities or conservation where ever it is most needed - for example, new binoculars for the APUs or fences for the local game reserves, etc.
More From The Safari Store & Shakari Connection