Solar Charging On Hunting Safaris
Most hunters go to Africa with the express intent not to use their smart phone and any other tech gadgets - the point of the hunting safari being to get away from it all and enjoy the unique African environment.
However, there are some who simply must stay in touch with their businesses, family and friends or really enjoy using their smart phones, tablets, cameras, video cameras, Go-Pro cameras, laptops, handheld GPS units, 2-way radios, satellite phones and satellite internet. There are even a few hunters who can't do without their portable DVD players, wireless speakers, electric toothbrushes and razors, let alone the possible essentials such as flashlights and headlights. Also some hunters may include rangefinders, night vision scopes and illuminated scopes as part of their essential gear.
So depending on your hunt duration and usage, all these gadgets will either need regular re-charging or fresh batteries...which is OK if you are hunting in some areas of southern Africa where hunting camp accommodation is running on mains or solar electricity and you have brought a pile of regular batteries or rechargeable batteries (all of various sizes), plug adapters and chargers with you.
It is not quite so easy in remote areas of Africa where the hunting camps may run on petrol or diesel driven generators which are only turned on from dusk until everyone retires to bed. So as soon as you return to camp after your day's hunt, here is usually a rush to get your cameras, phone...whatever, re-charged for a few hours on a communal 4 or 6 point extension lead in the dining area. If you are hunting 2x1 and/or with observers, it may be quite a squeeze at the camp recharging point!
Please note, this page contains affiliate links, which means Shakari Connection receives a commission if you make a purchase using these links.
The solution for re-charging your vital gadgets on safari is the SunJack solar recharger...Why?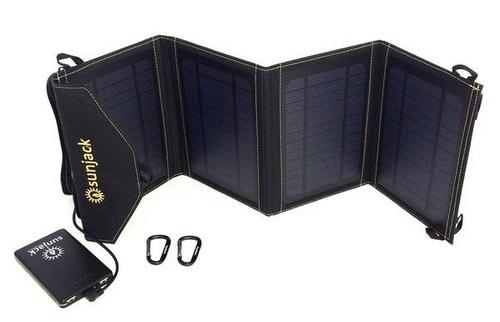 SunJack 14W Solar Charger
The SunJack solar power charging system is perfect for an African hunting safari because...
You are practically guaranteed to have sunlight in Africa...and if doesn't shine on the odd day, you will still have power from the included battery pack.
The portable solar charger itself has tough, weather-resistant foldable solar panels which have a variety of hooks and carabiners, so you can hang it anywhere to directly catch the the full sun. It is shock and vibration resistant, so you could hang it on your moving hunting truck, if necessary. If you are hanging it, there is a mesh pouch on the back to hold the cable and battery pack or device to be re-charged.
Of course it can be laid on the ground in full sunshine and if you are expecting rain, you can put it in a Weather Proof Sleeve which is designed to maximize sunlight pass-through while protecting from the elements. This maybe an especially useful accessory on a rainforest hunt.
The SunJack portable solar charger comes in 3 power sizes...
Re-Charging Directly From The SunJack Unit
So firstly a SunJack solar unit can directly power anything that plugs into a USB port...very quickly...at wall outlet charging speeds. In full direct sun, the 14W panel will fully charge mobile devices in about 90 minutes.
The SunJack achieves twice the recharging speed compared with other similarly priced units by using high-efficiency solar panels that have 2 Amp USB outputs, a cable that can carry high-speed currents and batteries that can charge in half the time.
Re-Charging From The SunJack Battery Pack
The beauty of the whole SunJack solar system is really the included battery pack which no comparable solar chargers have. You can fully charge the slim battery pack in 5 hours of full sunlight.
The battery pack can then be easily removed from the panel unit and slipped into a pocket or your day bag for convenient back-up power while out hunting. It has an LED light and two USB charging ports (2A & 1A) and depending on the size of the device being charged, can deliver up to 8 full charges to mobile devices before needing a recharge itself.
What About The Stuff Without USBs?
For any gadget which takes AA or AAA batteries only, SunJack has a USB Battery Charger for Rechargeable AA/AAA Ni-Mh and Ni-Cd Batteries
which can be plugged into the solar panel charger.
This unit can charge up to 4 rechargeable NiMh/NiCd batteries at a time. You can mix the size of batteries.
Fully drained batteries can be completely recharged in approximately 5 hours.
There is one LED charging indicator light for each installed battery.
It will NOT charge alkaline or lithium ion batteries.
The SunJack LightStick
Now here is a thing that hunters may find useful in a remote African hunting camp, getting back to camp after dark or stored in your day bag for emergencies.
The SunJack Waterproof LightStick with Power Bank
is an ultrabright waterproof light stick which comes with an integrated power bank that can charge a smart phone 3 times over, or provide over 40 hours of lighting on one charge.
It has 3 brightness levels + emergency flash.
Has a glow-in-the-dark switch for locating easily in the dark.
When fully charged in 4-5 hours, it provides up to 46 hours of light on lowest setting.
The lightstick is not like a flashlight, with a focused beam of light. It illuminates a large area similar to a lantern.
Easy to hang for hands-free use by attaching a tether or cord.
So essentially, the SunJack (14W unit weighing in at 1.75lb) can power anything that plugs into a USB port and charge rechargeable AA/AAA batteries, so the African hunter need only bring spare 'specialist' batteries, coin batteries or larger size batteries, if required.