Safari Hats
Good safari hats are an essential part of African hunting equipment - not only to protect yourself from the sun but also to reduce the chance of an animal spotting you.
'No one knows how ungentlemanly he can look, until he has seen himself in a shocking bad hat.' Robert Smith Surtees
A Spot Of Safari Hat History
Emulating the old Victorian hunters and Theodore Roosevelt, you really ought to wear a pith helmet for a truly authentic African safari.
L to R: Kermit Roosevelt, Leslie Tarlton, Theodore Roosevelt
This hat (also known as a sun helmet, topee, sola topee, salacot or topi) was made of cork or the pith from the Sola plant of Asia and covered with cloth. It was designed to shade the head from the sun and was very popular with Europeans and Americans in tropical climates.
From 1870, the pith helmet was used by various military forces in the tropical colonies.
The helmet was made of pith with peaks front and rear, with holes for ventilation, a cloth covering and chin strap.
The pith helmet design is still prevalent as part military dress uniforms, though often decorated with spikes and plumes.
During the Anglo-Zulu war the British dyed their white cloth covering with tea, in an effort to camouflage. After this khaki coloured helmets became standard issue.
In the 1930s civilian life, the same pith helmet was worn (minus badges and regalia) to avoid sunstroke in the tropics by people of European origin, even indoors just in case the dangerous sun rays could penetrate the roof.
The potential dangers of the sun on the body was taken extremely seriously by the colonials in Africa and India. It was recommended they wear fabric 'neck cutains' hanging from the helmet to mid-back or even 3" thick spinal pads made of cork shavings.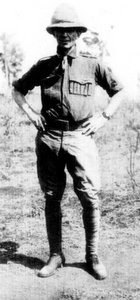 L to R: John McCutcheon, Carl Akeley & Kermit Roosevelt 1909
Above photographs from 'In Africa: Hunting Adventures In Big Game Country' by John McCutcheon
---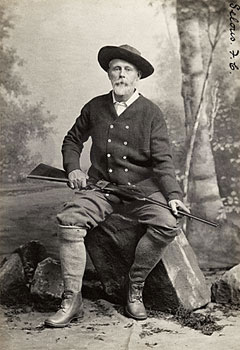 Frederick Selous in a slouch hat
Along with the pith helmet, slouch hats were also worn on safari in Africa, so-called because the brim on one side was down and on the other side was pinned up to the crown.
This style was used by the British military in the Boer Wars when there was a shortage of cork helmets.
Other armies also used the slouch hat as uniform in the tropics and today the Australian military still wear them in parade uniform.
The terai hat is a version of the slouch hat which was worn by the Gurkhas and named after a region in Nepal.
As with the slouch hat, the terai was made of felt with pugree wound round the crown. Pugree is the Indian word for turban and refers to the pleated hat band.
Often the non-military terai hat brims were not pinned up on one side but just elevated on one side at a rakish angle.
The double terai hat is a slouch hat with a double thickness crown and brim designed for extra sun protection.
The principles of the 'terai' sun protection were used to design acceptably feminine hats for ladies and alternative styles for men similar to bowler hats or clerical hats.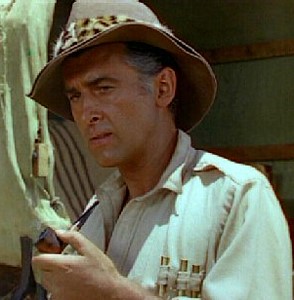 Stewart Granger in a double terai slouch hat - 1950
Fast forward to the 1940s and 1950s - the heydays of African safari hunting.
The felt slouch hat was still de riguer on African hunting safaris but the famous professional hunters of East Africa of this era injected a little Italian flair into their headwear.
Borsalino safari hats were practically mandatory headwear for all the professional hunters and consequently their hunting clients who were outfitted at Ahmed Brothers in Nairobi.
Borsalino was the leading manufacturer of the felt fedora hat from 1857 until the present. Originally furnished with a pugree hatband, the Borsalino safari hat has even been credited with saving the life of professional hunter Stan Lawrence Brown during an elephant attack. Read more in 'White Hunters: The Golden Age Of African Safaris' by Brian Herne
David Ommanney wearing a Borsalino - 1957

On to the 1980s and the appearance of the original Tilley hat.
This eminently practical hat - sun-proof, wind-proof, water-proof, insect-proof and with 'secret' pockets, found it's way from the sailing club into the African bush, primarily on the heads of photographic safari-goers.
A change of colour from white to khaki or olive green and the original Tilley hat still does little for it's wearer in the way of style. Retaining all the original practical features, Tilley hats now come in a myriad of different styles which may suit some people.
Characteristics And Functions Of Good Safari Hats
Comfortable for many hours of wear.
Sweat absorbent on the inside and water-resistant on the outside.
Cooling features, allowing your head to 'breathe' like vents, mesh, cotton or canvas material.
Mesh is not such a good idea in tsetse fly country - they will find a way inside your hat and drive you demented!
All round wide-brim to prevent facial, ear and neck sunburn and reduce glare from sun.
Well-fitting or with string to avoid being blown off during travel in open vehicle.
Khaki, green, brown colours rather than white or any bright colour.
A crushable hat is great for packing rather than a hat that you to have to wear or carry everywhere.
In addition to your main safari hat, you may need a warm wool or fleece hat for cold mornings in the hunting truck.
Some Safari Hats From Amazon
(Place cursor on image for details)
Related Topics