Hunting Trophies DVD
A Complete Guide To Field Preparation, Skinning & Preservation
The Hunting Trophies DVD by Kruger Human is an absolute must for all hunters, trophy hunters, professional hunters, safari outfitters, game ranchers, landowners, taxidermists and skinners.
This complete guide to skinning, caping, salting and preservation of African trophies will equip the viewer with knowledge and skill to ensure an animal will become a fine, long-lasting trophy mount.
Hunting Trophies is a double disc DVD with a 90 minute running time.
Hunting Trophies DVD (Front Cover)
Topics In Hunting Trophies DVD
DISC 1
Care of the trophy animal immediately after the kill
Trophy photography
Taxidermy reference photography
Handling of the animal
Loading and transportation
Field Measurements before skinning
Documentation and tagging
Skinning instructions
Tools for skinning
Skinning and caping methods
Full mount skinning
Flatskin skinning
Skinning the head, mouth, lips, nose and ears
Skinning thick-skinned animals such as elephant
Challenging species for skinning - warthog, bushpigs, porcupines, cats, jackals, mongoose
Fat removal techniques
Skinning under difficult conditions - bongo in Cameroon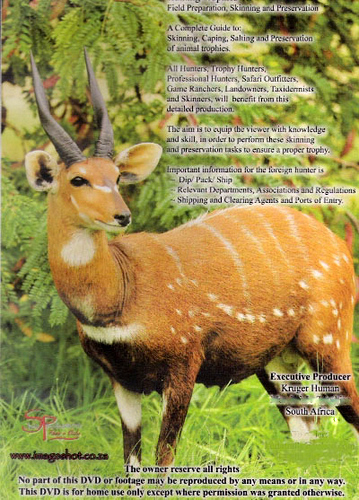 Hunting Trophies DVD (Reverse Cover)
DISC 2
About skin structure and it's application to skinning
Causes of decayed, spoiled skins and hair slip
Salting
Freezing
Chemicals required
Drying skins
Folding and storing skins
Quarantine regulations
Dipping skins
Boiling and bleaching skulls
Wrapping and packing trophies
Crating trophies for export
Export documentation and administration
Transportation and trophy export services
USA Ports of Entry
Contact details for all wildlife departments, hunting associations, customs clearance brokers
US$35
including Post & Packaging
If you would like to buy a copy of the Hunting Trophies DVD please click the BUY NOW button for secure payment with Paypal.
After purchasing the DVD with Paypal, please also complete and submit the form below so we know exactly where to send your Hunting Trophies DVD:
More On African Trophy Taxidermy