Hunting Cameroon
Hunting Cameroon - Two types of hunting are available here - Savannah hunting in the north and Forest hunting in the south. Both are distinct from each other with different seasons, climate and species.
Cameroon Hunting Seasons
Savannah hunting is from 1st January until 30th April.
Forest hunting is from 1st March until 30th June.
Cameroon Weather
The savannah region temperatures range from 18°C to 29°C and the hunting season coincides with the dry season.
The forest region temperatures range from 21°C to 28°C and some rain is to be expected.
Cameroon Map
This map may be enlarged and moved in all directions. You may also select satellite and terrain views.
Cameroon Game Laws
All trophy hunting to take place between 6 am and 6 pm
No hunting is allowed at night
No hunting is allowed with artificial light.
Minimum number of days for a hunting safari based upon the species being hunted.
Hunting of female, young and/or immature animals is not permitted.
Shooting from a vehicle is not permitted, though the vehicle can be used to reach the area from where hunting on foot can begin.
Clients are only permitted to hunt animals for which a permit is issued.
All animals are subject to quota availability.
Hunt permits must be issued prior to the hunt commencing.
A separate permit must be issued for each individual hunting client.
Double the trophy fee must be paid if an animal is wounded and lost
Small game in Group 3 - maximum calibre is .240 or shotgun. (See groups below)
Medium game in Group 2 - calibres from .240 to .354 maximum.
Large game in Group 1 - minimum of .354 calibre.
Cameroon Hunting Licence
In order to get a hunting licence for Cameroon you will need to submit the following...
Passport photos x 4
Copy of your passport details & photo page
Copy of your visa for Cameroon within your passport
Copy of your firearm permit obtained from the Cameroon Consulate
Health certificate from your doctor stating that you are physically fit enough to hunt big game
Cameroon Hunt Licence Groups & Species
Hunting licences are arranged in 3 groups:
A maximum of 1 hunting licence per group can be purchased per hunter.
Note: Lion (CITES II) belongs in no group but needs a separate lion permit.
Group 1
The hunter may take only 2 animals from the Group 1 and 4 animals from Group 3
Note: Though there are 2 species of buffalo listed, they are considered as the same in Cameroon, so only 1 may be taken
Group 2
The hunter may take only 4 animals from Group 2 and 4 animals from Group 3
Group 3
This group is subdivided between mammals and birds
The hunter may take all the species in this group
Recommended Reading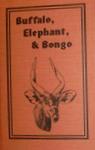 Buffalo, Elephant And Bongo: Alone In The Savannas And Rain Forests Of The Cameroon by Reinald von Meurers is an account of many hunting trips into the interior of Cameroon in search of elephant, bongo, buffalo, sitatunga, giant forest hog, bushpig and dwarf buffalo. The author organises his own safaris and carries them out only in the company of local helpers. Includes a chapter on organising your own hunting trip, as well as much incidental useful advice.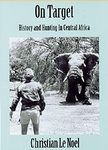 This book On Target: History And Hunting In Central Africa by French Professional Hunter Christian Le Noel provides some entertaining stories of hunting man-killers and rogues, 100-pound tuskers and record book trophies.
Recommended Viewing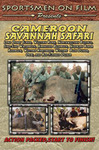 Cameroon Savannah Safari - With the help of native trackers and water-bearers near the Chad border, the hunters divide the licensed species and successfully hunt 16 animals including the highly-prized Lord Derby Eland, Western Roan and Northwestern Savannah Buffalo. 60 minutes. DVD by Ken Wilson.
Hunting Cameroon Resources