Hunting Namibia
Hunting Namibia - Namibia is a very popular destination for hunters as it offers both plains and dangerous game hunting in fenced and unfenced areas.
Namibia Hunting Season
1st February until 30th November
Namibia Weather
The best time to hunt is from April to June, when the temperatures are around 25°C degrees during the day
January and February are the hottest months, when daytime temperatures in the interior can exceed 40ºC
Namibia Map
This map may be enlarged and moved in all directions. You may also select satellite and terrain views.
Namibia Game Laws
All trophy hunting to take place half an hour before sunrise and after sunset
No hunting is allowed at night
No hunting is allowed with artificial light.
There is no official minimum number of days for a hunting safari based upon the species being hunted. Mandatory hunt lengths may be set by outfitters.
Shooting from a vehicle is not permitted, though the vehicle can be used to reach the area from where hunting on foot can begin.
The Government of Namibia allocates quotas by species to each hunting concession or hunting block on an individual basis.
On privately owned land the owner decides the quota for each species.
Hunting permits must be issued prior to the hunt commencing.
A separate permit must be issued for each individual hunting client.
Special hunting permits are required for leopard, cheetah and lion.
Only 2 trophies per species may be taken per hunting client per hunting permit.
Minimum calibre requirement is .284.
Namibia game laws classify minimum energy values of hunting rifles.
Big, dangerous game - minimum of 5400 Joule. Equivalent 3982.8 ft/lbs
Large plains game and leopard - minimum of 2700 Joule. Equivalent 1991.4 ft/lbs
Medium to small plains game and game birds - minimum of 1350 Joule. Equivalent 995.7 ft/lbs
Namibia Hunting Species
Please note: Cheetah is available to hunt in Namibia with a 150 animal 2010 CITES quota but the US Fish & Wildlife Service does not permit import of cheetah trophies from Namibia.
A CITES import permit may only be issued for adult male black rhino.
Recommended Reading
Sands Of Silence: On Safari In Namibia by Peter Hathaway Capstick is an illustrated look at a Namibian safari revealing the Bushmen's culture, political persecution and the lives of these hunter-gatherers.
Recommended Viewing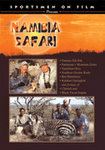 The Namibia Safari DVD sees Ken Wilson hunting 3 species that can only be hunted in Namibia: the Damara Dik-Dik, Hartmann's Zebra and the Namibian Oryx. There is also footage of 2 species that can be hunted in Namibia, but not imported to the US - cheetah and black-faced impala. 55 minutes. DVD.
Hunting Namibia Resources