Cheetah Hunting
Cheetah are built for speed just like a greyhound - long, thin and light-boned.
They are not commonly hunted and are strictly protected as a CITES Appendix I animal. From January 1993, CITES approved export quotas for cheetah trophies from Namibia, Zimbabwe and South Africa, however USF&W will not permit US hunters to import cheetah trophies from anywhere.
Cheetah Trophy Minimums
Acinonyx jubatus (Cheetah)
RW Minimum
RW Record
RW Measurement Method
SCI Minimum
SCI Record
SCI Measurement Method
123/8"
141/2"
17
11"
132/16"
15
Cheetah Facts
Habitat and Requirements
Cheetahs are found in open and partially open savannas.
Social Structure
The cheetah is basically a solitary animal.
At times, a male will accompany a female for a short while after mating, but most often the female is alone or with her cubs
Gestation Period
After a gestation period of 3 months, 3 - 5 cubs are born.
Cheetah Gender Identification
Males are larger in the body than females.
Cheetah Hunting Methods
Spotting, walking and stalking the likely habitats.
A Good Cheetah Trophy
A mature cheetah with a large body, possibly scars is indicative of an old animal.
Cheetah Hunting Shot Placement
Cats have their hearts very slightly further back than most animals and as usual, heart and lungs are the largest target area.
If the animal is standing at right angles to you, bring your crosshairs up the foreleg and divide the body in half and then in half again and the centre of the heart will be found at the top of that first (lowest) dividing line, but just behind the foreleg The lungs extend to slightly above the mid way line.
If the animal is at an obtuse angle to you, remember the previous rule and aim at the opposite shoulder and you'll hit the same area.
If the animal is standing facing away from you, and you feel confident of the shot, aim at the root of the tail where it joins the body.
If the animal is facing you, aim for the central chest area where the bottom of the neck leaves the body.
Cheetah Pictures
(Place cursor over photographs to enlarge)
Recommended Viewing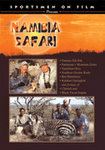 The Namibia Safari DVD sees Ken Wilson hunting 3 species that can only be hunted in Namibia: the Damara Dik-Dik, Hartmann's Zebra and the Namibian Oryx. There is also footage of 2 species that can be hunted in Namibia, but not imported to the US - cheetah and black-faced impala. 55 minutes. DVD.
More African Game Animals