Nyala Hunting
Nyala hunting may involve a quick shot at short range. Often referred to as the 'crafty one' the nyala is extremely alert and cautious.
Nyala Trophy Minimums
Tragelaphus angasii (Common Nyala)
RW Minimum
RW Record
RW Measurement Method
SCI Minimum
SCI Record
SCI Measurement Method
277/8"
327/8"
8
63"
713/8"
2
Tragelaphus buxtoni (Mountain Nyala)
RW Minimum
RW Record
RW Measurement Method
SCI Minimum
SCI Record
SCI Measurement Method
307/8"
391/2"
8
75"
897/8"
2
Nyala Facts
Habitat and Requirements
Common nyala prefer dense lowland woodlands and thickets near water.
Mountain nyala pefer high-altitude woodland, bush, heath, moorland, and valley-bottom grassland
Social Structure
Common nyala are very shy, and are very cautious when approaching open spaces. Usually nyala are seen at water holes. They are most active during the early morning and late afternoon, resting in thick brush during the hottest times of the day. The alarm call is a sharp, dog-like bark. Single sex and mixed groups of 2-10 individuals. Old bulls are solitary.
Mountain nyala travels in small groups of 2-13 animals, with an average of 4 and 6 individuals in a herd. These groups are primarily composed of females and their young, but often a mature (but not old) bull will be present. Old males are usually solitary. Mountain nyala are most active from late afternoon, night, and early morning. Adult males appear to have shorter active periods, rising two hours before dark and seldom being seen after the early hours of the morning.
Gestation Period
After a gestation period of around 7 months, one offspring is born.
Nyala Gender Identification
Common nyala males are larger than the hornless females, and have a shaggy dark brown to charcoal grey coat, often with a bluish tinge.
Mountain nyala males are much larger than the hornless females. Males also have a white dorsal crest, which extends from neck to base of tail, and a mane of shaggy brown hair on the neck.
Nyala Hunting Methods
The most common way to hunt this species is to slowly stalk the likely habitat and look for movement, or occasionally the entire animal.
A Good Nyala Trophy
Horn length - long with thick bases and out-turning tips will make a good trophy. An old animal may also have bald spots on the neck.
Nyala Hunting Shot Placement
Nyala Pictures
(Place cursor over photographs to enlarge)
Recommended Reading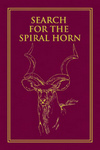 Search For The Spiral Horn is by Craig Boddington who is one of the few hunters who has successfully hunted each of the major varieties and most of the subspecies of the nine spiral-horned antelope of Africa.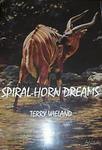 Spiral Horn Dreams by Terry Wieland is about a subject that arouses as much excitement and emotion as any big game. Kudu, bongo, Lord Derby eland, sitatunga, mountain nyala and bushbuck. These animals cause any big game hunter both pain and joy - sometimes simultaneously. If you're not 'mad keen' about hunting these animals before reading this book, you will be afterwards.
Recommended Viewing
Zululand Safari DVD. Nyala are the most beautiful and highly prized of all the South African species of big game. Three hunters each stalk and shoot a magnificent nyala. In addition, you will experience the on-camera hunting of the red duiker plus blue wildebeest, bushpig, southern reedbuck, southern impala and warthog. 60 mins.
More African Game Animals