Home > Hunting South Africa
Hunting South Africa
Hunting South Africa - This is the most popular hunting destination for first-timers to Africa, offering a splendid range of plains game species. Almost all hunting in South Africa takes place on fenced private land.
South Africa Hunting Season
There is no fixed hunting season, however the hunting of some species may be restricted in certain provinces during particular times of the year.
South Africa Weather
The best time to hunt is from April to June, when the temperatures are around 25°C degrees during the day
January and February are the hottest months, when daytime temperatures in the interior can exceed 40ºC
South Africa Map
This map may be enlarged and moved in all directions. You may also select satellite and terrain views.
South Africa Game Laws
South Africa's game laws may vary according to the province but are generally similar in application to overseas hunters.
All non-resident hunters must hunt under the supervision of a licenced professional hunter and the hunt must be outfitted by a licenced outfitter.
All trophy hunting to take place half an hour before sunrise and after sunset
Hunting is allowed at night and with artificial light only with a special night hunting permit.
There is no official minimum number of days for a hunting safari based upon the species being hunted. Hunt lengths for some species may be set by outfitters.
Shooting from a vehicle is permitted in some provinces but generally there should be no hunting within 200 metres of a vehicle.
On privately owned land the owner decides the quota for each species.
Hunting permits must be issued prior to the hunt commencing.
A separate permit must be issued for each individual hunting client.
You may find most of the individual South African provincial game ordinances at PHASA
No sport darting of rhino is permitted as of 2010.
Most provinces do not have a minimum calibre requirement. Those that do, such as KZN, .375 is the minimum calibre requirement for dangerous game.
What Is The TOPS List in South Africa?
The TOPS List was introduced in South Africa in 2008 by the Department of Environmental Affairs and stands for 'Threatened Or Protected Species'. The TOPS List includes several popular South African hunting species, which are indicated on the South African Hunting Species list below...
If you want to hunt any of these designated species you must have a special TOPS Hunting Permit for each animal. You must tell your hunter in advance if you want to hunt a TOPS animal and he must get the permit(s) before you start hunting. The permit will specify the hunter's name & address, the location of the hunt and a permit validity period.
You, the hunter, if you successfully hunt a TOPS animal, must sign the permit at the end of your hunt. If you don't, an export permit for your TOPS trophy will not be issued. When signing, carefully check all your contact details are exactly correct on the permit. If there is any discrepancy, the hunt may be investigated and your trophy shipment may be delayed.
It is illegal to hunt any TOPS Listed animal without a TOPS Hunting Permit in hand. Do NOT hunt any of these animals if there is no permit present at the time of your hunt. Do not be lulled into a false sense of security with promises of getting the permit later.
South Africa Hunting Species
Recommended Hunting Outfitters In South Africa

Recommended Reading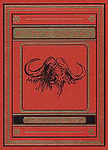 Hunting In South Africa by Tony Sanchez-Arino (1998) are writings about big game hunting in South Africa by Harris, Cumming, Baldwin, Leveson, Holub, Bryden, Bulpin, Kirby, Findlay, Millais, Wolhuter and many others. A comprehensive and entertaining anthology, with brief biographies of each author at the rear.
Recommended Viewing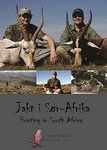 Hunting In South Africa Join Sandra and Anders on their hunting adventure to South Africa. In 10 days they travelled around the Eastern Cape province in search of exotic species. Among the animals they shot is kudu, impala, warthog, springbok, white and common blesbok, bontebok and jackal. In addition to all the exciting hunting scenes, you get to learn about the diverse nature of the Eastern Cape province. DVD in English or Norwegian.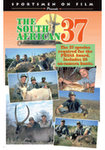 The South African 37 DVD by Ken Wilson includes hunting not just the more common species of South Africa but also the species that have made remarkable comebacks from near extinction including black wildebeest, bontebok and white rhino. 55 minutes. DVD.
Hunting South Africa Resources