Ron Thomson Books
Ron Thomson is an ex-game warden and retired national parks board director. He has had over 46 years experience in southern African wildlife management affairs including 28 years of full-time service in various national park departments and 3 years working as a professional hunter. He now writes books "to create a better informed public" - better informed, that is, about the realities of wildlife management.
African hunters and anyone else who is genuinely interested in conservation and sustainable utilisation of Africa's wild areas and wildlife must read 'A Game Warden's Report'.
Managing Our Wildlife Heritage by Ron Thomson (2006)
Review of 'Managing Our Wildlife Heritage' by Dr John Ledger
I found myself engrossed in a work of great substance and importance. Don't let the small size of this book fool you; it is one of the best and most lucid guides to conservation and wildlife management in Africa that I have ever read.
It carries a profound message for all Africans. Our critically important societal conservation priorities are: number one - the soil; number two - the plants; and number three - the animals. Don't get distracted by emotional debates about the animals - without the soil they are doomed anyway!
Dr John Ledger was, for twenty years or more, the much respected Director of the Endangered Wildlife Trust (South Africa). He is now retired.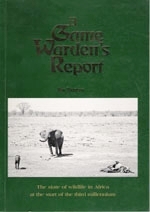 A Game Warden's Report by Ron Thomson (2003). There isn't anybody who loves wildlife and/or who works with wildlife, in Africa, therefore, who can afford not to have this book on their bookshelves - MC de Jager, South Africa
To order copy of 'A Game Warden's Report' contact: Magron Publishers Tel/Fax:(012) 2530-521 or Email: magron@ripplesoft.co.za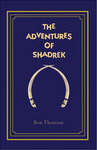 The Adventures Of Shadrek: Southern Africa's Most Infamous Elephant Poacher by Ron Thomson (2001) is the story of a man called Shadrek, whose elephant poaching exploits in Gonarezhou National Park are legend. Ron Thomson was the game warden in charge of the Gonarezhou Park and pursued the fascinating character called Shadrek.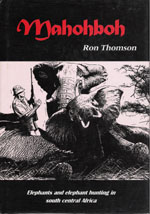 Mahohboh: Elephants And Elephant Hunting In South Central Africa by Ron Thomson (1997).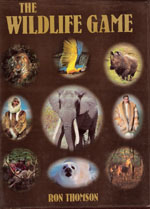 The Wildlife Game by Ron Thomson (1992) is a most impressive work on conservation worldwide. Over 300 pages. It tackles head-on animal welfare and animal "rights" issues, and treats hunting in a constructive and practical way.
On Wildlife "Conservation" by Ron Thomson (1986) is on the principles and practicalities of wildlife management.
God Created Man The Hunter by Ron Thomson (2010) covers his life from 1955 to 1961. It describes the author's introduction to big game hunting and his leopard control work in the Matopos National Park and his elephant hunting training out of Main Camp, Hwange National Park. By 1961 he had successfully hunted 20 leopards, 18 elephants, 3 buffalo, a hippo and a lion. The book is filled with some amazing and powerful big game hunting stories.
To order copy of 'God Created Man The Hunter' contact: Magron Publishers Tel/Fax:(012) 2530-521 or Email: magron@ripplesoft.co.za
A 2008 Interview With Ron Thomson On Release Of 'God Created Man the Hunter'