Bookshelf Bestsellers
This is our Bookshelf Bestseller list for 2013. It is fascinating to see the various African hunting books or Africana books you have bought, and I hope, enjoyed.
I hope you enjoy seeing what fellow African hunters are reading this year....and if you have time, we would really appreciate your book reviews
The Bestseller of 2012
'A White Hunter's Life'
by Angus MacLagan (1983) is the story of a professional white hunter in Africa in a time we will never see again. Hunting elephant, lion, leopard, buffalo, crocodile, plains game and more in Rhodesia in the early part of the 20th century. Angus MacLagan died in 1950.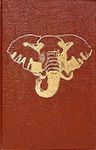 Bookshelf Bestsellers March 2013
Gerald Burrard
Errol Trzebinski
Leo Kroger
Don Cowie
Al Miller et al
Bookshelf Bestsellers February 2013
Jack O'Connor
Robert Ruark
Craig Boddington
J A Hunter
T V Bulpin
John Taylor
Bookshelf Bestsellers January 2013
Sir Frederick J Jackson
Jack O'Connor
Robert Ruark
Michael H Mason
Graham Cooley and John Newton