Taxidermy History Books
Taxidermy history books include records and histories of the old famous taxidermy companies such as Van Ingen and Rowland Ward.
Robert Chinnery
A Record Of Spicers by Robert Chinnery (2004) is an invaluable reference book detailing the Fine Art Taxidermy of Peter Spicer & Sons.
Stock Catalogue: The Victorian Taxidermy Company Ltd by Robert Chinnery (2004) is widely regarded as the finest taxidermy stock catalogue ever produced in the UK. It contains over 100 colour photographs of fine art taxidermy for which the Victorian Taxidermy Company was renowned.
Christopher Frost
A History Of British Taxidermy by Christopher Frost (1987) is regarded as the finest general reference book on British taxidermy to date. It details well-known names such as Rowland Ward, Peter Spicer, H Murray & Son and many others.
Victorian Taxidermy by Christopher Frost (1981) was the forerunner to his book 'A History Of British Taxidermy'. A rare and collectible book.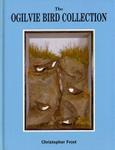 The Ogilvie Bird Collection by Christopher Frost (1989) is an illustrated guide to the F M Ogilvie collection of cased British birds prepared by T E Gunn of Norwich and presented to Ipswich Museum in 1918.
Notes On The Birds Of Cley by Christopher Frost (1992) is a reprint of H N Pashley's original published posthumously in 1925. As a taxidermist and naturalist, Pashley recorded many of the rarities that passed through his hands from the 1880s to the 1920s. This book gives a fine insight to a Victorian naturalists life in Norfolk and into the heyday of natural history collecting.
Pat A Morris
Rowland Ward: Taxidermist To The World by Pat Morris (2003) is an important work about this world famous family of taxidermists which is the result of many years of painstaking research.
Van Ingen And Van Ingen: Artists In Taxidermy by Pat A Morris (2006). Van Ingen was one of the most famous names in taxidermy, synonymous with very high quality products. Their work, tigers and panthers especially, was outstanding and remains a familiar and distinctive sight in auction sales and in museums even today. Their customers included much of the Indian nobility as well as the highest ranks of British society in colonial times. This book attempts to provide a context for their work and an explanation of how it was carried out. It also serves as a record of one of the pinnacles in the history of taxidermy. Their factory employed 150 people at one time, probably the largest taxidermy operation in the world, processing 400 tigers and 600 leopards each year (that's an average of 8 tigers every week!). Their order books confirm these incredible numbers and provide an almost complete record back to the 1890s.
The Kings Choice: G W Quatremain by Pat Morris and Robert Chinnery (2006) provides a fantastic insight into the high quality taxidermy produced by G W Quatremain. Work by Quatremain is now possibly the most sought after in UK taxidermy fraternity.